Weeknight dinner planning got you down? This list of family dinner ideas for picky eaters can help! All options are healthy and fully customizable.
If you have known me for a while, you probably recall that I don't like the term picky eater. I prefer Ashley's take on feeding kids using the love it, like it, learning it method. Hailey (8) has always been a very adventurous eater. As a first born, it was enough to make me pat myself on the back for doing things "right" and having her love food as much as I do. However, Kaitlyn (5) was introduced to the same foods the exact same way and she definitely has required more coaching to expand her eating habits.
I say this so if you're frustrated with a child that is more particular about what they eat (Kaitlyn still would like mac 'n cheese every night of the week), don't despair! Some kids are just like that, but the good news is there are some excellent family dinner ideas for picky eaters that will please the whole family while encouraging them to expand their preferences and try new foods- all without you having to make multiple meals (ain't nobody got time for that).
So with that is mind, I wanted to share with you my go-to easy dinners that please the whole family. I include 1-2 of these per week because they've become mindless for me to throw together and I know everyone likes them. If you are a beginner with meal planning or cooking dinner, these might still feel slightly intimidating, but I promise you after a month of executing it, these will become second nature.
I choose these meals over and over because they allow me to fit in a ton of veggies, allow each person to customize it to their liking (but within my standards), and don't require much dinner time hands-on action. For the adventurous eaters, we pile on all the topping options and layer things up. For the foodies in training, the foods can be selected and separated as needed.
Easy Healthy Family Dinner Ideas for Picky Eaters
Salad Bar Dinner
Why this works: Not only is it completely customizable, it is all component based, which means there can be zero day-of preparation if you take the time to food prep on a Sunday. I'll be honest, I don't do a lot of Sunday prep work since I'm usually around the house and do dinner prep work while the girls eat breakfast. However it works for you, invest in some mason jars or stackable Tupperware and fill them with your family's favorite salad toppings. The secret to making this enjoyable and healthy is to get creative with your toppings.
Our favorite salad bar components: two kinds of lettuce (chopped if that makes it more palatable for your kids- I use this salad chopped bowl), sliced grape tomatoes, shredded carrot (easier to chew than diced), hearts of palm, olives, avocado, shredded purple cabbage, pepper strips (we put these on the side because they prefer strips to diced peppers), chopped boiled egg, grilled chicken, chickpeas, feta cheese, micro greens, sunflower seeds, pistachios, chopped parsley.
It's also nice to have a selection of dressings. I buy Garlic Expressions most often, but also have Hidden Valley organic ranch and a delicious homemade vinaigrette available, too. When the girls were toddlers, they'd create what I called a "dippable" salad- they'd select the components they wanted, placed them on a divided plate, then dip them into the dressing. This worked well because goodness knows, little kids love to dip!
Burger Night
Who doesn't love burger night? Well, I can tell you Kaitlyn likes it because of one reason- the bun. She's my bread girl. The trick with burger night is to provide a myriad of toppings (mostly because I prefer to turn these into a burger salad) and roast a veggie for fries, too. Since we don't do these often, I usually splurge on brioche buns because they are absolutely delicious and my family loves them. Pop the fries in the oven because they take about 30-45 minutes, but then the rest of the meal is quick. It takes about 15 minutes to grill the burgers and while they cook, it's easy to chop up all the topping options.
Plus, have you tried a burger bowl yet?!
Our favorite burger night components: brioche buns, chopped romaine lettuce, sliced tomatoes, sauteed onions and mushrooms, sliced pickles, garlic dill pickle kraut, avocado, and shredded purple cabbage.
Want to switch things up from a regular burger? Go GREEK!
Fajita/Taco Night
No doubt this is a brand new idea to you (lol), but it had to mentioned because there is a reason it's a weekly staple for so many- who doesn't love a taco? We tend to make it more of a fajita night because we prefer soft tortillas to crunchy shells and it allows me to add more veggies to the meal. It's easy to chop peppers and onions ahead of time then saute them on the stove with chicken, fajita spices, mushrooms, and a little finely chopped spinach. I always make a purple cabbage slaw (shredded and tossed with olive oil, lime juice, salt, and chopped cilantro) because they girls eat it up and I appreciate the crunch. Then the rest of the toppings are usually store-bought, which makes it an easy and mindless dinner.
Fajita night components: tortillas, lettuce shreds, sauteed chicken, peppers, onions, and mushrooms, pico de gallo, guacamole, sour cream, chopped black olives, pickled jalapeno peppers, finely diced purple onions, and chopped cilantro.
Soup and Sandwich
Why this works: this is a great meal for our whole family because I can adjust it to my dietary needs. I choose a soup that is compliant with my eating, usually a pegan (paleo + lots of veggies) style soup. If I have time to make it, I like this immunity boosting golden soup (it's creamy without cream so the girls like the texture) or this black bean crockpot favorite. However, if I don't have the time to cook it, I buy boxed soups. Sometimes we will all eat the same one like roasted red pepper and tomato, but if I'm buying boxes, I will sometimes buy myself Kettle and Fire cauliflower and them a different option.
In our house, the go-to sandwich of choice for soup night is a grilled cheese. We have a panini press we like to use, but stove-top works just fine, too. I use Dave's Killer bread because I find it is a nice compromise of nutrition and kid-friendly (where as some options- like Ezekiel- is not always easy for kids to chew). I try to pull out several topping options and encourage them to pick at least one. Hailey is an adventurous eater and piles her sandwich up with goodies. Kaitlyn is learning to be adventurous, so she'll usually stick to adding the required one extra topping, sometimes more.
Grilled cheese topping ideas: sliced tomato, sliced red onion, avocado, roasted red peppers, baby spinach, mushrooms, pear, apple, sliced pickles, olive tapenade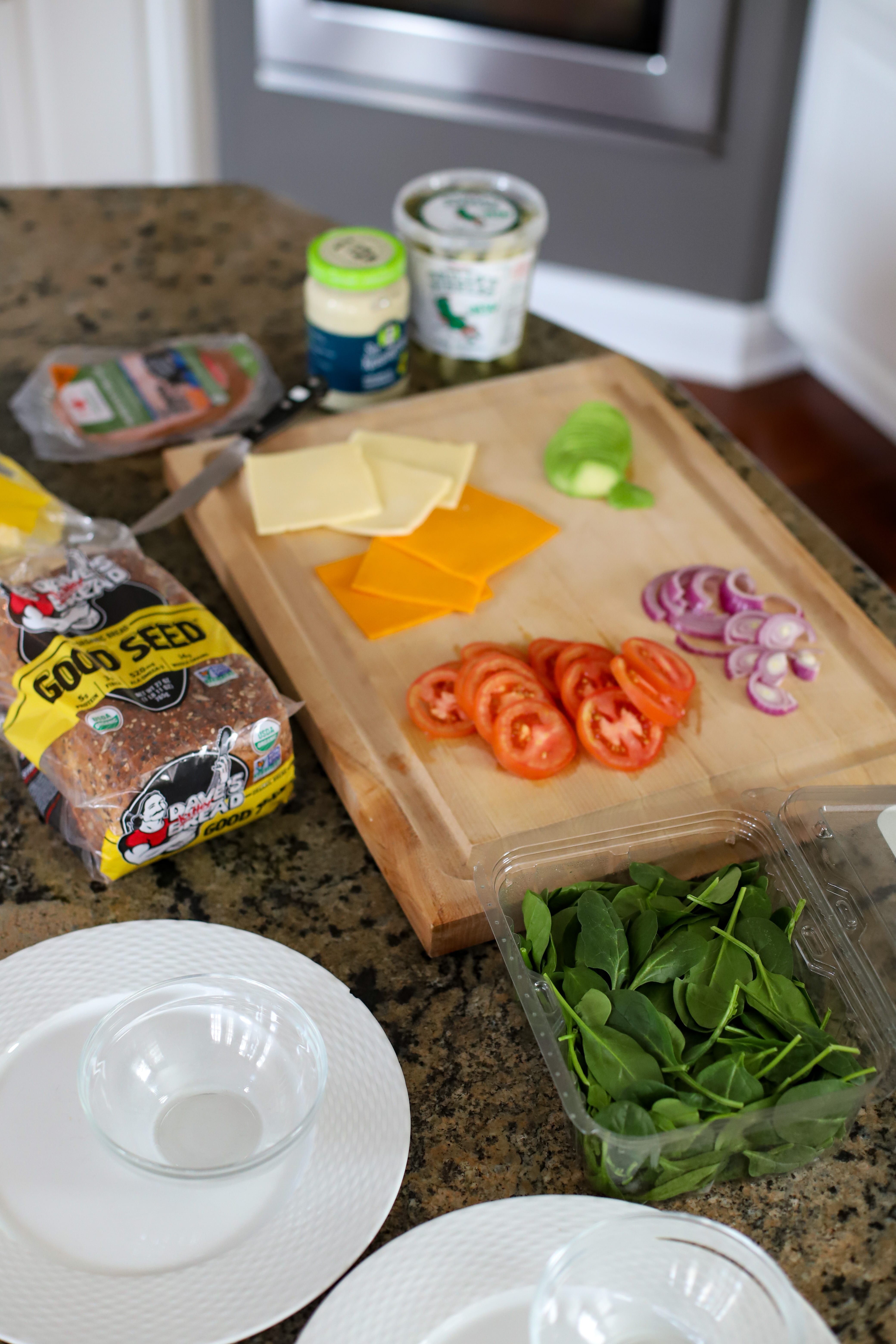 Other Easy Weeknight Dinner Ideas
Stuffed baked potatoes: simply bake everyone a potato (you can even do this in a slow cooker) then set up a toppings bar of steamed broccoli, chopped green onion, diced tomato, shredded cheese, sour cream, bacon crumbles, and chili.
Stir fry: This is my easy, go-to sauce! The secret here is to cook things up separately and have at least two sauce options so each person can build their own. Components can include: stir fry chicken or shrimp, brown rice, cauliflower rice, stir fry veggies, chopped roasted cashews, chopped green onions, sesame seeds, teriyaki sauce, yum yum sauce.
Breakfast for dinner: For some crazy reason I'm just not a breakfast for dinner person but I understand why so many people love it- pancakes, eggs, fruit, and bacon are easy, very kid-friendly, and provide both carbs and protein. Add an omelet buffet and you could easily incorporate vegetables, too! I need to try this sometime because I'm sure my kids would geek out.
Smoothie night: While this smoothie is usually a favorite breakfast option for us, smoothies can easily make a great dinner, especially when adding in veggies like baby spinach or frozen cauliflower (which makes it extra creamy!). Plus, easy clean up- just the blender!
If you're interested in reading more about feeding kids, you might enjoy these:
Now share with me- what is your favorite meal or recipe that the whole family loves??