Feeding kids is always an adventure- am I right?! My girls, ages 7 and 4, were served these 12 healthy meals, then gave their honest feedback. Some results might surprise you!
In my weekly newsletter (have you signed up yet?!). Among other things, I share the recipes I made during the previous week and what the family thought about them. It's become quite a fun dinner activity to rate the meal, or components of the meal, on a scale of 1-10. It encourages everyone to try everything, validates their opinion, and brings more brainpower to meal planning discussions. For example, if one person doesn't like part of the meal, we dig into why and what could make it better. Then next time, we try that!
It's been really entertaining to watch the kids grasp the concept and exciting to watch them light up with being able to be part of the discussion. Of course this means I've had to learn to deal with some culinary criticism. I'll admit, though, even the bad reviews are worth it because Kaitlyn always starts them off with "I don't mean to hurt your feelings but…."
We use a scale of 1-10: 1 being I don't care to ever eat this again, and 10 being I could have this for dinner every. single. night. Hailey (7) pretty much grasps the range, but Kaitlyn (4) is still trying to understand it fully. Sometimes she'll says she loves something and then gives it a 2. Other times she makes a gagging face then rates it as an 8.5.
The ratings give me insight into their preferences which is nice, but mostly it brings about fun discussions and dinnertime entertainment.
I have had some questions about what the girls eat since I've been on more of a pegan diet myself lately. The short answer is: they eat everything.
They eat what we eat as usual, but I'll add in pasta or bread or dairy as needed to make it a little more kid-friendly or well-rounded. I focus on a lot of veggies, some fruits, whole grains, healthy fats, and lean proteins. However, we did bake a cake for Valentine's Day and devoured almost the whole thing within three days, so… balance.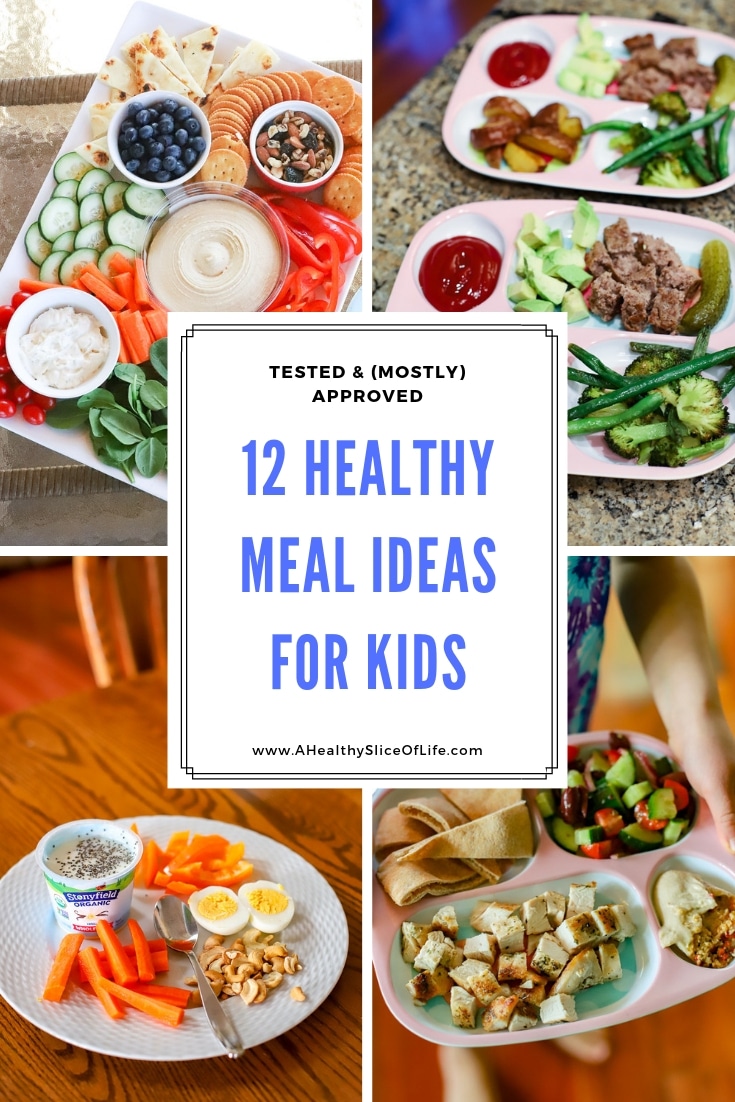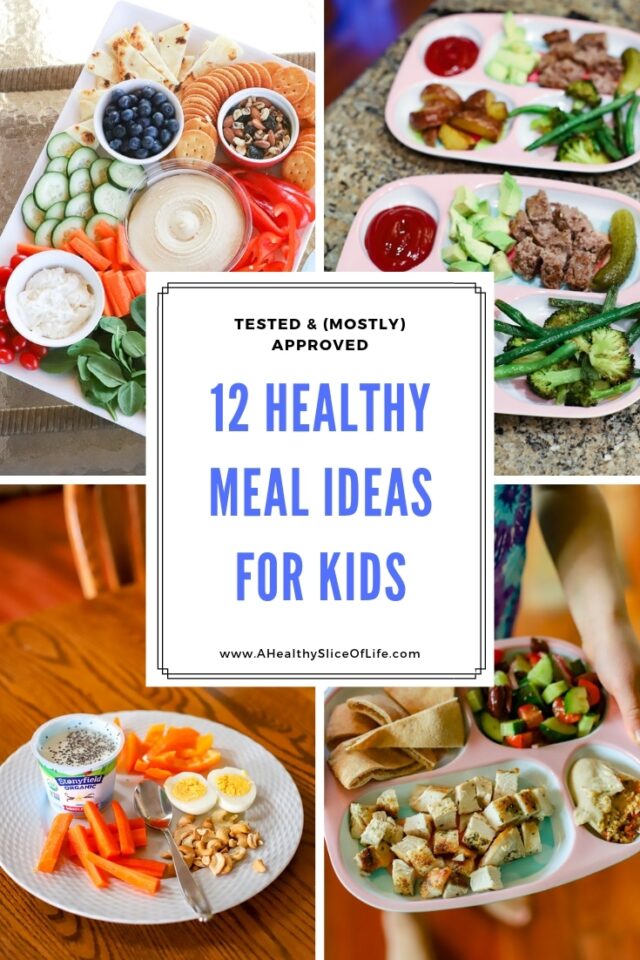 Here are 12 healthy meals for kids that they've eaten lately, along with their honest feedback.
Meal 1: Slow Cooker Butter Chicken over cauliflower rice, roasted sweet potatoes, and sliced apple.
Kaitlyn: Loved the sweet potatoes and apples. Liked the sauce of the chicken on the cauliflower, but wasn't wild about the shredded chicken itself. She ate it all except the chicken, which she ate about half of.
Hailey: Loved it all, asked for seconds of it all.
Meal 2: Pizzas made on pita bread with diced red pepper and cheese. Apples on the side.
Kaitlyn: Ate it all, though told me she preferred the real pizza crust that is fluffy.
Hailey: A fan- ate it all.
Meal 3: Homemade gluten-free chicken nuggets with BBQ sauce. A baked sweet potato with butter, cinnamon, and honey. Roasted carrots, beets, and Brussels sprouts.
Kaitlyn: Loved the nuggets (impressive because she doesn't usually like meat much), the sweet potato, and the carrots. She ate the Brussels but informed me they tasted a little burnt. Was not a fan of the beets.
Hailey: Loved it all except for the beets. Had seconds on everything.
Mom note: I used the chicken nugget recipe from Eat What You Love, which is the same recipe, but doubled. I won't lie, it's a lot of work! However, everyone loved them, it makes a large batch, and they freeze really well!
Meal 4: Snack plate lunch! Pita bread, crackers, mixed roasted nuts, blueberries, cucumber, red pepper, carrots, baby spinach, grape tomatoes, purple cabbage, hummus, and ranch dip.
Kaitlyn: Devoured the crackers, the red peppers, blueberries, tomatoes, and purple cabbage with ranch. Ate a little bit of the other stuff. Did not eat any hummus.
Hailey: Ate it all. Enjoyed the cabbage, blueberries, and carrots most.
Mom note: My kids have kind of fallen out of love with hummus. They used to eat it with a spoon, but have been rather "eh about it lately." I don't understand. Hand me the spoon.
Meal 5: Burger bites and avocado with roasted green beans, broccoli, and potatoes.
Kaitlyn: Burgers on a bun are not her jam, but she does pretty well with it cut up like this. She enjoyed all of this, especially with the side of ketchup for dipping.
Hailey: Slam dunk. Though she eats a regular burger on a bun just fine, it's easier right now to have the dinners the same. She loved it.
Meal 6: Boiled egg, peppers, carrots, cashews, and yogurt with chia seed "sprinkles."
Kaitlyn: Devoured the yogurt first, as always. Ate the rest, minus the cashews, which she ate 1 or 2 of.
Hailey: We do a lot of plates like this for lunch and they are Hailey's favorite. She usually has a second round and this lunch was no exception.
Meal 7: Pan-roasted Greek chicken, hummus, pita bread, and a Greek salad made from cucumbers, grape tomatoes, kalamata olives, red onion, olive oil, lemon juice, oregano, salt and pepper.
Kaitlyn: Ate the pita bread first, then all the salad. Had a small swipe at the hummus and maybe 3 bites of chicken.
Hailey: Ate it all, asked for seconds and thirds of the salad. It's her favorite, just like her mama!
Meal 8: Oatmeal made with flax milk and cinnamon with a topping sampler on the side: brown sugar, coconut sugar, and raisins.
Kaitlyn: Tried to eat just the toppings, but begrudgingly added them to her bowl and ended up eating 3/4 of the breakfast.
Hailey: Ate it all, asked for extra raisins.
Meal 9: Chicken piccata with spinach and artichokes over rotini with roasted green beans.
Kaitlyn: Really liked it! Ate most of the meal happily.
Hailey: Really liked it, too. Ate it all.
Meal 10: Dave's Killer Bread English muffins with Kerrygold butter, Sumo citrus mandarins, blueberries, and elderberry syrup (a breakfast staple during the cold months).
Kaitlyn: Inhaled it.
Hailey: Inhaled it. Have you tried Sumo citrus mandarins yet? My kids are obsessed. So sweet and delicious!
Meal 11: Baked chicken thighs in this marinade, roasted potatoes, sauteed garlicky spinach, mushrooms, and asparagus.
Kaitlyn: Ate the chicken and potatoes, then picked out two mushrooms and ate those.
Hailey: Ate the chicken and potatoes, then picked out the asparagus and mushrooms and ate those.
Meal 12: Lemon dill salmon, roasted Brussels sprouts, tomatoes, and butternut squash, and a rice quinoa blend from Seeds of Change.
Kaitlyn: Ate the rice and quinoa, a couple Brussels sprouts (too soggy she said), and two bites of salmon. I should know to stick with this salmon marinade if I want the kids to eat it happily.
Hailey: Ate the rice and quinoa, one "squishy" tomato, a Brussels sprout or two, and all the salmon (but only because "it makes her smart" not because she liked it- haha).
I've been working my way through the new Eat What You Love Cookbook, which is where a few of these recipes come from. I'm taking after my mom and writing down our reviews directly IN the cookbook. I feel like such a rebel, but I've always loved that my mom's recipes books have notes and reviews on them. It makes it easy to remember which ones are worth making again!
Share with me:
What have been some meal WINS in your house lately?
And any funny MISSES worth sharing? 🙂