This recipe uses a cauliflower crust to pack some extra veggie power, tastes delicious and comes in a fun pizza form! Perfect for kids, delicious for a grown-up party snack or appetizer and plus: you can make and freeze these to heat and eat on a busy weeknight and add any delicious toppings you want.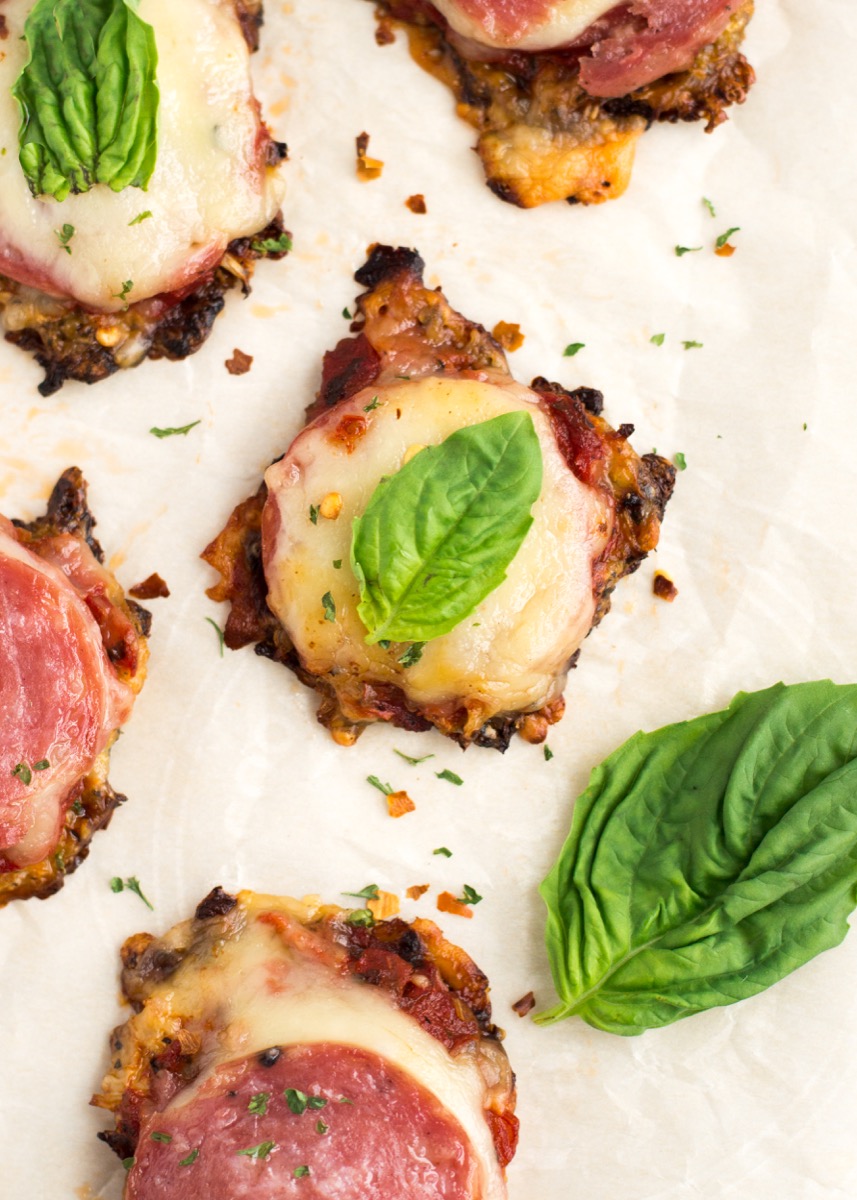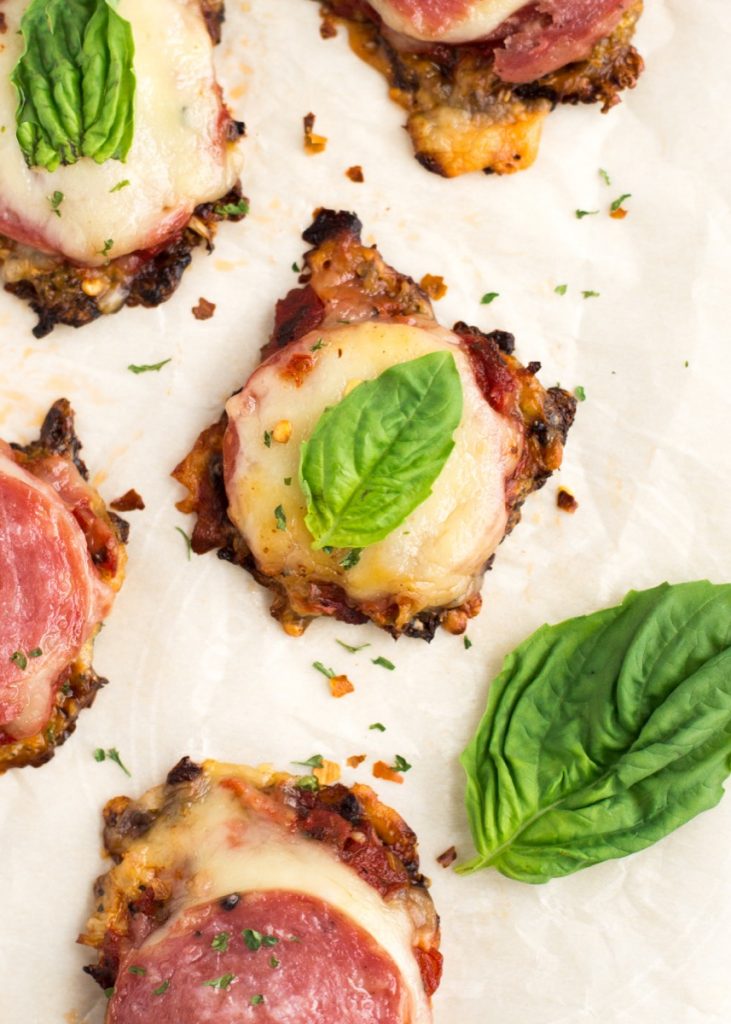 I've been lucky to have two kids who are relatively good eaters, and who are open to new foods and flavors.
And I love to experiment with new recipes, meal ideas and more! But that doesn't mean I don't fall into ruts like everyone else.
For the most part, I like feeding my kids vegetables in their original form, so that they can learn to taste and appreciate how delicious they can be. That's sometimes easier said than done, especially now that the kids are older and need more traditional entrees instead of just separate veggies, beans, fruits and proteins on a plate.
This recipe packs some extra veggie power, tastes delicious and comes in a fun pizza form!
You guys, these are awesome. It's not a novel concept, but without any begging, pleading or bribing, these pizza bites will have your kids devouring…
Cauliflower!
Print
Hidden Veggie Cauliflower Pizza Bites
Author:
Prep Time: 15
Cook Time: 35
Total Time: 50 minutes
Yield: 15-18 pizza bites 1x
---
Description
This recipe packs some extra veggie power, tastes delicious and comes in a fun pizza form!
---
½ head cauliflower (about 2 cups riced)
1 clove garlic, minced
1 cup part-skim shredded mozzarella cheese
1 egg, beaten
1 teaspoon basil
1 teaspoon oregano
---
Instructions
Start by preheating the oven to 350 degrees.
Wash and trim the cauliflower, then cut off half of the florets. Place them in a food processor.
Use the pulse feature until the cauliflower takes the form of rice- small, textured pieces.
Transfer the cauliflower "rice" to a nonstick pan. Sauté over medium heat for 6-8 minutes.
Meanwhile, mix together the mozzarella, garlic, egg, oregano and basil in a large bowl.
Once the cauliflower is cooked, add it to the bowl and stir to combine well.
Place a sheet of parchment paper on a baking sheet.
Press and flatten the "dough" into bite-sized pizzas. You should be able to get 15-18 bites.
Bake at 350 degrees for 30 minutes.
Top your pizzas with anything you want!
Put the pizza bites under the broiler for about 4 minutes, then serve them warm.
---
Notes
You'll also need parchment paper and any toppings you'd like to add (in this version, I used shredded mozzarella, pepperoni and finely diced red pepper but whatever your child will eat, go for it!).
In a previous version of this recipe, I called for the oven to be heated to 400 degrees but got feedback that that high heat could lead to burned bottoms of these mini pizzas. So, I've adjusted it to 350 degrees.
You may notice that this recipe uses the same crust method I showed you in this post: Cauliflower Pizza Crust.
However, I instead molded them into bite-sized pieces on parchment paper, then baked them at 350 degrees for 30 minutes. (I originally baked these at 400 degrees but heard that for some people, that could lead to the bottoms getting burned before the rest of the crusts were done, so 350 degrees may work better for you.)
Once out of the oven, I topped them. Now I used shredded mozzarella, pepperoni and finely diced red pepper because I know Hailey likes it. If your child doesn't even want to SEE a vegetable, stick with cheese. They'll never know.
I broiled the pizza bites for about 4 minutes, then they were ready to serve!
Just add a basil leaf to make it fancy and grown-up
These pizza bites would be great for multiple children or even a party, but if you can't eat them all at once, wait until they cool completely, leave the basil leaf off, then freeze them on a baking sheet. After they are frozen, you can transfer them to a bag.
When ready to eat, bake them in the oven at 350 degrees for 10-12 minutes until heated throughout. The result will be best if you can reheat them on a pizza stone to firm up the bottom. However, they still taste just fine either way.
You could always serve these to adults too, because let me assure you, I put away my fair share.
Note: this recipe was originally published in 2013 and updated in 2018.