This immunity-boosting soup gets a beautiful golden color from the turmeric, and everything in it has an immune-building, nutrition-boosting benefit!
I love nothing more than soup when the weather is cold out. And if it can double up as an immune-booster? Well, sign me up!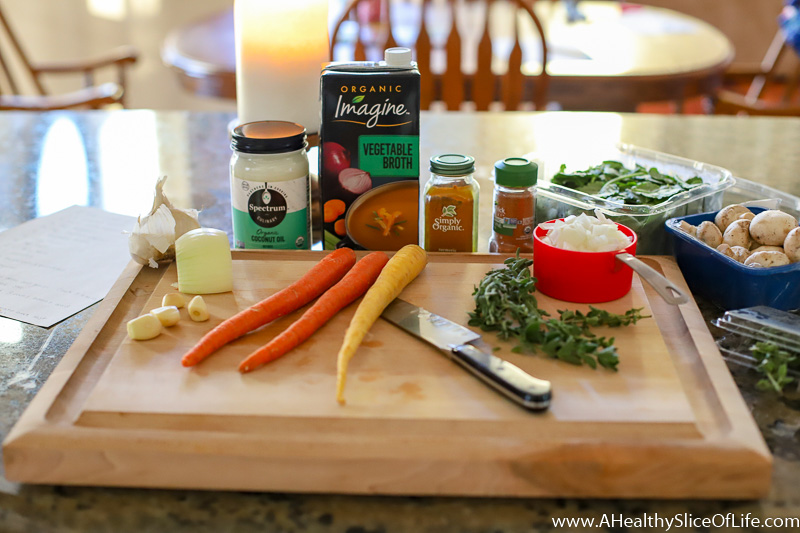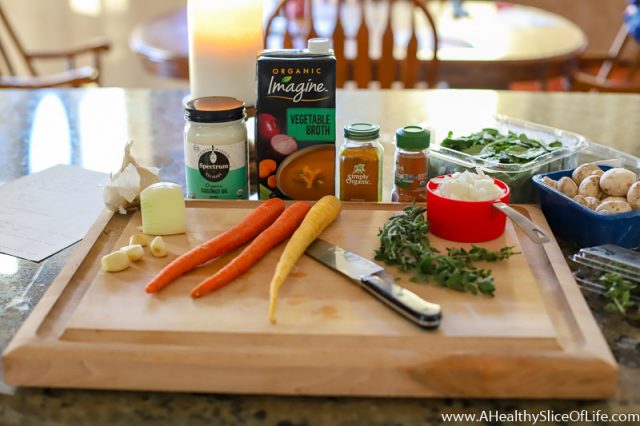 I dreamed up this soup as I was trying to think of a tasty way to incorporate some of my favorite germ-fighting foods into a single dish. Smoothies and soups are the easiest way for me to load up on the good stuff, and since we just touched the 20's (brrr) this week, I decided smoothies were out. Soup it is!
I wanted something comforting, with some texture and depth. I wanted to incorporate my favorite antiviral ingredients, too, so this soup would be as nourishing as it was tasty. After a little trial and error, I ended up with a blend that hits on all cylinders and I'm so excited to share it with you today.
Before I get to the recipe, let me share a little about the ingredients that are in the soup. Everything in this soup has a immune-building, nutrition-boosting benefit:
Coconut Oil: Contains lauric acid and caprylic acid and other medium-chain fatty acids (MCFAs) that are anti-microbial, with lauric acid being the most anti-viral.
Garlic: Contains a beneficial sulfur compound, called allicin, which is one-fiftieth the anti-bacterial power of penicillin anti-viral and anti-fungal properties. Garlic is also good for reducing inflammation.
Turmeric: Turmeric and its important compound, curcumin, help decrease inflammation, detoxify the body, and fight free-radicals.
Kale: Full of antioxidants, such as Vitamin C, Beta-Carotene, and Quercetin and of course, fiber. Baby kale is just a bit milder in flavor and a much more tender leaf. You don't need to spend any prep time chopping or massaging baby kale.
Mushrooms: High in Selenium, which is a key nutrient for immune health, and it is believed that button mushrooms have anti-inflammatory properties.
White beans (cannellini): Full of protein (to support a challenged immune system), antioxidants, and molybdenum (an important mineral needed to turn on detoxifying enzymes in the body).
Oregano: contains powerful antimicrobial, antiviral, and antibacterial properties that help protect and detoxify the body.
I hope you enjoy this soup as much as I do!
Print
Germ-Busting Golden Soup With Beans and Vegetables
Author:
Prep Time: 15 minutes
Cook Time: 25 minutes
Total Time: 40 minutes
Yield: 8 servings 1x
Category: soup
---
Description
This germ-busting soup gets a beautiful golden color from the turmeric, and everything in it has an immune-building, nutrition-boosting benefit!
---
2 tablespoons coconut oil
1 cup chopped onion
4 cloves garlic, minced
1/2 teaspoon turmeric
1/4 teaspoon cayenne pepper
4 cups vegetable broth
4 (15-ounce) cans cannellini beans, drained and reserved, divided
1/2 teaspoon salt
2 cups baby kale
2 cups peeled and sliced carrots
4 ounces button mushrooms, quartered
2 teaspoons fresh oregano, chopped
---
Instructions
Heat coconut oil in a large saucepan over medium-high heat. Add onion and garlic; cook for 3-4 minutes or until fragrant. Add turmeric and cayenne pepper; stir well and cook another minute.
Stir in vegetable broth. Add 3 (15-ounce) cans beans and salt; cook until heated through.
Transfer mixture to a blender container; pulse until smooth (or use an immersion blender to pulse until smooth). Return mixture to saucepan and return to heat.
Add kale, carrot, mushrooms, and oregano. Stir in remaining can of beans. Bring mixture to a simmer and cook for 10 minutes or until vegetables are tender.
---
Notes
To Freeze: Cool soup completely, transfer to a BPA-free zip-top bag or container and freeze for up to 3 months. Or freeze several smaller bags to pull out small servings for unexpected immune-building days!