If your are looking for a simple and savory way to enjoy this southern staple, let me share with you one of my childhood favorites- summer squash casserole!
Whether you are growing your own in a backyard garden or just seeing the market overflow with them, it's clearly yellow squash season. It grows easily and heartily and sometimes it's hard to know what to do with it all.
While this summer squash salad with quinoa and herbs looks delicious, this comforting casserole is super simple and makes for a hearty side dish.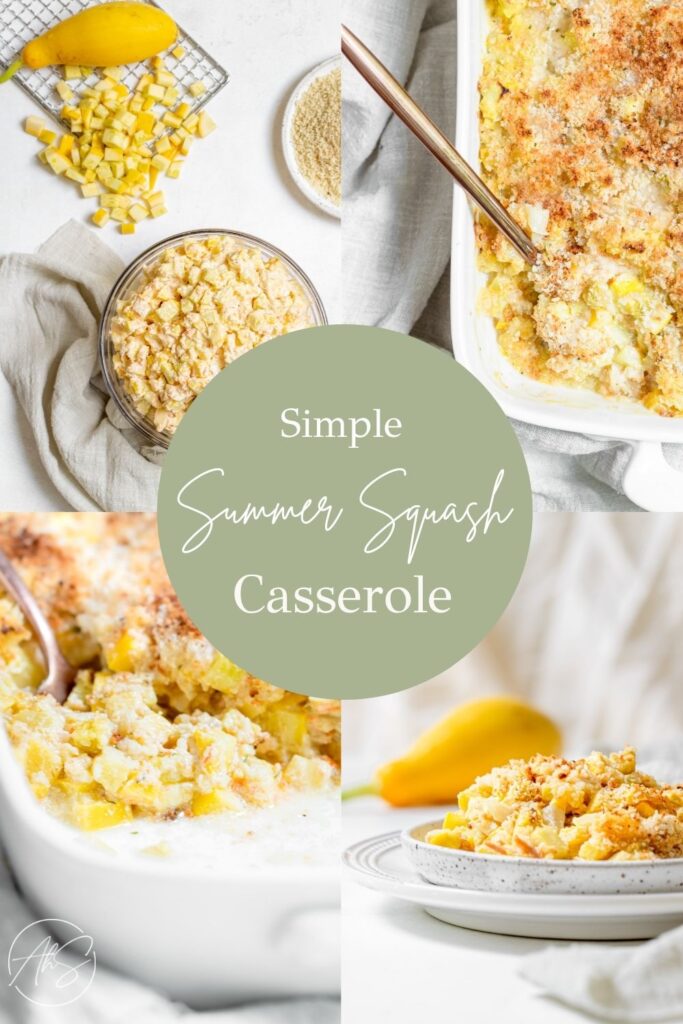 My mom made this dish growing up and though I wouldn't immediately think kid-friendly for this one (or is just my kids that aren't typically casserole fans?), this was one of my favorite foods my mom made.
Summer dinners when I was a kid would often consist largely of southern veggies., like a good 'ol meat and three. Favorite veggie dishes included steamed cabbage with red wine vinegar, black eyed peas with hot pepper sauce, stewed okra and tomatoes, and this summer squash casserole.
Do you have a favorite hearty veggie side? Share it with me in the comments, then give this one a try and let me know what you think!
Print
---
Description
Easy to throw together, this summer squash casserole is a savory southern staple that can feed a crowd.
---
2.5 lbs yellow squash, small diced
½  stick (4 Tbsp) of salted butter
1 onion, diced
1 garlic clove, minced
1 carrot, grated
8 oz sour cream
1 can (10.5 oz) cream of chicken soup
¼ tsp pepper
½ tsp salt
1 c Italian seasoned bread crumbs, divided (half mixed in, half sprinkled on top)
---
Instructions
In a large pot, add chopped squash and cook, stirring as needed, over medium heat for 20-30 minutes until soft. Drain excess liquid.
In a large glass bowl, melt butter the butter in the microwave.  Add all ingredients (only ½ c of bread crumbs) and mix until well combined.
Pour into a 9×13″ baking dish. Sprinkle remaining ½ cup of bread crumbs on top.
Bake at 350 degrees for 45 minutes. To achieve toasted top, broil at the end. Watch closely so it won't burn.
Serve warm.
---
Still hungry? If you are a casserole fan, I encourage you to give this southwestern sausage and veggie brown rice casserole (it's a full meal!) a try.
Looking for another veggie-heavy crowd pleasing side dish for a summer gathering? Definitely make this kale pesto salad with roasted butternut squash! The healthy eaters in your crew will go crazy for it!