I had the opportunity to make dinner for a friend recovering from surgery the other day. Being post-op, I wanted to make a meal that was comforting, hearty, not spicy, that reheated well, and that was generally well received. I immediately thought of one of my dad's favorite meals that my mom has made for years- Suzie's Chicken. It's named for the woman my mom got the recipe from many years ago and the name just stuck!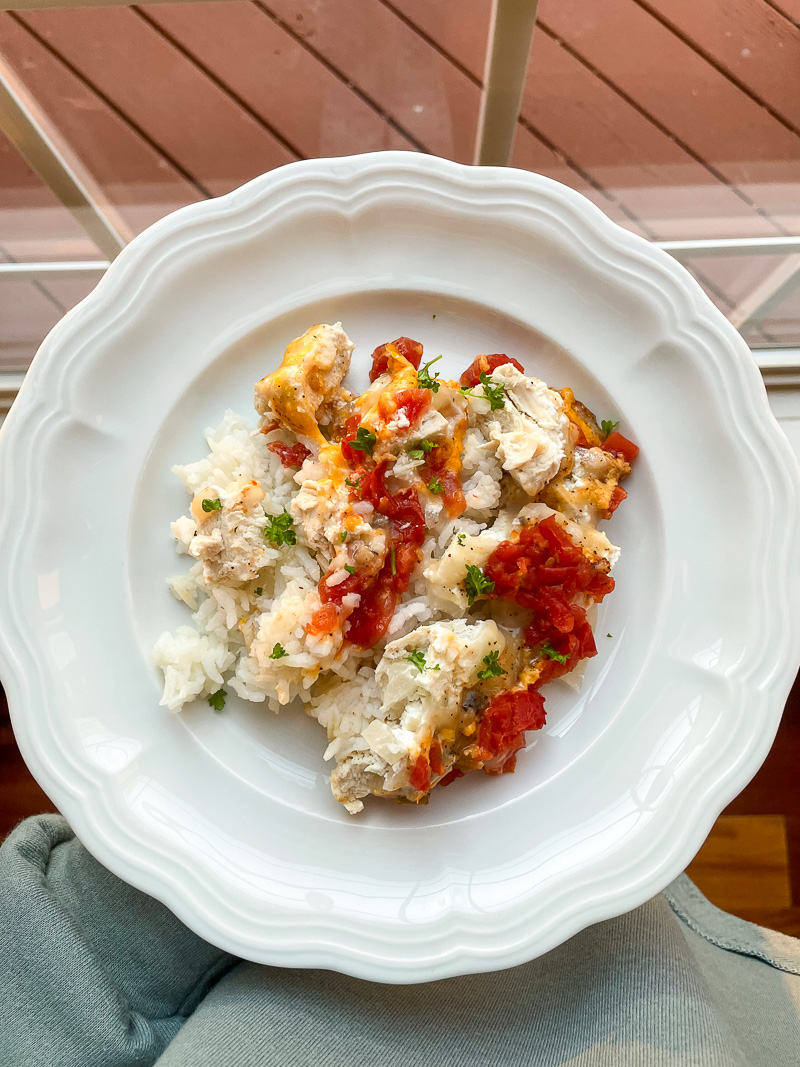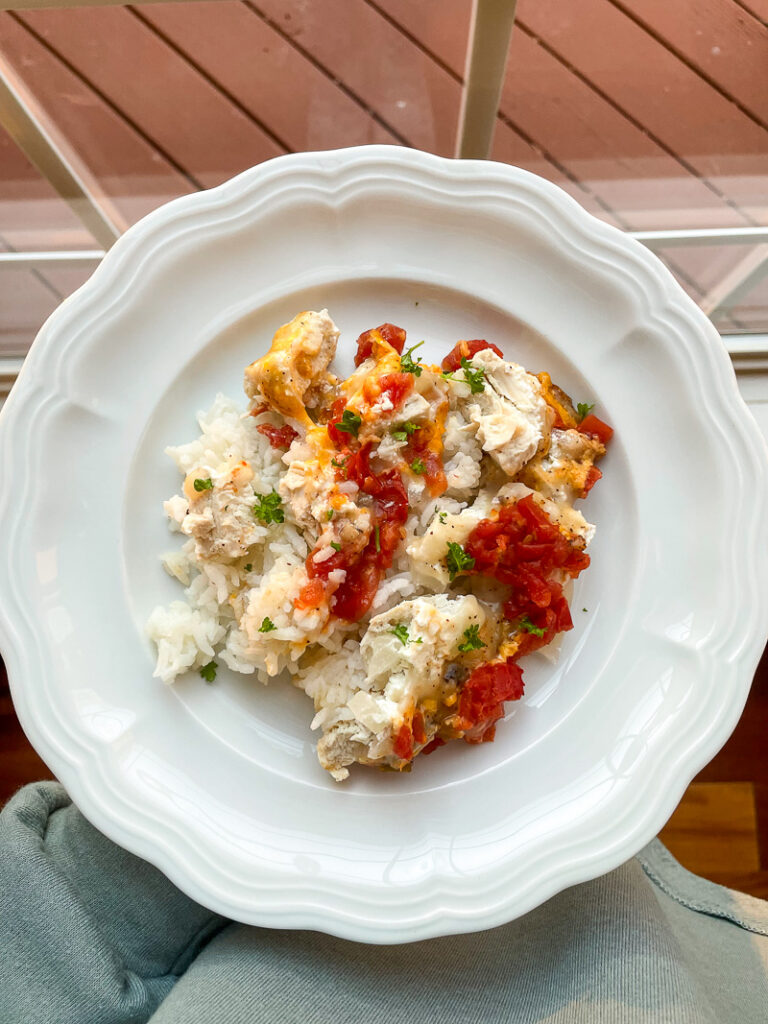 I shared the making of the meal on Instagram (it's saved as a highlight) and received a slew of messages asking for the full detailed version. Since I don't have contact with the original Suzie, I asked mom if she thought she'd mind if I shared it and got the unofficial go ahead, so here it is- Suzie's Chicken!
It's a simple meal to make. First you cook the rice. For white basmati it took 15 minutes, but you could use any rice you'd like- from the freezer, from a microwave pouch, or a hearty wild blend. While the rice is cooking, you cook the chicken. I boiled mine, but you could bake it or use a ready to go rotisserie.
Once the rice has cooled enough to handle and the chicken is cool enough to chop into bite-sized pieces, you're ready to layer!
Layer in the following order: rice, chicken, onion, sour cream, cream of chicken soup, chili powder, then the grated sharp cheddar. At this point you can pause and stick it in the fridge for the next day, or tightly wrap and freeze for up to three months. If you are going to bake it immediately, spoon 1 can of Rotel over the top, then bake for 45 minutes.
I hope this twist on a hearty classic chicken casserole fills the stomachs of the ones you love with comfort and that you enjoy it as much as my family has over the years!
Print
Suzie's Chicken Recipe
Author:
Prep Time: 20 minutes
Cook Time: 45 minutes
Total Time: 1 hour 5 minutes
---
Description
This hearty, comforting casserole is a slam dunk option to bring to a friend in need of a meal. It's universally liked for delicious, flavorful, but not spicy taste.
---
1 cup rice
2 cup chicken broth
3 large chicken breast (about 1.5 lbs)
1 small onion, diced (about 3/4 cup)
1 cup sour cream
1 can (10.5 oz) cream of chicken soup
1 tsp chili powder
1 cup grated sharp cheddar cheese (more or less depending on your preference)
1 can (10 oz) Original Rotel
---
Instructions
Preheat the oven to 350 degrees. Bring a large pot of water to a boil.
Cook the 1 c of rice in the 2 c of chicken broth according to the directions on the package. If using white basmati rice, combine rice and broth, bring to a boil, reduce to a simmer, cover, and let simmer for 15 minutes until all the broth is absorbed.
In the large pot of boiling water, add the chicken and boil until cooked through, about 15 minutes depending on the thickness of the chicken breast.
When chicken is cooked, let cool, then chop into bite sized pieces.
Using a 9×13 baking dish, layer the ingredients in the following order: cover the base of the dish with rice, then chicken, onion, sour cream, cream of chicken soup, chili powder, and grated cheese.
If baking immediately, spoon the can of Rotel over the top and pop it in the oven, uncovered, for 45 minutes.
If freezing, do not add the can of Rotel. Cover tightly and freeze for up to three months. When ready to bake, defrost in the fridge overnight, then add the Rotel and bake as usual.
---