I can remember back when I first had Hailey. I recall that overwhelming feeling of wondering how I could possibly keep up with doing anything besides attending to her needs.
It was such a blessing it was to have friends show up at the door with meals, especially because we were still relatively new to the area. Having the the luxury of eating a comprehensive, warm meal- what a treat!
Since then I've really understood how helpful food is in a variety of life's situations (I think gifting a delivery of these is one of the greatest gifts) and keep a running list of my favorite meals to bring to a new mom.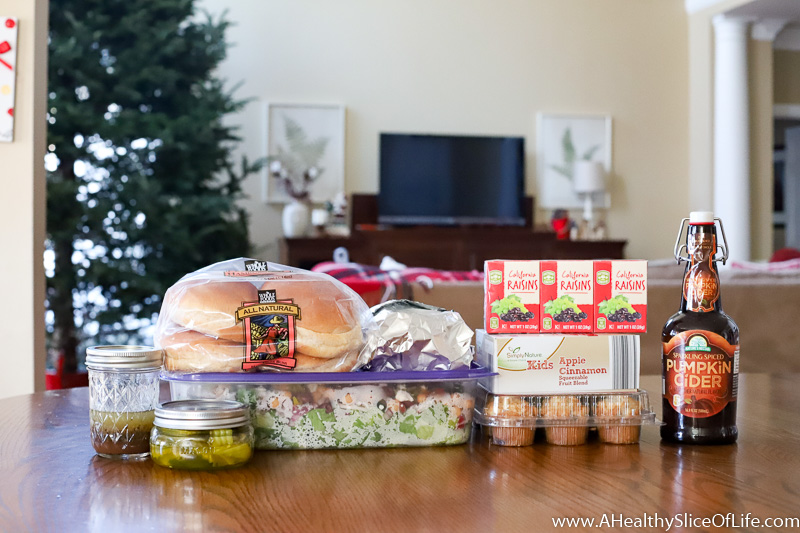 A dear friend of mine recently had her third beautiful baby girl. Another friend organized a meal train and I love how now people space out the meals over several weeks.
It's such a smart idea, since a meal can be just as (if not more) helpful one month in as it can that first week.
I was so thrilled to finally have the chance to go soak up some newborn snuggles yesterday and, by the way, how it's possible for anyone to look so beautiful and pulled together with a newborn in their home, I won't ever understand. How do you do it, Tanya?!
Also, her house was fully decorated for Christmas. Me = speechless.
Anyway, back to food. I know many people subscribe to the "just show up" with a meal mentality and I totally get that because what new mom wants to have to think about or decide what to have for dinner? That is the hardest part, right?
However, I like to try and feel out the situation just a little bit via text. I know my friends' eating habits (dairy-free, vegetarian, etc), but then I try to gauge whether they are in the mood for comfort food or if they've been inundated with casseroles and might be ready for something on the lighter side.
Once I get a sense of the dinnertime vibe, I consult my list and go for it!
My Favorite Meals to Bring to New Moms
Southwestern Sausage and Vegetable Brown Rice Casserole: This super simple, 7 ingredient casserole is full of fresh vegetables and brown rice, making it as wholesome as it is hearty. Easy to prepare ahead of time, this Southwestern sausage and vegetable brown rice casserole is adaptable and is sure to become a family favorite!
5 Ingredient Spaghetti Squash Pizza Pie: This is always a hit for the low-card/paleo crowd. It's packed with flavor and kids love it too (just use non-spicy sausage).
Chicken Enchiladas: This recipe rocks because it makes two large pans of enchiladas, perfect for a large family or so you can knock out your own dinner and bring dinner to a friend in one fell swoop. Plus, it's easy to pair with chips, salsa, and guacamole which is always a win in my book.
Sausage, Kale, and White Bean Soup – This sausage, kale, and white bean soup recipe has a comforting and robust depth of flavor and texture thanks to the spices in the sausage and the creaminess created by pureeing the majority of the beans.
Vegan Black Bean Burgers: I've tried a lot of different bean burger recipes and this one remains my favorite. It's flavorful and hearty; a hit for moms, husbands, and kids (because you can dip it in ketchup!)
I brought these burgers to my friend yesterday. I doubled the recipe to make dinner for both of our families at once.
Then I wrapped them up with instructions to bake them for 40 minutes at 300 degrees. I added a large Greek salad, buns, and pickles too. Viola- dinner!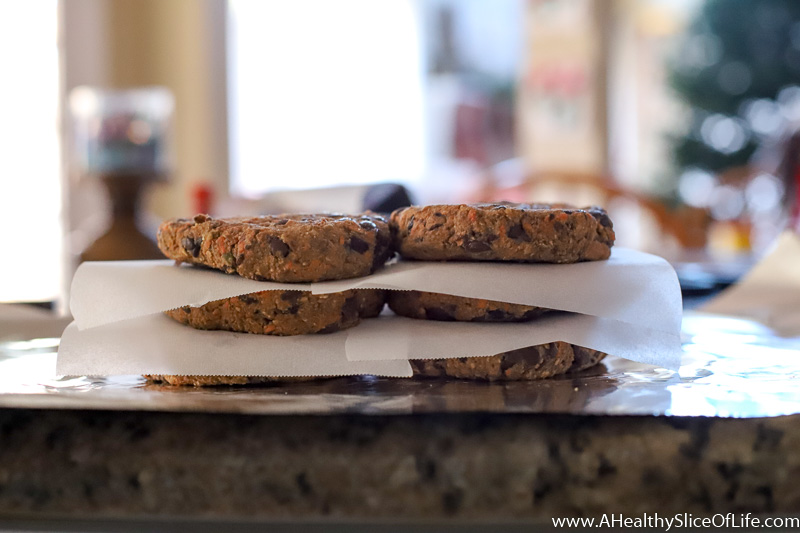 Spinach & Ricotta Stuffed Shells: This easy stuffed shells recipe with basil, spinach, tomato, and ricotta cheese will make just about anyone ask for seconds… which they can because it makes two pans!
Whole30 Shepherd's Pie with Cauliflower Topping: Perfect for the health-minded new mom that is craving comfort food. The recipe takes a little time to prepare but I can pretty much guarantee they'll ask you for the recipe. It's hearty, delicious, and easy to prepare ahead of time.
Glowing Spiced Lentil Soup: This is hands-down one of my favorite soups. It's not a meal for everyone, especially if they already have kids at home and you want to bring something the whole family will eat with ease, but for a new mom to one child that is seeking comfort and flavor, it's a great option!
Mom's Homemade Spaghetti Meat Sauce: If the family eats meat, this is a hands-down go-to. It's the spaghetti recipe I grew up eating and I have yet to meet someone that doesn't like it. Comforting, flavorful, and super-kid friendly!
There have been times I really want to bring a meal but have not had time to get into the kitchen and make something. My go-to options for picking up a meal are:
Zoe's Kitchen: Fresh, delicious, Greek-inspired food! Plus they offer small and large family meals that make it easy to order and pick-up.
BBQ: For comfort food that the whole family will love (cough, mac 'n cheese, cough). Local friends, Big Tiny's BBQ in downtown Mooresville is one of my favorites!
Pizza: Who doesn't love pizza, right? For my friends that just want to have a meal they can throw down and have the whole family eat, pizza wins. I usually grab Papa Murphy's because I love the take 'n bake style so they family can have freshly baked pizza whenever they are ready for it.
I usually try to toss in a snack or muffin (or these toaster pop-ups if they like hearty and wholesome) and maybe a fun beverage, but I keep in mind that done is better than perfect.
I remember how grateful I was for any food or meal brought to me as I was balancing diapers and cluster-feedings, and know that just showing up with something is so appreciated.
I'd love to hear from you-
What is your go-to meal to bring a new mom friend?
What was the best/most helpful meal you received when you had a baby?