Good morning, my friend- let's chat about the beloved tried and true gadget for helping busy moms get dinner on the table. Yes, I'm talking about cooking in a crockpot. Whether you use a traditional slow cooker or the Instant Dutch Oven, this gadget is a staple in our kitchens for good reason- it helps us get a warm dinner on the table with low effort.
Crockpots are one of the best ways to prepare healthy and delicious meals without taking up so much of your time and energy. The best thing I've learned over the years of using one is how there are plenty of dishes you can cook in a crockpot that go way beyond the typical shredded chicken or pork. There are some delicious and creative recipes out there now, that really elevate slow cooker food beyond the cliche mush they used to be known for. I hope this post can be a resource for you, as today I'm sharing a round-up of easy but delicious family dinner recipes you can make using a crockpot!
Easy Crockpot Dinners for Family
Slow Cooker Pot Roast
This delicious and comforting easy slow cooker pot roast requires only 6 ingredients and less than 10 minutes to prepare. It's a great set and forget meal because it will cook all day and make your house smell amazing. Everyone will come running at dinner time to load up on a big plate of potatoes, carrots, onions, and pot roast because comfort food after a long day truly can't be beat. Get the recipe for my go-to slow cooker pot roast.
Slow Cooker Honey Garlic Chicken Thighs
This recipe for slow cooker honey garlic chicken thigh combination goes well over rice and offers a slightly sweet flavor that makes it particularly popular with kids. It includes carrots and sweet potatoes for added nutrition and freezes well, making it a good option to prep ahead of a busy week.
Sweet Potato Black Bean Chili
This vegetarian chili is so hearty that you won't miss the meat. Packed with satiating veggies and beans with a kick of spice, it will quickly become one of your favorite cold weather dinner recipes. It takes 20 minutes of prep time, but then is hands off. Top this sweet potato black bean chili with sour cream and chives; hope you enjoy it as much as we do!
Slow Cooker Chicken Curry
This slow cooker chicken curry is one of the most popular dinner recipes on my site and with good reason. For a recipe that is easy to set up, it provides an incredible depth of flavor thanks to the coconut milk, curry powder, and turmeric. It's also well balanced on its own with chicken and chickpeas for protein and onions, peas, and carrots for nutrition. Serve it over rice or with naan bread for dipping.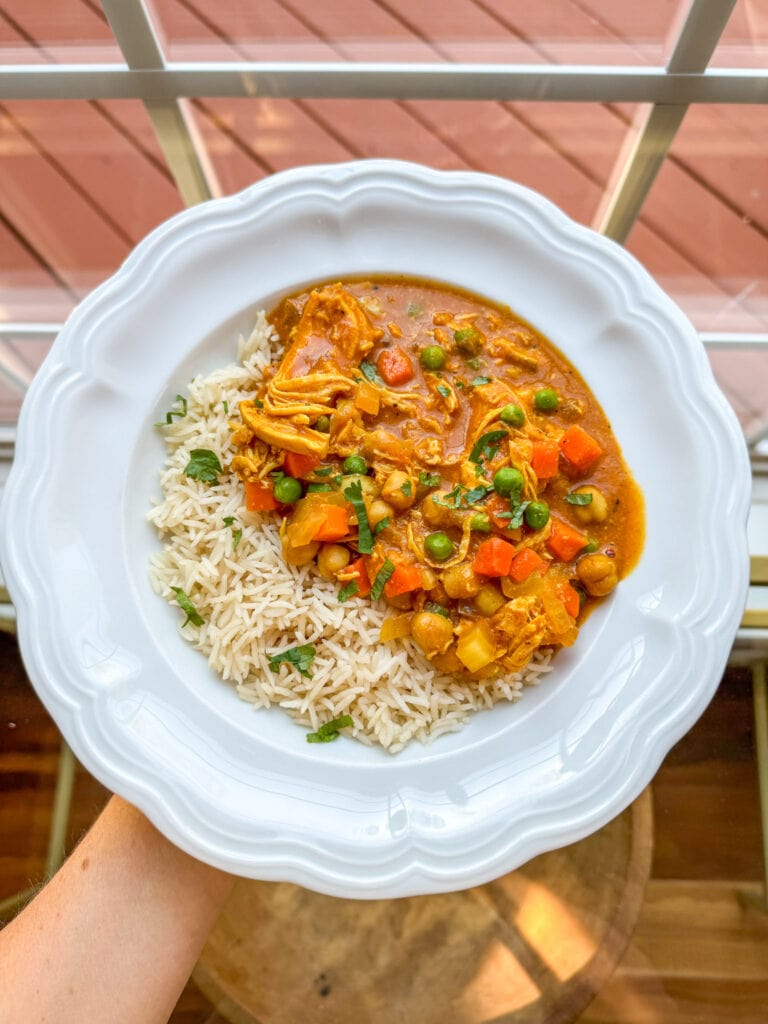 Crockpot Baked Ziti
This is one of my kids' favorite slow cooker recipes. This crockpot baked ziti is a hearty dish combining ground beef (or Italian sausage adds a nice twist), pasta, and marinara. It's one of our go-to dinner for busy soccer nights when everyone comes home hungry.
Crockpot Mac and Cheese
This easy crockpot mac and cheese works well as a side dish or as a main event. I love this recipe because it does not require you to precook the macaroni. You simply add it to the slow cooker with the rest of the ingredients and it cooks into a tender and cheesy dish altogether.
White Wine Chicken Stew
Hearty and delicious, this slow cooker white wine chicken stew is filled with fresh herbs, veggies and plenty of protein. This creamy white wine chicken stew is gluten free and dairy free, and is truly a hug-in-a-bowl that's perfect for colder months!
Slow Cooker Creamy Chicken Burrito Bowls
This creamy slow cooker chicken burrito bowl recipe is an easy crockpot recipe to throw together. It creates a flavorful, hearty one pot meal. Wrap it in a tortilla or serve it over rice with salsa, avocado, and tortilla chips on one of your busy nights.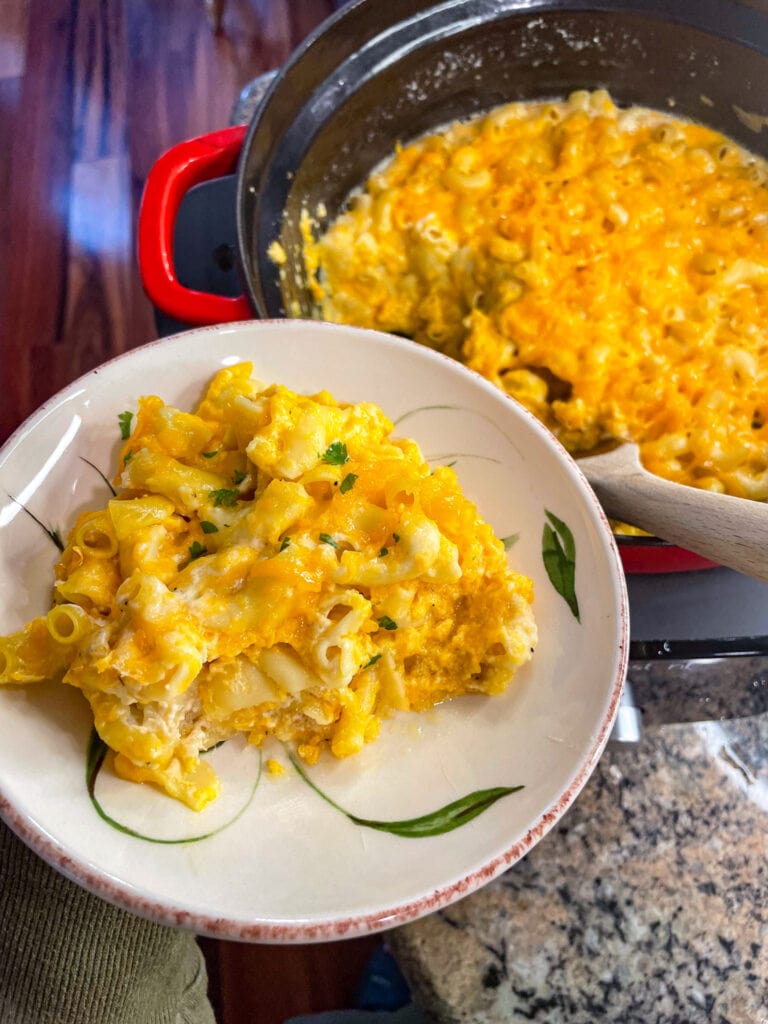 Mississippi Pot Roast
If you are searching for a truly easy slow cooker dinner, then you are going to want to try Mississippi pot roast. Only 5 ingredients, then set it and forget it, this slow cooker beef dish with what many will argue is the ultimate comfort food. You can serve it over rice, over mashed potatoes, or as a sandwich.
White Chicken Chili
Eat it by itself or use it as a dip, simply throw this Crock Pot Cream Cheese Chicken Chili recipe into your slow cooker in the morning and you'll have a delicious chili at dinnertime your whole family will love!
Crockpot Lasagna Soup
It might sounds little funny, but if you love lasagna but hate all the work then you are going to love this easy crock pot lasagna soup recipe. Besides browning the ground beef you let your crock pot do all the work to combine the Italian seasoning, minced garlic, lasagna noodles, ricotta cheese and more into a delicious meal.
Slow Cooker Pulled Pork
Pulled pork is a slow cooker classic for a good reason; it's incredibly juicy, tender and flavorful with the perfect blend of spices. It is full of flavor of it's own, but is also versatile. There is so much you can do with it from serving it over mashed potatoes or wrapping it in a tortilla with guacamole or on a bun with BBQ sauce. Slow Cooker Pulled Pork Recipe.
French Dip Sandwiches
A great main dish to serve when you have friends over to watch a game, these French Dip Sandwiches are made with slow cooked roast beef served on crusty rolls with melty cheese and savory au jus.
Red Beans & Rice
Want pure comfort but don't want to put in a lot of effort? This slow cooker red beans and rice with smoked sausage and creole seasoning is a classic dish that will feed a crowd; all you do is add everything to the pot and hit go. Serve with rice and cornbread to soak up everything last bite.
Chicken & Wild Rice Soup
If you are craving something creamy and cozy but aren't wanting to whip up some chicken alfredo, this crockpot chicken and wild rice soup will hit the spot. Chicken, carrots, celery, onion, wild rice, seasonings, and cream. Pair with a piece of crusty bread on a cold night for the perfect meal!