Yesterday Hailey had her friend, Grace, over to play for the afternoon. Like always, the girls had a blast. We hit up the play set then moved on to playdoh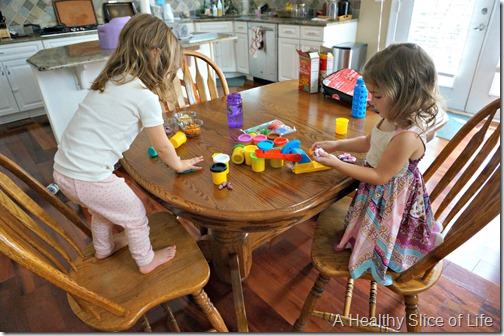 then finished up with playing a crazy few rounds of THE BEST GAME EVER. And yes, my child was in jammies all day.
Back to the best game ever. HIDE AND SEEK. Seriously adults, why did we ever stop playing it? It's been our go-to game around here recently and we often play in teams. Our hiding places have upgraded from crouching behind a couch to hiding in cabinets and other sneaky places…
I'm thinking next time we have friends over, we need to have an epic round of hide and seek. I already know all the good spots after all!
Great, right? But what does this have to do with chili?
Because you know what really grinds my gears? When mom (ME) has to stop playing to go make dinner. I love cooking but playing a game with the whole family really can't be beat. Some days I wish dinner would just cook itself. And thanks to the wonderful crockpot, some days it does!
Now crockpot meals are a favorite for everyone, right? There is nothing like tossing it all in then coming home to a fragrant house with dinner ready to go. This sweet potato and black bean chili is a winner, not only because it's a hearty vegetarian meal, but because it truly is one of those toss-it-all-in-and-forget-it meals… well, except for the beans. Those go in at the end.
I'll be upfront that the prep work does take 20-30 minutes, but you could easily do that the night before.
By the way, did you know there was another can besides Eden Organic that has BPA-free cans?
Anyway, the chili. It's spicy, filling and packed full of fresh veggies and satiating beans. With fall weather around the corner, add it to your 'must try' list and report back with what you think. Personally, I'm a big fan!
Print
Sweet Potato & Black Bean Crockpot Chili
Prep Time: 30 mins
Cook Time: 8 hours
Total Time: 8 hours 30 mins
Yield: 4-6 servings 1x
---
Description
This hearty, spicy vegetarian chili will warm you up and keep you full.
---
1 large onion, chopped
1 red pepper, cored, seeded, & chopped
1 green pepper, cored, seeded, & chopped
2 jalapeno peppers-seeded & diced
2 medium sweet potatoes, peeled and diced
4 large cloves garlic, minced
3 Tbsp chili powder
1 tsp sea salt
2 tsp cumin
1 tsp fresh ground pepper
¼–1/2 tsp crushed red pepper
1.5 tsp basil
1 bay leaf
14.5 oz diced tomatoes
28 oz vegetable broth
30 oz black beans, rinsed and drained
Juice of 1 lime
Garnish: sour cream, chopped fresh cilantro, chopped scallions
---
Instructions
Add all ingredients into the slow cooker, except black beans and lime juice.
Cook on low for 8 hours.
minutes before eating, add the black beans and stir well.
Right before serving, stir in the lime juice.
Garnish and serve warm.
---
What is your favorite kind of chili?