This meal is packed with warm spices and healthy, hearty vegetables and since it just needs a few hours in the slow cooker — just set it and forget it until you're ready to serve!
Crockpot meals are some of my favorite kind of dinners. There is something so satisfying about making dinner at the same time as breakfast or lunch and knowing that I'm done in the kitchen for the day. It makes me feel really on top of my game. Plus, the house smells incredible.
I have a few favorite go-to slow cooker recipes:
And now this- slow cooker butternut squash dal with cauliflower rice!
Sounds fancy, right? It's actually quite simple yet still has all the flavor and aroma you want in a savory Indian-spiced dish.
It is helpful for this recipe (and many others) to have a slow cooker that has a saute function. You could easily saute the onions, garlic, and ginger in a pan and transfer to the slow cooker, but it really is nice being able to cook the entire meal and have only one pot to clean up.
I have the Cuisinart 3-in-1 Cook Central. I absolutely love it, except for one thing: the coating on mine is starting to deteriorate. I use only plastic and wooden utensils, yet still, the coating is starting to show wear and tear. If you have a suggestion for a programmable slow cooker, with the saute feature, with a ceramic insert, please let me know!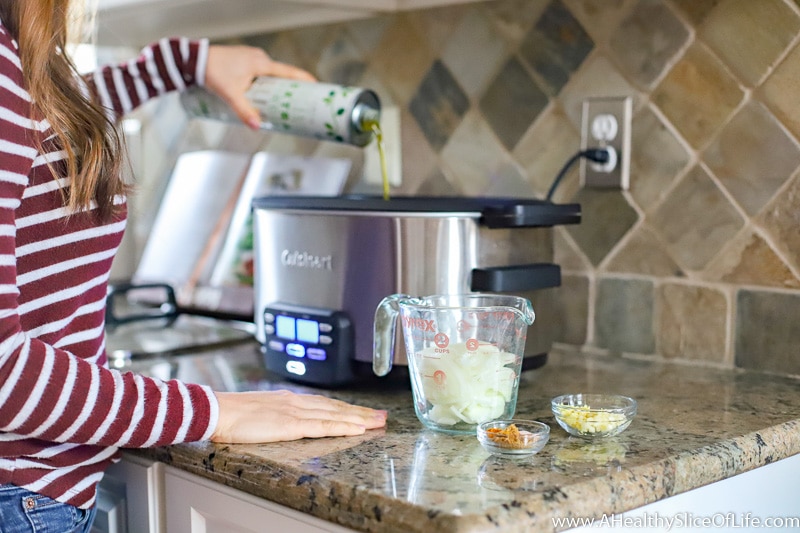 But back to the recipe. This recipe is vegan, dairy-free, gluten-free, paleo, and absolutely delicious. However, you can also customize it to your preferences.
For a boost of vegetarian protein, add lentils when you add the squash and let them cook together. To add chicken, dice 2-3 chicken breasts into bite-sized pieces and stir in when you add the squash. It's really quite versatile and easy for kids to help with, too.
I keep the spice-factor at a mild level because the girls aren't into super spicy food, and happily eat this meal (over a blend of cauliflower rice and basmati rice with a hearty serving of naan). However, to my dish I usually add a sprinkle of cayenne or a little sriracha to kick things up a notch.
One last note- the recipe calls to cook on high for 3 hours, which works nicely when I prep it at lunch time. However, cooking on high for 6 hours also works out just fine, too!
Enjoy!
Print
Slow Cooker Butternut Squash Dal with Cauliflower Rice
Author:
Prep Time: 15 minutes
Cook Time: 3 hours
Total Time: 3 hours 15 minutes
Yield: 4 servings 1x
---
Description
This meal is packed with warm spices and healthy, hearty vegetables and since it just needs a few hours in the slow cooker — just set it and forget it until you're ready to serve!
---
1 tablespoon olive oil
1 1/2 cups thinly sliced onion
2 cloves garlic, minced
1 tablespoon minced fresh ginger
1 teaspoon turmeric
1 teaspoon cumin
1/2 teaspoon salt
1/8 teaspoon cayenne pepper
4 cups diced butternut squash (about 1 large squash)
8 ounces diced canned tomatoes (or 1 cup freshly diced tomato)
2 cups vegetable broth
1/4 cup chopped fresh cilantro
1 teaspoon garam masala
1 (12-ounce) package riced cauliflower
limes
---
Instructions
Heat olive oil in a large skillet over medium-high heat until hot. Add sliced onions and cook for 4-5 minutes or until onions begin to brown and char. Add garlic and ginger; cook for an additional minute.
Transfer onion mixture to a slow cooker. Top with turmeric, cumin, salt, and cayenne pepper. Stir in butternut squash and tomato. Add vegetable broth.
Cover and cook on HIGH for 3 hours. Stir in fresh cilantro and garam masala. Gently mash the butternut squash and stir mixture until in thickens a bit.
Heat riced cauliflower according to package instructions.
Serve butternut squash mixture over riced cauliflower with a few squeezes of fresh lime.
---