Put 'em on a tortilla, over grains and beans, or crunchy greens- this tasty honey chili lime fajita marinade works beautifully for chicken, steak, or even Portobello mushrooms!
Craving Mexican-inspired meals? You may also like this Southwestern Sausage, Veggie, and Brown Ride Casserole, these easy oven-baked bean burritos, or this Easy Chicken Tortilla Soup.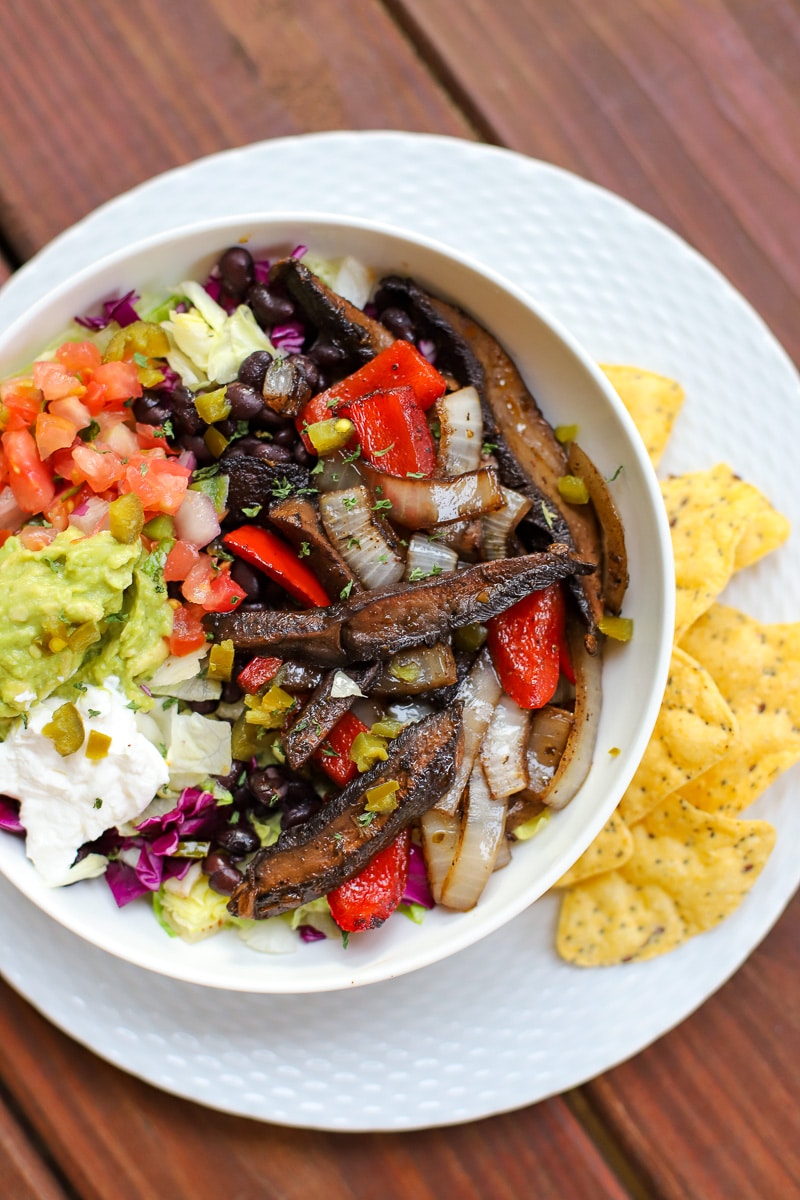 This marinade creates the most flavorful and fresh fajitas, delicious wrapped in a tortilla or as a topping on a salad.
We eat fajitas weekly and oscillate between chicken, steak, shrimp, and Portobello mushroom. This marinade will work on all of them!
For the pictured Portobello mushroom fajita bowl above, layer the following:
iceberg and romaine lettuce
shredded purple cabbage
sautéed Portobello mushrooms, onion, and red pepper
black beans
pico
guacamole
sour cream
chopped pickled jalapenos
For the pictured Portobello mushroom fajita bowl above, layer the following:
romaine
sautéed peppers and onions
honey chili lime chicken
honey chili lime Portobello mushrooms
black beans
guacamole
salsa
diced red onion
jalapeno peppers
Whip these up soon, or pin the recipe to have on hand for later. And when you make this honey chili lime fajita marinade, please come back and let me know what you think! Enjoy!
Print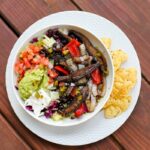 Honey Chili Lime Fajita Marinade
---
Description
1/4 c olive oil
1/3 c lime juice
1/4 c water
2 garlic cloves, minced
1 Tbsp honey
1 Tbsp chili powder
1 tsp paprika
1/2 tsp onion powder
1/2 tsp cumin
1 1/4 tsp salt
1/4 tsp pepper
---
Place the olive oil, lime juice, water, garlic, paprika, cumin, onion powder, chili powder, salt, and pepper in a bowl. Whisk to combine.
Place in a bag with protein of choice (or you can use for Portobello mushrooms) in a bag, whether ziplock or Stasher. Marinate in the fridge for at least 30 minutes and up to 24 hours.
Remove from marinade, grill or saute, and enjoy!
---