This veggie-packed black bean soup makes a flavorful and hearty vegetarian meal! Just set it and let the crock pot do all the work.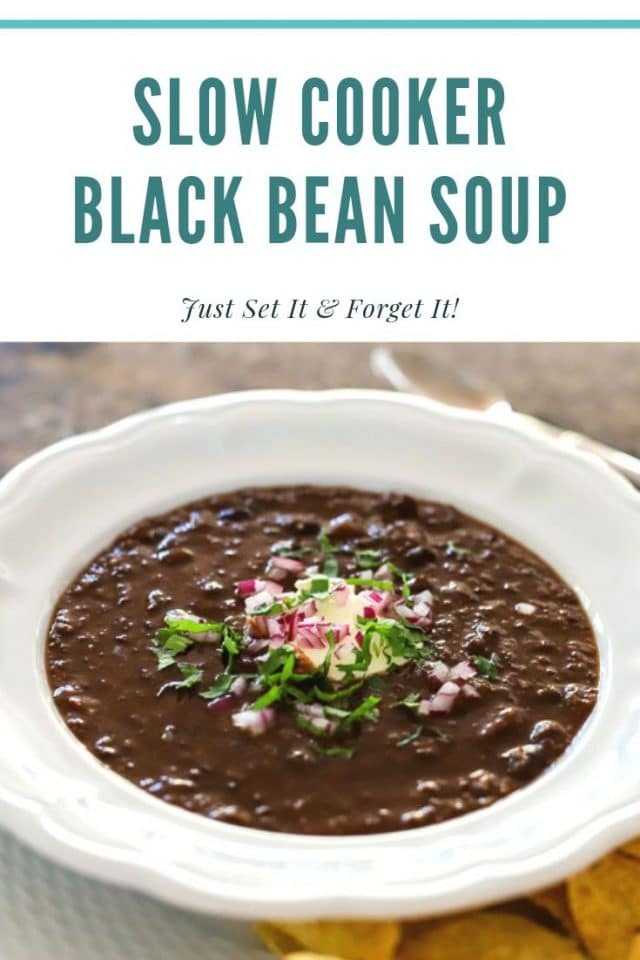 A few weeks ago a friend brought me some black bean soup to try. It was delicious and I immediately asked her for the recipe. Like most recipes, it was tweaked and she couldn't quite recall everything that went into it, but gave me a good base to start from. Since then I've made 3 different batches and tweaked it myself to create a delicious, hearty soup that is a true set-it-and-forget-it crockpot recipe (my fav!).
When I use crockpot recipes I am looking for one that can simmer all day. Not only does it make the house smell delicious, but to me, the point of using a slow cooker at all is that you don't have to attend to it.
Using dried beans keeps the cost low, though you will need to soak them the night before. In fact, you could do all the prep the night before and just turn it on before you leave for the day. In the morning, simply rinse the beans and add them to the crockpot with the rest of your ingredients.
Turn it on low for 12 hours and high five yourself that dinner is taken care of!
When you are ready to eat, simply use an immersion blender to make it as smooth as your taste buds prefer. Or use a regular blender and blend in batches. It's a good idea to take out the center of the top and cover loosely with a paper towel to allow steam to escape.
Then, top it with your favorites: avocado, scallions, red onions, sour cream, Greek yogurt, cilantro, hot sauce, etc.
This is a great recipe for kids, too. I don't think the cayenne makes it too spicy, but you can always leave that out if you are feeding the family. For my girls, I add a sprinkle of cheese and serve it with corn chips for dipping. Enjoy!
[Tweet "This veggie-packed black bean soup from @ahealthyslice makes a flavorful and hearty vegetarian meal! Just set it and let the crockpot do all the work."]
Print
Crockpot, Veggie-Packed Black Bean Soup
Author:
Prep Time: 20 mins
Cook Time: 12 hours
Total Time: 12 hours 20 mins
Yield: 16 cups 1x
Category: soup
---
Description
This veggie-loaded, simple crockpot black bean soup is great for a hearty vegetarian dinner.
---
1 lb dried black beans
3 celery stalks, chopped
1 red pepper, chopped
1 green pepper, chopped
1 small onion, chopped
1 (15 oz) can of diced tomatoes
6 garlic cloves, minced
2.5 cups vegetable broth
2 cups of water
2 Tbsp cumin
2.5 Tbsp chili powder
2 Tbsp paprika
2.5 tsp salt
2 bay leaves
1 tsp cayenne powder
1 Tbsp fresh lime juice
Toppings: sour cream, cilantro, scallions, avocado, red onion, Greek yogurt
---
Instructions
Soak black beans overnight. Make sure they are covered by at least an inch of water.
In the morning, prep all vegetables, rinse the black beans and add all ingredients except the lime juice to the crockpot.
Set on low for 12 hours.
When ready to eat, use immersion blender or regular blender to puree until desired consistency is achieved (I like to leave it a little chunky).
Stir in lime juice, add salt and pepper to taste and serve with your favorite toppings and tortilla chips.
---
Notes
It takes the full 12 hours for the beans to cook, which makes it a great recipe for a full day out of the house. But if you need it done more quickly, crank it up to high for a couple hours until the beans are soft. You won't overcook it.
You may also like:
Spicy Sweet Potato and Black Bean Chili