This fall-spiced chili is perfect on a cool afternoon when you want something warm, comforting and cozy. Plus, thanks to the pumpkin, kidney beans, ground chicken and perfectly-balanced seasoning blend, this is a healthier version of an often-heavy meal!
This is a recipe that I have been making, adjusting, making (again), adjusting (again) for years, and finally — it's a winner.
It can be challenging to create a chili that has just the right amount of flavor and spice, so I needed to experiment with new seasonings and different amounts of each, and because I always love to pack in as many healthy, hearty proteins and vegetables as possible, I had to learn — sometimes the hard way! — which ingredients would hold up to the cooking process.
The funny thing about all this trial and error? The end result is a pretty simple blend that you most likely have all the spices for in your pantry already! And thank goodness for that because I know I still have a barely touched bottle of Chinese Five Spice blend from about two years ago sitting in mine…
I digress; back to this comforting chili! It is a fairly simple, quick and truly delicious chili that is packed with fall flavors and healthy additions. Including, a favorite seasonal ingredient: PUMPKIN!
The pumpkin puree may seem like an odd addition, but I discovered you don't really taste it very much, and it provides an extra nutrient punch with antioxidants and a ton of beta-carotene (vitamin A) and even some vitamin K. Plus, it's an addition that really makes it feel perfect for one of those cool fall days (that have finally arrived in the Carolinas!).
Print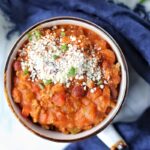 Fall-Spiced Pumpkin Chicken Chili
Author:
Prep Time: 5 min
Cook Time: 45 min
Total Time: 50 minutes
---
Description
This fall-spiced pumpkin chicken chili is perfect on a cool afternoon when you want something warm, comforting and cozy.
---
1 Tbsp olive oil
1 onion, chopped
1 green pepper, chopped
2 jalapenos, seeded and finely chopped
2 garlic cloves, minced
1 lb ground chicken
1 can diced tomatoes
1 can pumpkin puree
3/4–1/12 cups water
1 can kidney beans (drained)
2 Tbsp chili powder
1 Tbsp cumin
1/2 tsp ground turmeric
1 1/2 tsp salt
Optional toppings: sour cream, greek yogurt, parsley, parmesan cheese, chives, sliced jalapenos
---
Instructions
Chop your veggies.
Heat oil over medium-high heat, saute the onion for 2 minutes.
Add in the rest of the veggies (pepper, jalapeno, garlic) and saute for 3 minutes.
Add chili powder, cumin, turmeric and salt to the veggies, then cook for 1 minute.
Add the ground chicken, stir, and cook until just browned. (You don't need to drain this!)
Add the diced tomatoes, pumpkin puree, drained kidney beans and water (see note below on amount of water).
Bring to a simmer for about 30 minutes.
Ladle into bowls and top with your favorite add-ons (I like sour cream or plain Greek yogurt and parsley, but you could also add parmesan cheese, chives, some sliced jalapeno or anything else!).
---
Notes
Cooking spices brings out their flavor, so make sure to let them cook for the minute before adding the meat.
You could use ground turkey as an alternative to the chicken, or even try some crumbled tofu or meatless crumbles for a plant-based option.
You may want to start with 3/4 cup of water but add up to 1 1/2 cups if your chili is too thick.
Prefer less spice or want to make it more kid-friendly? Only use one jalapeno, and offer sliced jalapenos or hot sauce at the table.
This chili has a great texture, and pairs perfectly with cornbread or a few pieces of sourdough for dipping.
While this simple and flavorful variation is a perfect fit for our family, I have gotten some great reader tips over the years, for different spices to kick up a chili or stew. Here are a few:
Try smoked paprika instead of regular, for a boost of flavor.
Chipotle powder is a smoky (but still spicy) alternative to traditional chili powder.
Red pepper flakes, cinnamon, coriander, ground black pepper and cayenne are all popular chili seasonings and could be added if you are feeling wild.
Let me know if you try this, and if you love it as much as we do!