This time of year always messes with my mind. On one hand, it's 90 degrees out, ice cream must be eaten at rapid speed to keep it from becoming soup and letting the girls run through play fountains with their clothes on is the only logical way to let the cool off. (That may or may not have happened yesterday afternoon).
Still, on the other hand, the calendar says September, most kids are back in school and college football kickoff is tonight. TONIGHT. So…. fall…right?
See, totally messes with me.
Today though, I'm focusing only on the fall half of the equation because football to me equals delicious, comforting food. So to celebrate Georgia Tech's (David's alma mater) first game of the season against the mighty Alcorn State, we will be dining on chili. But not just any chili, David's famous chili.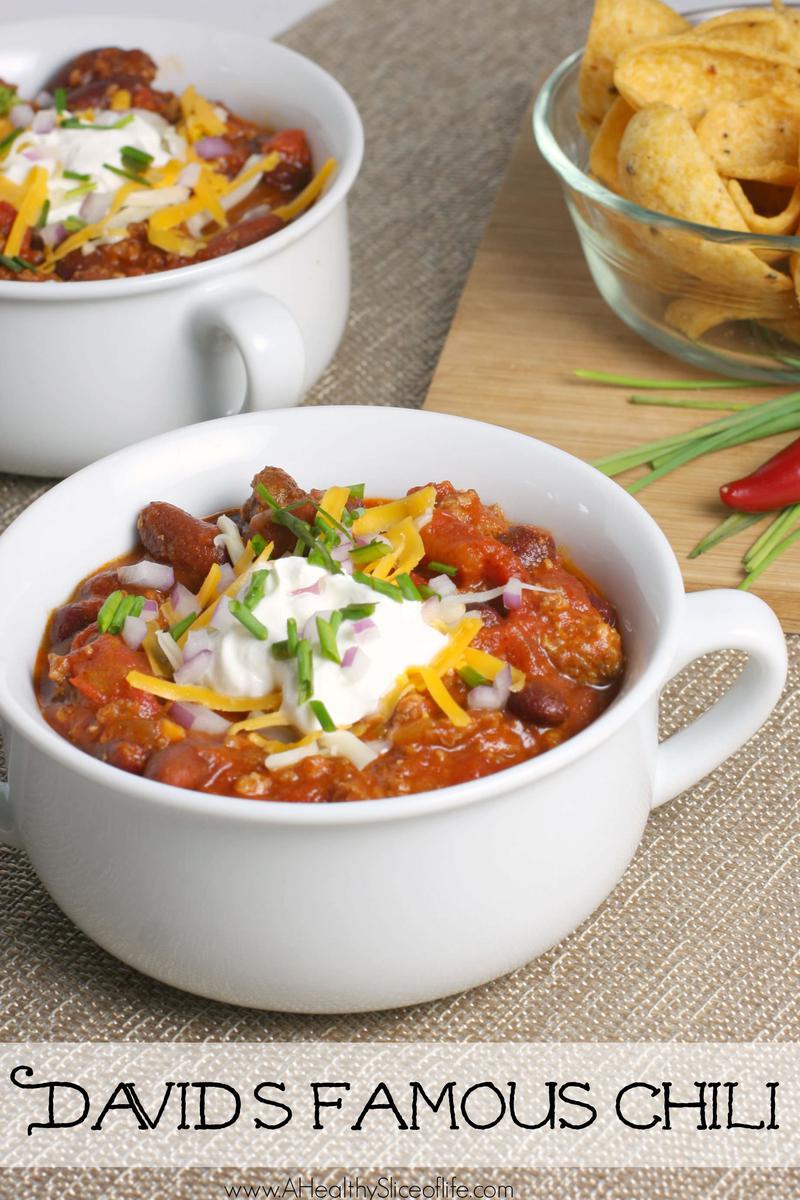 This is not something that we just made up. Nope, David has been making this chili for years, dare I say even during the dark times of BB? (before Brittany).
It's everything chili should be- hearty, savory with a kick of heat and perfect for loading up all your topping favorites.
Once it's all in the pot, it can simmer away all day long, only enhancing the flavor and making the house smell incredible. For those like me who like to prep ahead, it's a perfect meal to make ahead and freeze for convenience too. In fact, mine is going from freezer to sous vide bath for tonight's kick off.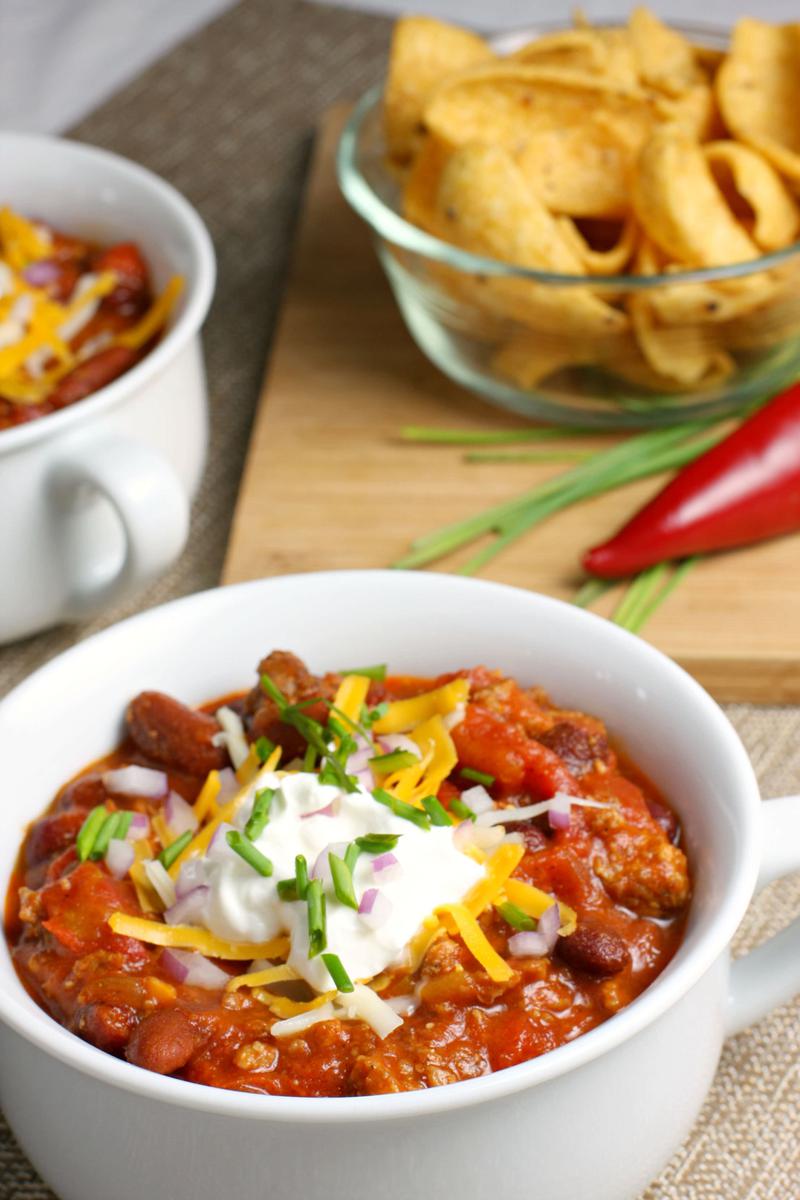 Then I'll be topping it with my favs- sour cream, diced red onion, cheese and chives- and maybe a splash of hot sauce for good measure.
Find similar white handled chili/soup bowls here.
I know there are a million and one chili recipes out there, but if you're looking for a hearty, crowd-pleasing, classic flavor-packed chili, give this one a try! After all, I already did the hard work of making David focus and write down all his measurements instead of just throwing things haphazardly into the pot.
The beauty of chili though is you can certainly adjust it to your liking- more peppers for heat, more tomato sauce for a soupier consistency. Keep it as is or make it your own!
And happy fall y'all!
Print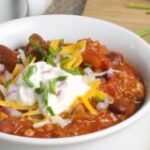 David's Famous Chili
Author:
Prep Time: 30 mins
Cook Time: 2 hours
Total Time: 2 hours 30 mins
Yield: Serves 6-8 1x
---
Description
This hearty, classic chili with a slight kick of heat is the perfect food for fall.
---
1 lb ground beef
1 lb pork sausage
1 Tbsp olive oil
1 onion, diced
4 garlic cloves, minced
1 jalapeno pepper, deseeded and finely chopped
1 serrano pepper, deseeded and finely chopped
1 poblano pepper, chopped
3 (14.5 oz) cans dark red kidney beans, drained and rinsed
2 can Rotel
1 (14.5 oz) cans diced tomatoes
1 (14.5 oz) cans tomato sauce
1–2 (6 oz) cans tomato paste
3 bay leaves
2 tsp chili powder
1 tsp cumin
1 tsp salt (or to taste)
Topping options- sour cream, cheddar cheese, chives, chopped red onion
---
Instructions
In a large pot, cook ground beef and sausage until browned. 
To the same pot,  add onion, garlic and peppers. Sauté until tender, about 3-5 minutes.
To the pot, add the drained and rinsed beans, Rotel, diced tomatoes, tomato sauce, 1 can of tomato paste, bay leaves, chili powder and cumin. Mix thoroughly.
Bring to a boil, then reduce to a simmer and cover.
Let simmer for a minimum of 1-1/2 hours. For added thickness, add additional can of tomato paste.
Serve warm with toppings.
---
What is your favorite chili topping?
I dig a lot of toppings, but I really need sour cream. The contrast of cool and creamy against warm and spicy just hits the spot!
What food just screams FALL to you?
For me, it's chili, pumpkin bread and spiced nuts.