This is a recipe I've played around with a bit because my kids love it. Especially Kaitlyn. It's quite simple to make and then you get the full effect of a creamy, homemade mac and cheese to enjoy!
The only real hands-on part is shredding the cheese, which is easy with a food processor. Of course, you could buy pre-shredded but generally speaking freshly shredded is going to melt much better for you.
Other than that, it's just a simple mix together process, combining butter, evaporated milk, parmesan, whole milk, cheddar cheese, sour cream, Dijon, salt and pepper, and the macaroni then setting it on low slow cook. A few hours later you're ready to enjoy a creamy homemade slow cooker mac and cheese meal!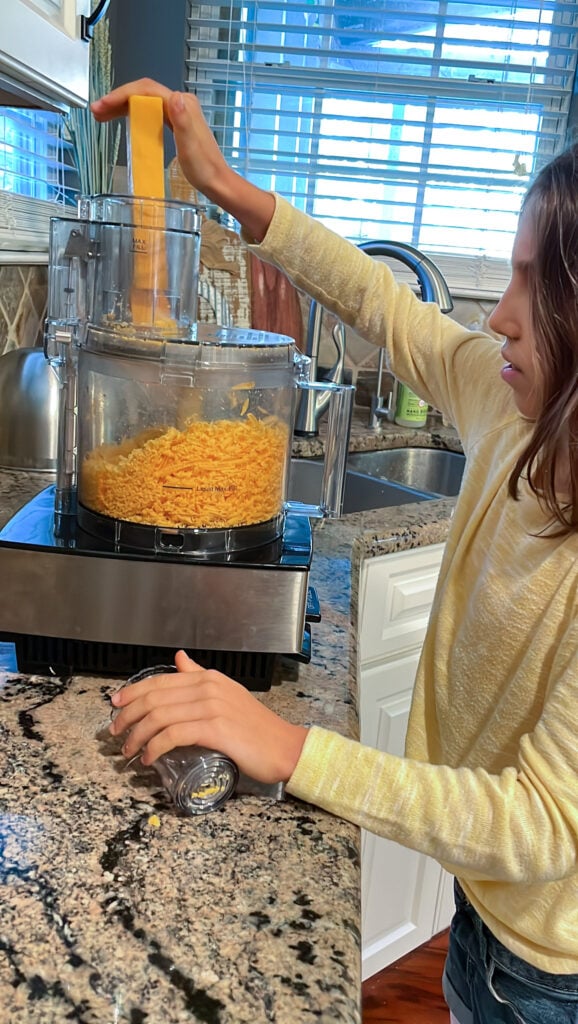 Print
Slow Cooker Mac and Cheese
Author:
Prep Time: 15 imnutes
Cook Time: 2.5 hours
Total Time: 0 hours
Yield: serves 8
---
Description
This homemade slow cooker mac 'n cheese is as easy as mix and cook on low, then serve. It's a creamy crowd pleaser your family is going to love.
---
16 ounces elbow macaroni
4 Tbsp butter, melted
16 ounces sharp cheddar cheese, shredded and divided (4 1/2 c and 1/2 c)
2 ounces grated Parmesan (1/2 c)
12 ounces evaporated milk
5 c whole milk
1/3 c sour cream
1 Tbsp Dijon mustard
1/2 c water
1 tsp salt
1/2 tsp pepper
---
Instructions
In your slow cooker, mix together melted butter, evaporated milk, whole milk, sour cream, Dijon mustard, water, salt, and pepper. Whisk together.
Then add in 4 1/2 c of the shredded cheddar and the Parmesan. Stir to combine.
Finally, pour in the elbow macaroni and slowly mix well until thoroughly combined. Flatter out the top layer with the back of your spoon.
Set your slow cooker to low (roughly 190 degrees) for 2.5 hours. 
After 2.5 hours, sprinkle with remaining 1/2 c of cheddar cheese and recover until melted. Serve warm and enjoy!
---