I'm out of practice for writing up recipes. I think it's because I wing so many of them that I don't have the pictures or specifics to warrant a permanent blog post. However, last week I made this slow cooker chicken curry and it was SO easy and it turned out so flavorful that I made it again yesterday to give it a spot on ze blog for me to link back to because this will definitely be a dinner I make again and again.
Follow me on IG to see what I'm making for dinner each night in stories!
This slow cooker chicken curry requires very little prep- just chop the onion and open the cans. It's also versatile. I added a bell pepper the first time I made it and it was great. You could also toss in diced sweet potato or another hearty veggie at the start. When you add the frozen peas and carrots at the end, you could totally toss in some handfuls of baby spinach to bulk it up in the green department. Versatile.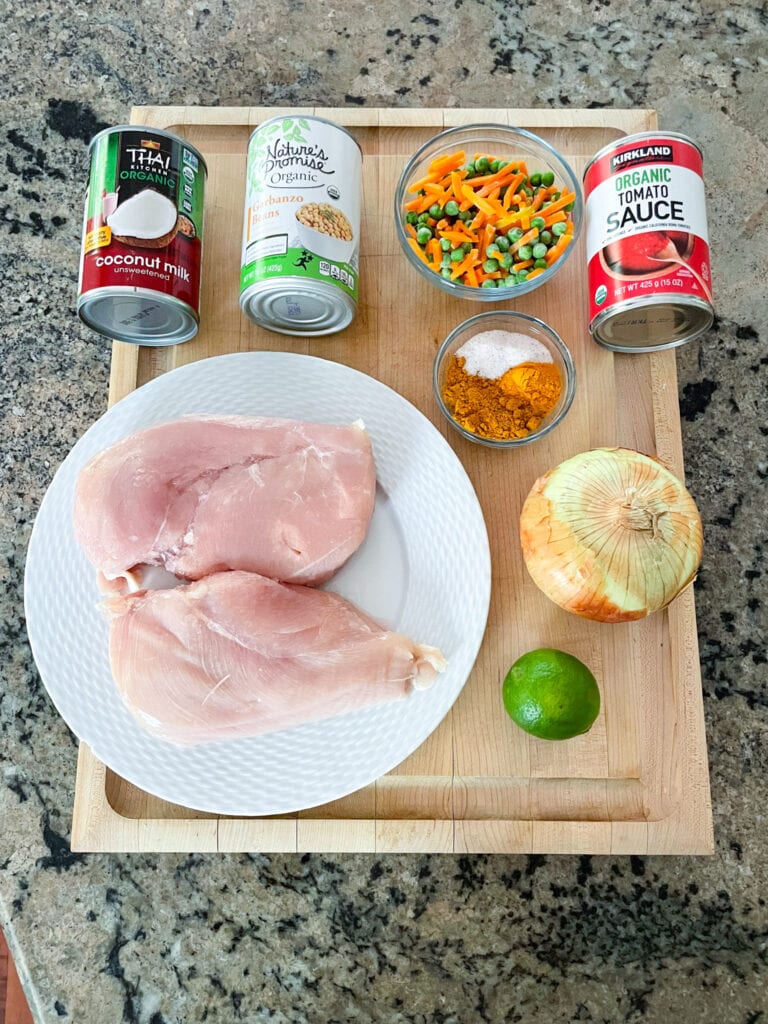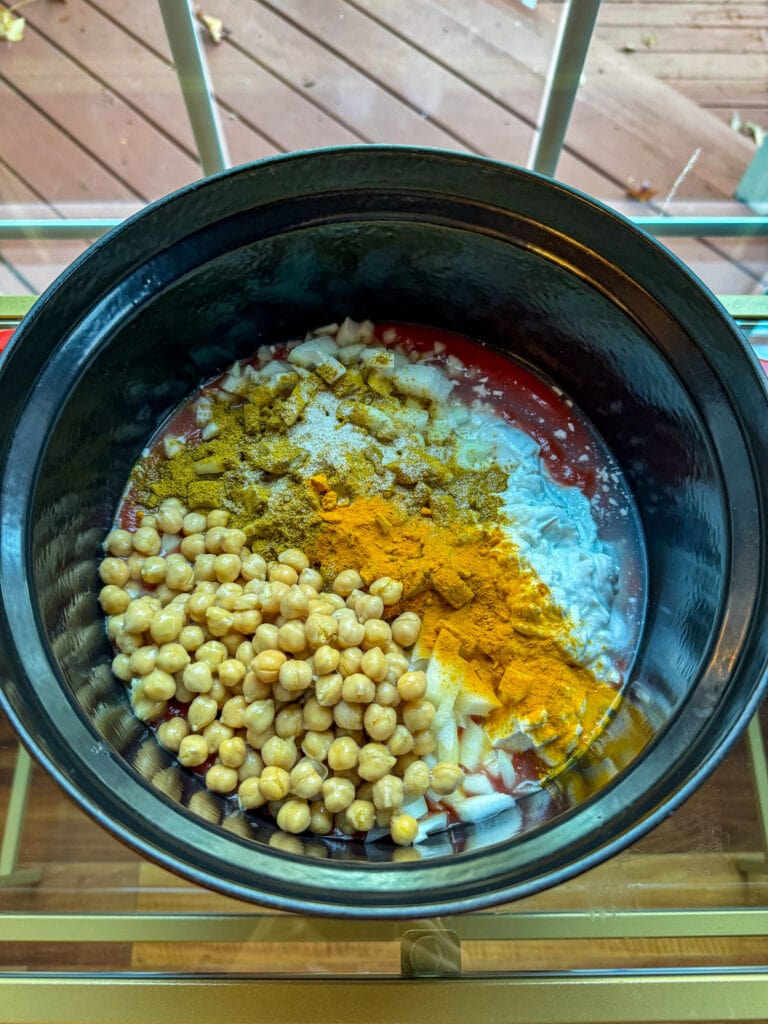 You'll add it all to the slow cooker, then cook it on low for 5 hours or high for 3, shred the chicken (I prefer the mixer method of transferring the chicken to a mixer bowl with the paddle attachment for a good 30 seconds), add back in the chicken with the peas, carrots, and lime juice, then serve over rice. My rice cooker has been getting a lot if use lately!
I hope you enjoy this slow cooker chicken curry recipe as much as I do. If you prefer it spicy, add about 1/2 tsp of cayenne to it, but I keep it mild so the kids can happily eat it, too. The curry powder blend adds a decent kick on it's own.
And if you're into set it and forget it meals, you may also like this slow cooker baked ziti or this easy beef stew. There's never an off season for the slow cooker around here! 🙂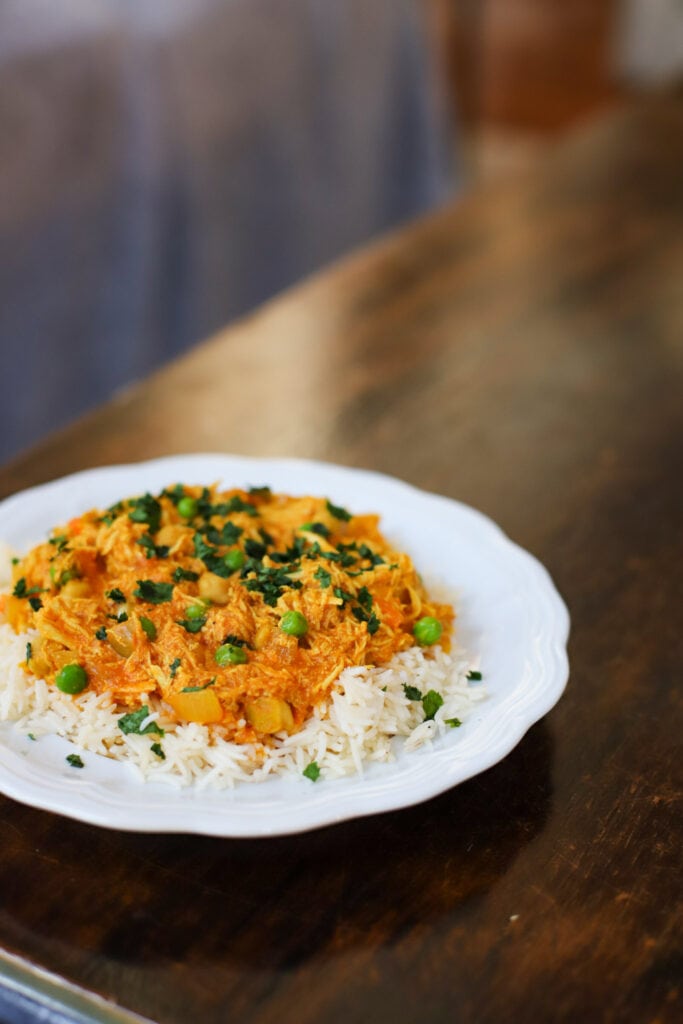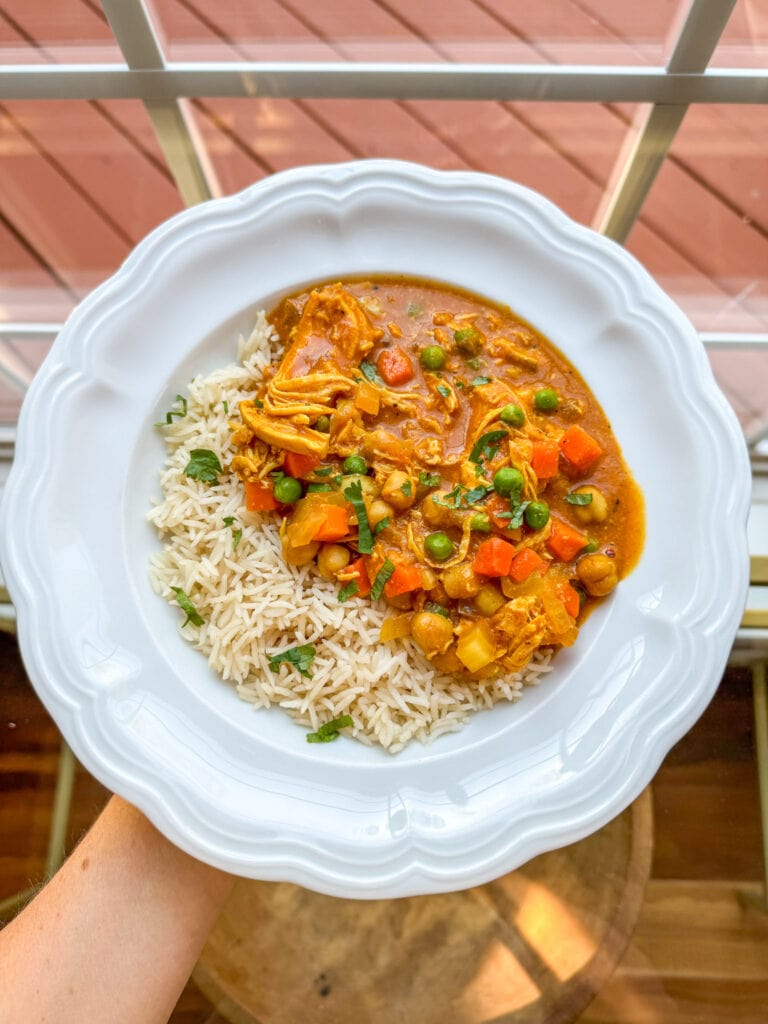 Print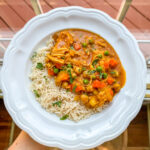 Slow Cooker Chicken Curry
---
Description
This slow cooker chicken curry is a favorite because of it's deep flavor and easy prep, perfect for a busy weeknights when you need a hearty meal ready for you when you get home.
---
1 (15 oz) can tomato sauce
1 (15 oz) can of full fat coconut milk
1 (15 oz) can of garbanzo beans
1 large onion
4 Tbsp curry powder
1 tsp salt
1 tsp turmeric
1.5 lbs of chicken breast
2 c frozen peas and carrots blend
juice of 1 lime
---
Instructions
Drain the garbanzo beans, then add them to your slow cooker with the tomato sauce, coconut milk, diced onion, curry powder, turmeric, and salt. Mix well.
Nestle the chicken breasts into the sauce and set to low slow cooker for 5 hours.
After 5 hours, remove and shred the chicken, then return to the slow cooker along with the frozen peas and carrots and lime juice. Mix well and allow to all come to temperature, about 5-10 minutes. Adjust seasonings as needed and enjoy!
---