Weekday mornings can be quite hectic, that is when food prep saves the day. These banana nut toaster pop-ups are warm, hearty, kid-friendly, fast, and delicious.
Weekday mornings can be a little hectic. I know we aren't alone in this, and we probably even have it more mild than most, but the reality is that if we have to be somewhere at a certain time, getting the girls up, fed, dressed, and brushed in a timely manner is no small feat.
The shortcuts to help with this struggle are fairly obvious. Setting the alarm a few minutes earlier and laying out outfits the night before certainly can help, as can a quick and easy breakfast option. In the summer months, this kid-friendly smoothie is our favorite, but when the weather cools off we all want something more warm and comforting.
So, as is almost always the case, food prep saves the day. There is a recipe we've been eating that is warm (a must for me), hearty, convenient, fast, and comforting. It's as if a bowl of oatmeal, a muffin, and a pancake all got together and had a baby. Well that just sounds weird, but it's accurate.
Most importantly, this quick breakfast has been saving me on mornings I'm trying to get the girls up and out in a timely manner. These may look like typical pancakes, BUT the taste? Hearty oatmeal, crunchy shopped walnuts, sweet maple goodness…
They're perfect. They also happen to be gluten-free and dairy-free if you're into that sort of thing. And did I mention they take about 2 minutes to reheat once you pop them into the toaster? Two minutes and breakfast is ready. You can certainly smear them in peanut butter or cut them up and serve them with butter and syrup, but they have all the flavor you need baked right in, so you can (and we do) grab them to eat in the car.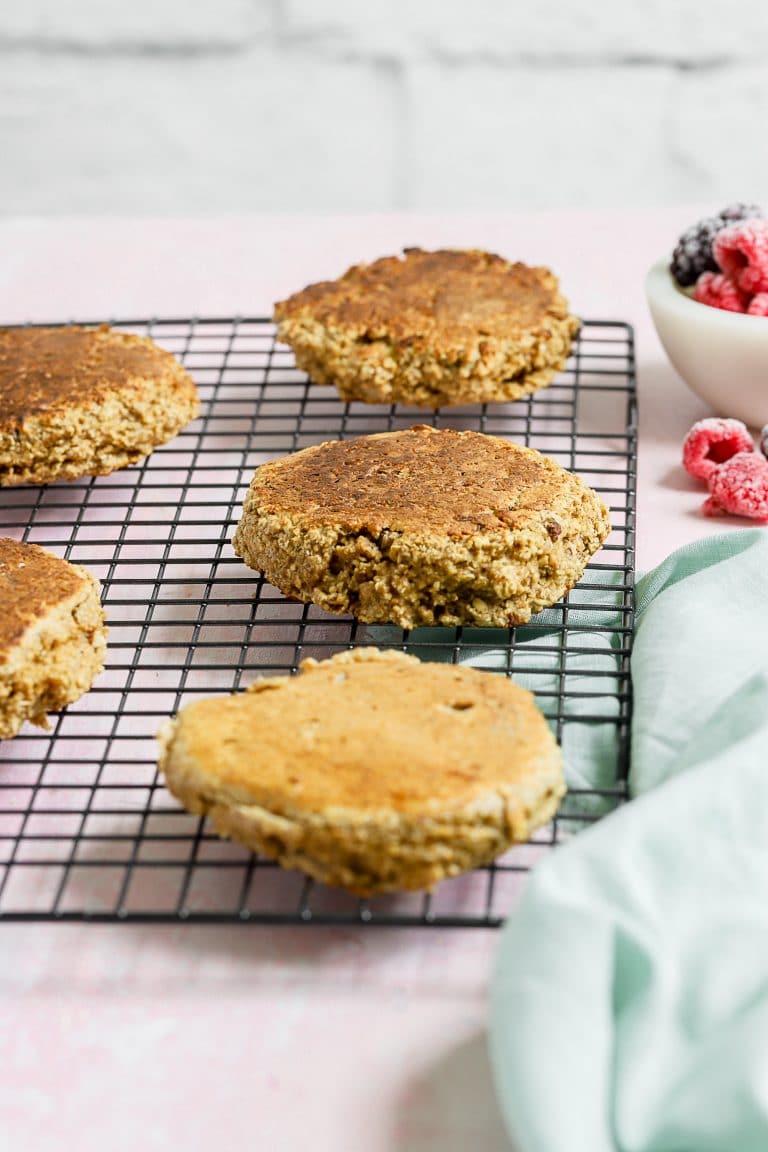 Now go make a batch of these Banana Nut Toaster Pop-Ups for your busy mornings and let me know what you think!
Print
Banana Nut Toaster Pop-Ups for Busy Weekday Mornings
Author:
Prep Time: 30 mins
Cook Time: 10 mins
Total Time: 40 mins
Yield: 15 pop-ups 1x
Category: breakfast, recipes
---
Description
Weekday mornings can be quite hectic, that is when food prep saves the day. This is a recipe we've been eating that is warm (a must for me), hearty, convenient, fast, and comforting.
---
3 cups rolled (old fashion) oats
2 tsp baking soda
2 tsp baking powder
1 tsp cinnamon
1/2 tsp salt
1 cup soy milk (or cow's milk or almond milk)
2 eggs, beaten
1 very ripe banana
1/4 cup maple syrup
1 cup chopped walnuts
---
Instructions
Pour oats into a food processor. Pulse until they turn into the texture of a course flour.
Pour the oat flour into a large mixing bowl. Stir in the baking soda, baking powder, cinnamon, and salt.
In a separate mixing bowl, mash the banana until it is a smooth mashed texture. Add the beaten eggs and mix well. Add the milk and maple syrup and mix.
Pour the wet mixture into the bowl of dry ingredients and stir to combine. Pour in the chopped walnuts and mix well until fully incorporated.
Preheat a griddle to medium heat. Butter the surface (you can use vegan butter or nonstick spray if you prefer to keep it dairy-free). Using a 1/4 cup measuring cup, scoop up the batter and pour it onto the hot griddle. Note: It will be thick and viscous and will not pour as smoothly as a liquid batter. Use the measuring cup to flatten it down into a round shape, roughly 1/2 inch thick.
Cook 2-3 minutes on each side until cooked through, then set on a rack to cool.
Once cooled, place on a baking sheet in a single layer and place in freezer for 1-2 hours. Remove pop-ups, place in a FoodSaver resealable bag, and vacuum seal. Place in freezer for your busy weekday mornings!
---
Keywords: Breakfast, pop ups, Foodsaver, sponsored, recipes