This post is brought to you by a Healthy Slice sponsor.
Oh you guys, we made it!
The car ride was actually rather uneventful, thank goodness. I am thrilled that the house we rented is actually on the beach. It makes vacation with a 3 year old, 2 year old and 1 year old so much easier and we wasted no time sticking our toes in the sand.
Kaitlyn loved it. She went from collecting shells in a cup to running right into the water and giggling. Even a face plant didn't put a damper on her joy.
With the first trip to the beach, it feels like summer is really on its way. Bring on the sunshine, the fresh produce and the scent of sunscreen! And nothing is better in the heat than a cold, sweet treat on a hot summer afternoon.
Last week Charlotte hit the 90's and we were itching for something cold and fruity.
I've tried banana soft serve before, but having so many frozen strawberry from our picking adventures, I was hoping to kick it up a notch.
And kick it up I did!
The end result was creamy and luscious with just the right amount of sweetness.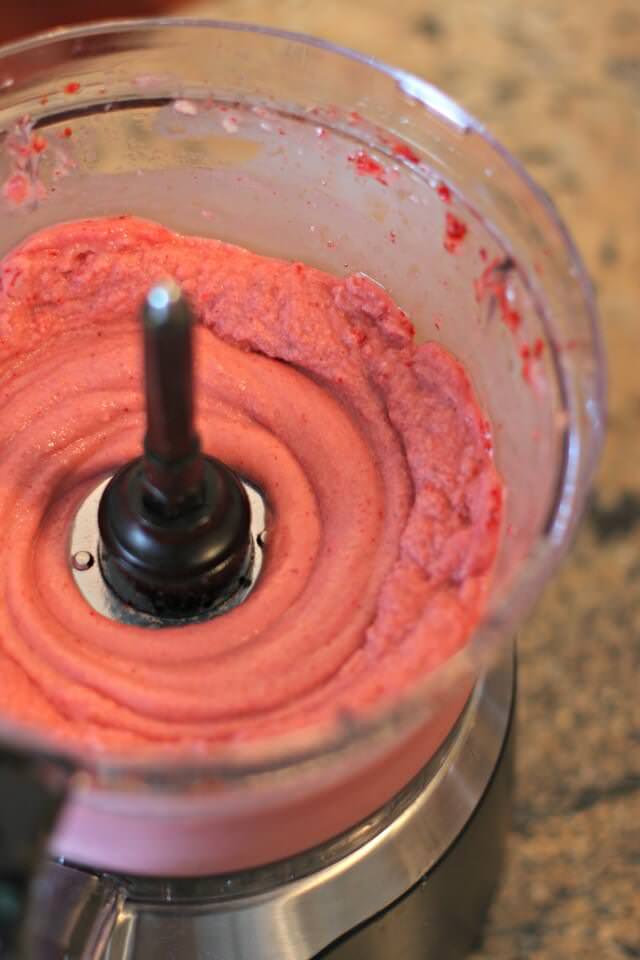 We ate a bowl right from the processor, and froze the rest in 4 ounce jelly jars.
Hailey proceeded to pull one out of the freezer every afternoon to enjoy.
And just like that, our go-to summer frozen treat was confirmed! Try this y'all- it's delicious!!
Print
Strawberry & Honey Banana Soft Serve
Author:
Prep Time: 5 mins
Total Time: 5 mins
Yield: 3 cups 1x
Category: dessert, recipes
Cuisine: American
---
Description
Nothing is better in the heat than a cold, sweet treat on a hot summer afternoon… Enter in Strawberry & Honey Banana Soft Serve.
---
2.5 cups frozen banana slices
1.5 cups frozen strawberry slices
1 cup Blue Diamond Hint of Honey Almond Milk
---
Instructions
Place frozen fruit in a food processor and pulse several times until roughly chopped.
Switch to low setting and slowly pour in almond milk until fully incorporated and creamy.
Enjoy immediately or freeze in small batches to pull out and enjoy when desired.
---
What is your favorite summer time freezer treat?
This post is sponsored by Blue Diamond AlmondBreeze.