Happy Monday! How was your weekend? We went on an adventure up the Catawba River on the pontoon on Saturday, where we saw cows wading into the water. It felt like such a getaway! I always share more of those day to day snippets on instagram, if you're interested. Sunday was full of projects (organizing homeschool stuff, cleaning out the garage, food prep, etc) and we ended the weekend grilling out burgers and eating on the back porch. It felt like summer!
Black bean and quinoa burgers, pasta salad, sauteed summer squash.
Touching back on instagram for a minute, it and blog comments are really my favorite ways to connect. For example, I was showing the girls' dinner plates on my insta-stories and received a message asking if the kids really ate the tuna tacos with mango salsa that I served them.
Seared tuna tacos with mango salsa with avocado and cucumber tomato salad.
The answer was yes, they both ate dinner pretty well that night. Then her follow up reply really touched my mom heart. "I know you've said their eating is a lot of luck, but it's not! It's your parenting and consistency."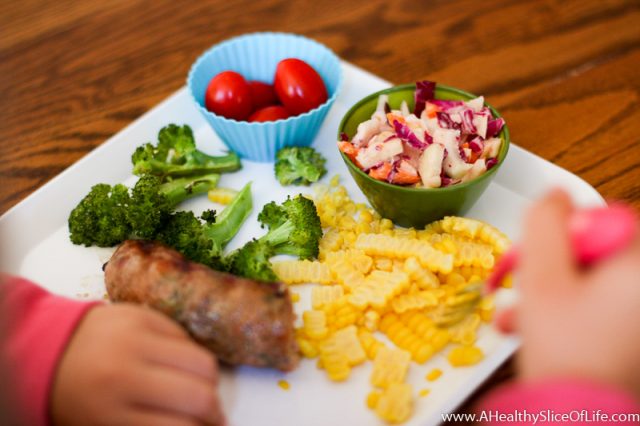 Bratwurst, corn, roasted broccoli, grape tomatoes, and apple kohlrabi slaw.
Wow, that was so nice, I thought to myself. Is there a better compliment you can receive then being told you're doing an OK job at this mom thing? I don't think so because the truth is parenting is challenging. Pouring so much of yourself into those cute little people day in and day out isn't easy. Staying consistent on your message is probably one the hardest parts of it all.
Roasted pork tenderloin, red cabbage slaw, rice, cucumber and tomato salad.
David and I have talked about this a lot: how consistency in any parenting aspect (and you could probably extend that to life in general) is the most powerful factor in determining the staying power of a concept. Eating is just a sliver of that, but it has proven itself to work in our house.
Hot dogs, garlicky wax beans, roasted cabbage, baked zucchini.
From baby-led weaning to the toddler "I don't like that" trials, David and I have done the best we can to stay consistent with our house eating rules and food offerings and just now, at ages 5 and 3, are we really beginning to see the fruits of our labor.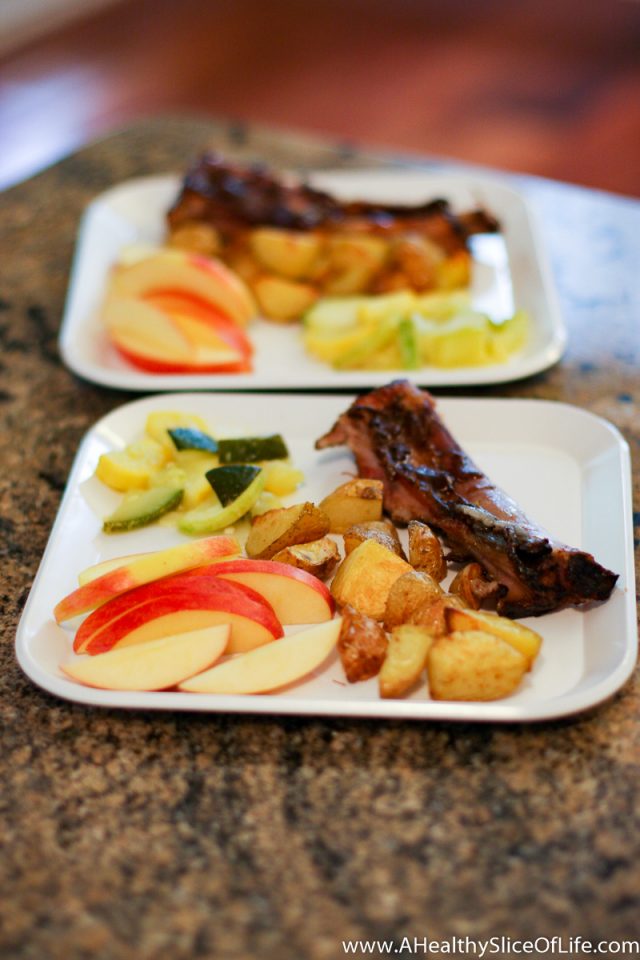 BBQ ribs, roasted potatoes, apple slices, sauteed summer squash and zucchini.
That's a really long time to stay the path when it would definitely be easier to serve Annie's Mac 'n Cheese every night (and believe me, we have a serious stash of Annie's in the pantry and my kids love it, so I'm not preaching no mac 'n cheese by any means).
Mini flatbread pizzas, kiwi, baby pepper rings.
I don't believe consistency means perfection (if there is such a thing). It's definitely more of the old fashion 80/20 rule. 80% of the time I aim to serve healthy food, full of different vegetables, proteins, grains, etc to try and expose them to a wide variance of flavors and textures.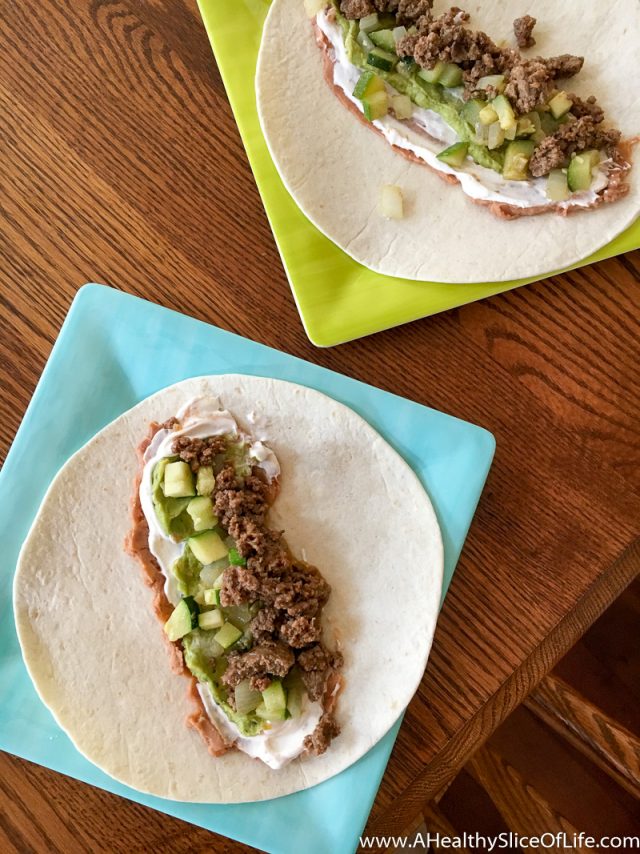 Soft tacos with refried beans, sour cream, and sauteed zucchini and onions.
The other 20% of the time we go with whatever. That can mean ice cream and blueberry cobbler for lunch, cereal for breakfast, or the ease of mac 'n cheese and packaged mandarin oranges or Papa Murphy's pizza for dinner.
Ham, avocado, tomato, and cheese sandwiches with cherries.
I believe we've been tricked a little bit into believing in the kid menu myth: that children will only eat hot dogs, mac 'n cheese, or nuggets. Do kids like those foods? Of course! I know mine do. But I truly believe that it's what they are exposed to most consistently that they will learn to eat and enjoy.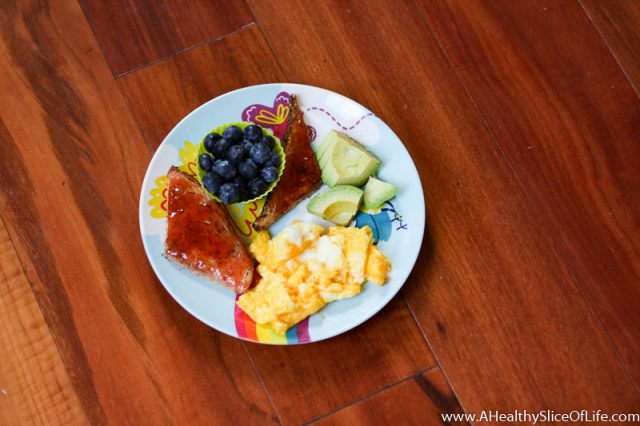 Toast with jelly, scrambled cheesy eggs, avocado, and blueberries.
I originally intended to share these pictures with a simple "meal ideas for kids" kind of title, but I wanted to offer a little more than that. I wanted to encourage you to keep the path with feeding kids good food. Whether you're in the phase where peas keep getting thrown across the room or you get a squenched up "ew" face when you put down the dinner plate, you're doing a great job. You are. I know it's exhausting, repeating yourself, staying consistent, but it will pay off, it will.
And if you feel you're in a mac 'n cheese rut, that's ok! Seriously ,we've all been there. But if you want to change it, don't feel like you're stuck. Tossing in a new fruit or veggie, just adding a bite or two of something new to their plates, all of it will expand their knowledge of what food is. I ate so many fruit by the foots while I was growing up and today roasted Brussels sprouts is one of my favorites, so a little kid food isn't going to ruin anything. If there is one thing I learned from my mom about healthy eating, it's that moderation is king.
What is your biggest hurdle in feeding your kids?
What tactics have you used to overcome eating challenges?
Any advice to add?