This quick-cook preparation results in a delicious side dish of easy green beans that the whole family will devour!
I feel like a broken record, but May, y'all. It's no joke. Packed full of end-of-year fun as the season stretches more towards summer. It's evident in the heat starting to creep into midday and the swim team practices beginning to fill the calendar.
My weekly dinners are known to reflect the amount of chaos in our schedule, and this week we've had some odd combos: marinated chicken, roasted potatoes, and cucumber Greek salad, shrimp fried rice, and oh yeah, the night I forgot to cook the salmon so we literally just had green beans and potatoes.
Speaking of green beans, I've never been a fan of the droopy, overcooked variety. I called my preference "crunchy" green beans as a kid and my mom, bless her kind heart, would make me crunchy green beans while (over)cooking (in my opinion) the rest of them for the rest of the family.
The girls both have inherited my love for this kind of green bean preparation and it's a favorite in the house for two reasons: 1) we all devour them within minutes and 2) they are ridiculously quick and easy to make.
In fact, I hesitate to call this a recipe and I certainly never thought I'd post it as such, but every time I share a picture with green beans on here or instagram, without fail I will get more than one person asking how I prepare them. So, this is it!
I love to use fresh green beans and have the girls snap or cut off the ends, but since this post is all about how quick and easy this "recipe" is, I'm also not afraid to say convenience trumps all this month.
First put on a big pot of water to boil and gather your ingredients.
The trick is to semi-blanch the beans by dropping them in the boiling water for 4 minutes, or until they just get tender, then to immediately drain them.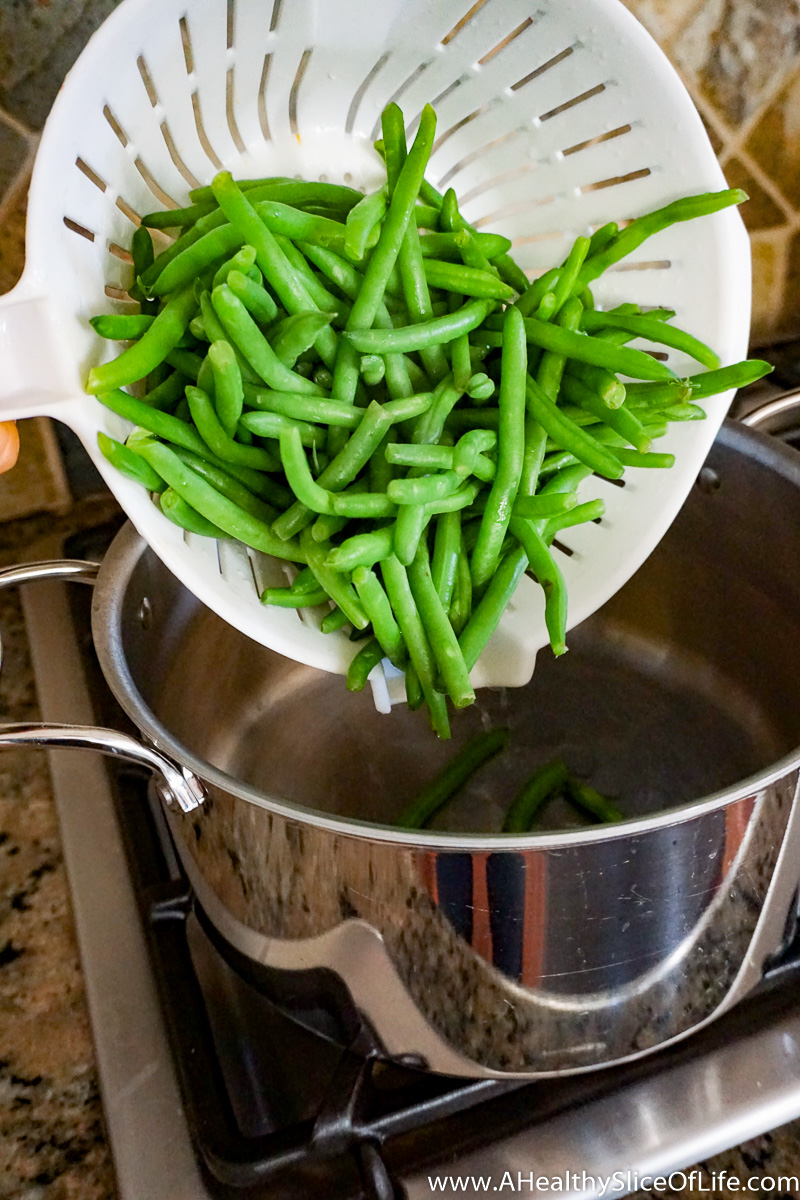 With real blanching, you'd then submerge them in ice water to stop the cooking process, but no need for that step here. Just throw them back into the same hot pot and add the butter and garlic powder.
Then beans will be warm enough to melt the butter while you toss the beans, then sprinkle in the salt and squeeze the juice from half a small lemon onto them, turn them around once more and that's it!
I know, I know, you are underwhelmed. But these are a true favorite around here. You can certainly fancy them up with a squeeze of lemon and a little of the zest. Or you can shave on some fresh Parmesan. But really, nothing else is needed. You'll believe me once you see them disappear of the dinner table. Enjoy!
Print
Easy Green Beans the Whole Family Will Devour
Prep Time: 10 mins
Cook Time: 4 mins
Total Time: 14 mins
Yield: serves 4
---
Description
This quick-cook preparation results in a super simple side of delicious green beans that the whole family will devour!
---
24 oz Green Beans
1 1/2 Tbsp Butter
1/2 tsp Garlic Powder
1/2 tsp Salt
juice from 1/2 small lemon
---
Instructions
Put on a large pot of water onto boil over high heat.
If using fresh green beans, trim and rinse them.
Once water is boiling, add green beans and let return to a boil. Let cook for approximately 4 minutes, or until you can pierce the beans with a fork.
Drain immediately and return to pot. Add butter and garlic powder and stir gently to combine.
Sprinkle on salt, squeeze them lemon juice, then mix gently once more and serve.
---