I made the resolution this year to focus on only sharing recipes my family and I love and eat on the regular. That's why I'm sharing a few less than before, but I can promise you that the ones that make it onto the blog are worth making. Much like this black bean and sweet potato chili and this hearty spaghetti sauce, this marinated chicken and noodles recipe has been a family favorite for years (and years and years, as I grew up eating it as well- thanks mom!) and I'm so excited to pass it along to you today!
It's ridiculously simple, which certainly only helps up its status as a favorite. And the girls? They devour it– down the the last bite. In fact, it's one of the few meals that keeps them both seated and focused on eating.
It works well for the whole family because the girls and David like it over pasta (rotini is a hit because it's easy for the girls to stab with their forks) and I can make it a low carb meal by serving over my favorite faux pasta- Palmini!
The six simple ingredients are probably all things you already have in your pantry, so nothing fancy needed. Yet, it turns out delicious enough to work for an at-home date night as well as it works for a simple week night dinner. It just depends on how much wine you pour to go with it.
If you're looking to switch up your dinner routine, I highly recommend adding this recipe to your meal plan, pinning it for later or even sharing it on facebook. I know I can always use another guaranteed-to-please simple dinner in our arsenal!
[Tweet "This simple, 6 ingredient marinated chicken and noodles recipe from @ahealthyslice is guaranteed to please the whole family! #dinnertime"]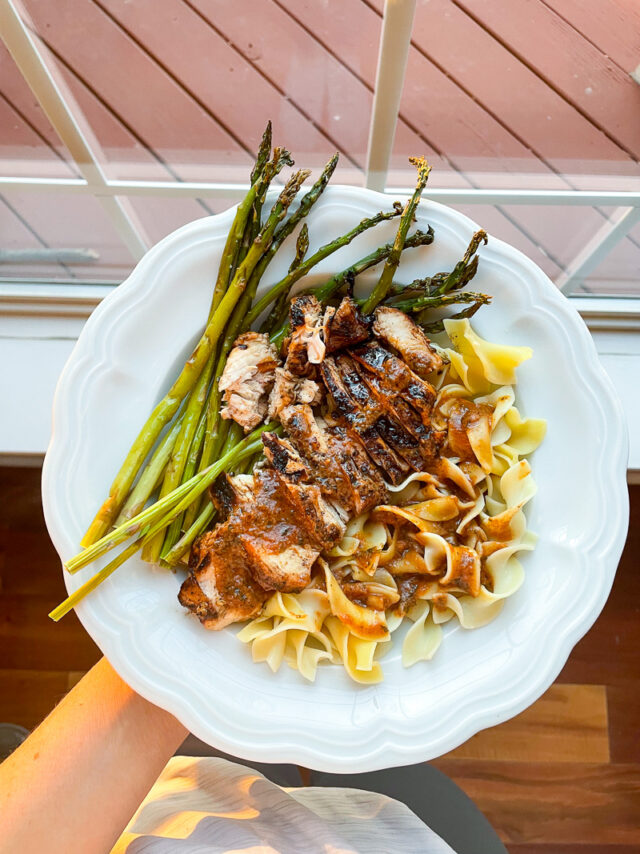 Print
Marinated Chicken and Noodles
Prep Time: 10 mins
Cook Time: 30 mins
Total Time: 40 mins
Yield: 4 servings 1x
---
Description
This savory, flavor-packed marinade will have the whole family running to the table. Its simple ingredient list makes it a great option to jazz up chicken for weeknight dinners and will please even the pickiest palates.
---
1/3 cup olive oil
1/2 cup soy sauce
1/3 cup red wine vinegar
3 garlic cloves, minced
2 Tbsp fresh parsley, finely chopped
1/3 cup ketchup
4 medium chicken breasts (about 1.5 lbs)
1 lb Rotini (or pasta of choice)
---
Instructions
In a medium-sized bowl, whisk together the oil, soy sauce, red wine vinegar, garlic, parsley and ketchup until thoroughly combined.
Pound chicken breasts until even, about an inch thick.
Place chicken in marinade, making sure it is thoroughly covered, and place in fridge for 4-6 hours.
When ready to make the meal, preheat the oven to 350 degress. Remove chicken from marinade, reserving the marinade, and place the chicken in a lightly greased baking dish. Bake for 20-30 minutes until cooked though.
Meanwhile pour reserved marinade into a small pot on the stove and bring to a boil.Boil for 1 minute, then reduce heat to low while cooking the pasta according to the directions.
Rinse and drain pasta, place chicken on top and spoon sauce over the chicken and noodles. Serve immediately.
---