I still can't quite say the word "pegan dinner" with a straight face because I think it's funny how many terms we create to describe our way of eating. At one point in life I was an lacto ovo vegetarian. I've also been paleo for stint and plant-based for over a year.
At my core I believe in everything in moderation (that's how I feed my kids) but I think it's OK to play around with your diet to see what makes you feel your best. So while I'm not overly strict about it, a pegan (pegan = the best of paleo combined with the best of vegan) diet feels like a good fit for me.
So what if you don't really care about a food label and just want something that tastes delicious and will nourish your body? Excellent! Just skip that intro and scroll down to check out 7 savory dinner bowls that are enticing and able to be customized easily to accommodate the whole family.
How to Make a Balanced Dinner Bowl
I think the key to a great dinner bowl (or heck, lunch bowl) is to include a lot of colorful veggies, plenty of healthy fats, and a form of protein. I personally try to use meat like a condiment instead of the star of the show and feel that works well for me. That combination satisfies my taste buds and also sticks with me for the long haul. I picture my personal bowls here, but sometimes I go back and have seconds, so please don't compare portion sizes. I just eat until I'm satisfied!
7 Healthy Pegan Dinner Bowl Options
Eat the Gains Thai Coconut Chicken Curry over Palmini – if you are looking for a nutrient-packed and scrumptious curry, this one is a winner! Also, Palmini is one of my favorite Pegan pantry staples because it's so versatile and hearty.
Greek Meatballs over Cabbage Slaw with Roasted Potatoes and a Greek Salad – a family favorite and a weekly staple for us!
Burger in a Bowl with Sauteed Mushrooms and Onions, Roasted Broccoli, Garlic Dill Kraut and Avocado – another meal in our regular rotation.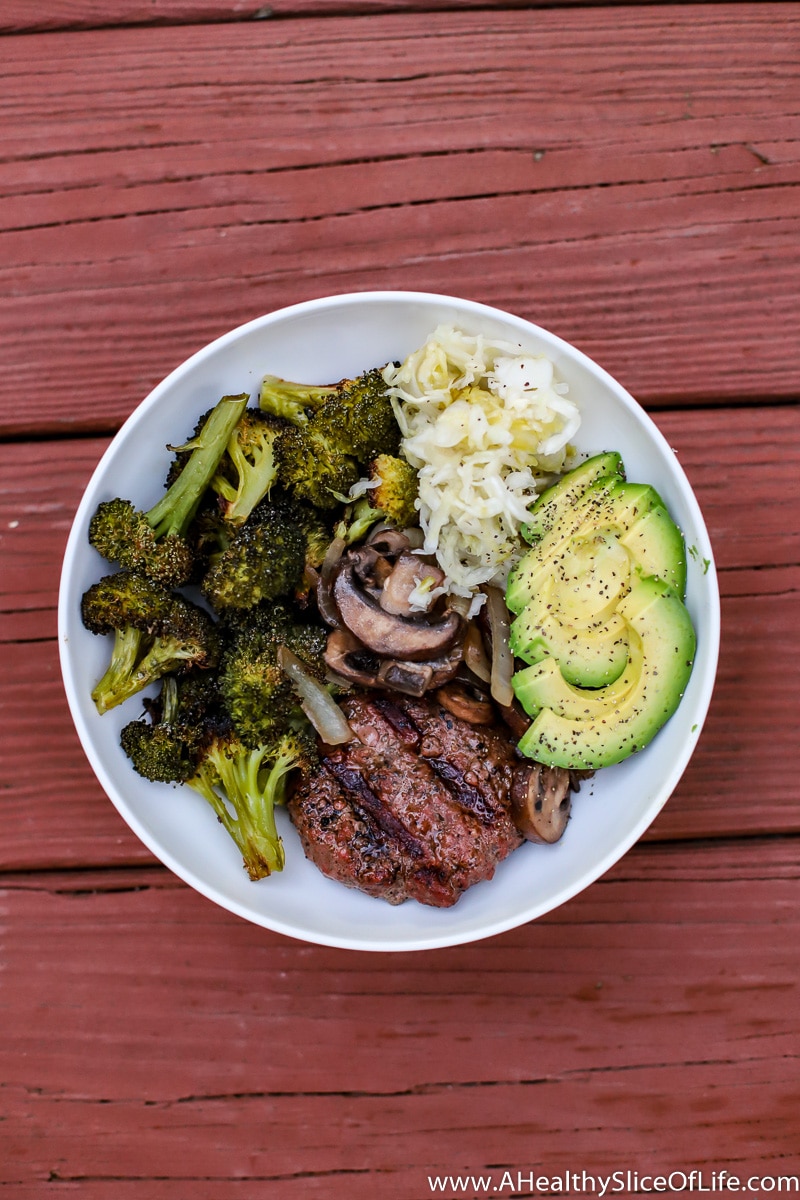 Bakerita Paleo Chili with Green Onions and Diced Jalapenos – Super hearty and flavorful. I've made it several times without the bacon and it's still great!
Grilled Fajita-Style Chicken over Romaine with Tomatoes, Purple Onions, Diced Jalapenos and Roasted Pumpkin Seeds – I know the pumpkin seeds sound like an odd addition but they provide a great crunch and a healthy source of unsaturated fats, iron, B-vitamins and more.
Balsamic Pork Roast with Roasted Sweet Potatoes and Broccoli with Avocado and Garlic Dill Kraut – pork is one of my go-to crock pot meals because it does not dry out, shreds beautifully, and the kids love it.
Brown Rice & Quinoa with Tomatoes, Roasted Brussels Sprouts, Easy Garlicky Green Beans, Baked Sweet Potato Half, and Grilled Steak – This bowl represents one of my favorite dinner hacks, which is cook all the veggies I have in the fridge, serve it over a whole grain, add protein. I like to use either an organic spice blend to season the veggies for roasting or to drizzle a dressing from Primal Kitchen or Tessemae's over the entire thing.
If you are looking for more healthy dinner inspiration, you might like these posts as well!
I can't dress myself in a fashionable way or deck out my living room in the latest trends, but gosh darn it I can make some decent Pegan dinner bowls, so I hope you'll try some of these and let me know what you think! Happy eating, my friend!