The busy season calls for weeknight dinner ideas that are family-friendly, healthy, and quick to get on the table. Here is a list of my go-to recipes!
Yesterday while I made lunch, I also put together a batch of my favorite stuffed shells (it makes two pans!).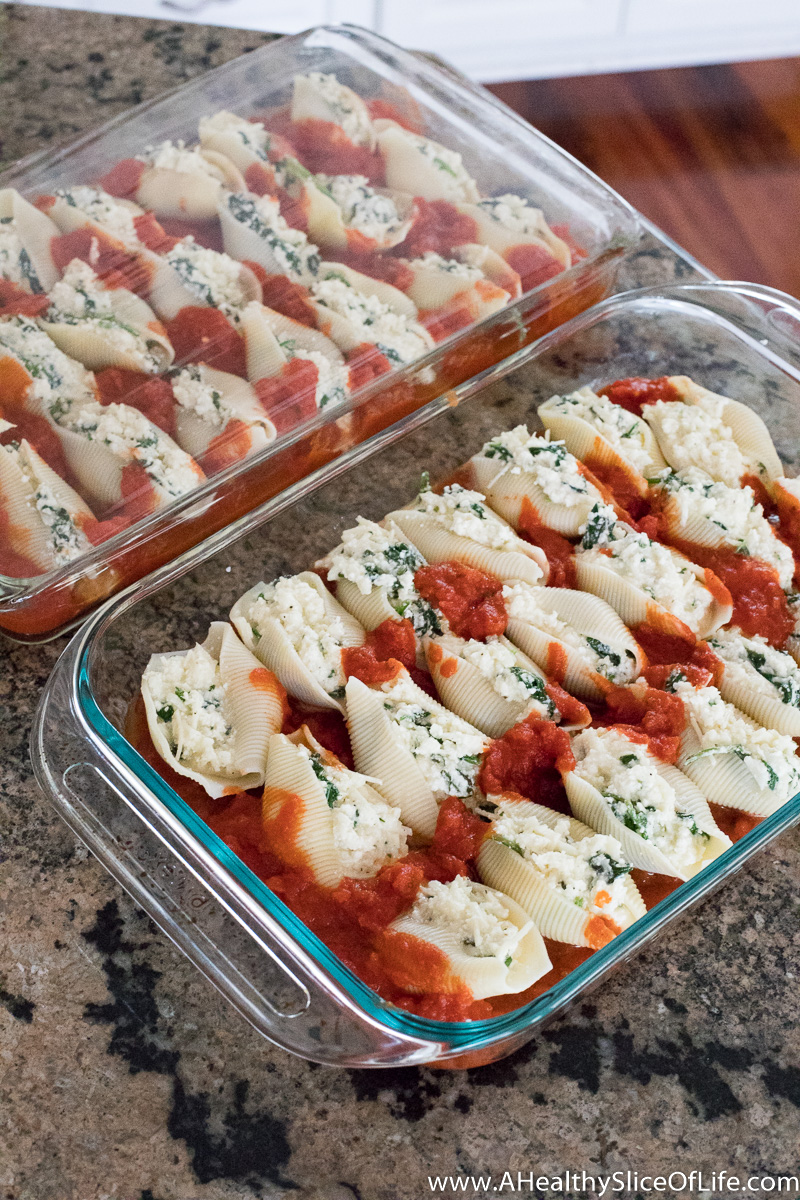 Cooking dinner before noon was proof that summer days are giving way to school, activities resulting in a few odd dinner times each week, and for me, a need for more structure to keep up with it all.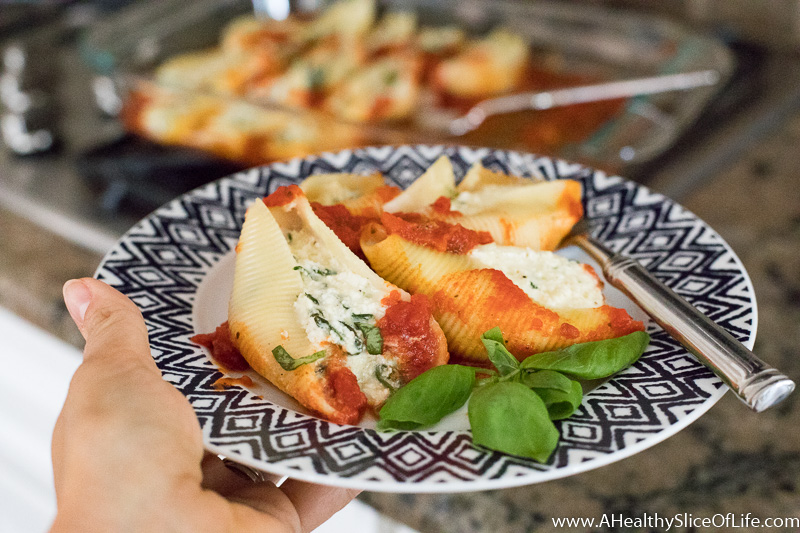 For example, on Monday our afternoon was filled with tennis and music lessons. Yesterday? The first day of soccer practice!
Next week, we'll add preschool and homeschool into the mix, sprinkled in with other occasional commitments and BOOM, we've got ourselves a full on fall schedule.
The late afternoon and evening practices are new to us, so I've been putting some thought into how to navigate those days (twice a week). Some guideline I decided I need to abide by are the following:
Meals that are quick to make, but also fairly quick to eat (because my kids eat at a snail's pace).
Using the slow-cooker is a given, but I don't want it every night.
Meals need to be kid-friendly meaning not too spicy, but with plenty of flavor. Ain't nobody got time to make more than one meal!
So I spent some time combing through our household favorites, my 30 minute meals pinterest board, recipes I've saved from other blogs and compiled them all into a go-to list for me to reference while I meal plan each week. My hope is that you might find this helpful as well!
Meals Perfect for Batch Making and Freezing
Mom's Homemade Spaghetti Sauce (Make a double batch; it freezes like a dream)
Pinto Bean and Cheese Burritos (We love burritos for their convenience and ease with little hands)
Vegan Bean Burgers (after all these years, still one of my favorite veggie burger recipes)
Spinach and Ricotta Stuffed Shells
10 Spice Vegetable Soup (I've been eating this for lunch all week)
Slow Cooker Favorites
Crockpot Salsa Chicken for Soft Tacos – no recipe link needed. Just put 2 pounds of boneless chicken breast in the crockpot, add 2 cups of your favorite salsa and cook on low for 6-8 hours.
Slow Cooker White Chicken Chili
Meals That Cook Up Quickly
Brown Sugar and Bourbon Glazed Salmon (make the marinade the night before and just toss the salmon in in the morning or on your lunch break)
Of course, I'm never one to discount the versatility and ease of a snack plate dinner. This usually comes when I'm unable to come up with anything cohesive, but somehow putting it all on a single plate and calling it a dip platter always ensures it gets rave reviews.
I'm counting on a few of my favorite gadgets to help make quick dinners possible:
3-in-1 6qt Slow Cooker : I love the all-in-one function so I can sear and saute before switching it to slow cooking mode. Less dishes is always a win in my book!
Bread Maker : I really wouldn't suggest everyone needs one, but it makes AMAZING pizza dough and with the delay start function, I can get all the ingredients ready in the morning and have fresh pizza dough ready to bake right when I need it at dinner time.
Rice/Hot Cereal Cooker : I always laughed at the idea of a rice cooker (rice isn't hard to cook) until I got one. Now I love it ad use it at least once or twice a week. It makes great rice and since we use it as a staple/base in many of our meals, it's a mindless way to check off a task and have it turn out great every time. This model also has a delay start function (LOVE) and the ability to use it to make oats too. Steel cut ready for when we wake up? Yes please!
And there it is, a virtual rendition of my fall meal schedule organization. I'm super excited to get back into meal planning each week and can pretty much guarantee a selection or two from this list will be on it every week. Makes life so much easier!
What are your weeknight meal staples?
Do you have any repeat favorites? What are they?