I take a lot of pictures of my food because I share them daily on Instagram. Over time they accumulate and I then I like to pour them in a big 'ol post like this one and add it to my dinner ideas category. Did you know that page existed? It is under the "feeding a family" tab, but you can click and bookmark this dinner ideas page for when you're meal planning and need some inspiration. I use it all the time personally!
So, let's take a look at some of the tastiest meals we've been eating lately for breakfast, lunch, and dinner!
Spring Breakfasts
Veggie egg scramble with zucchini, onion, spinach, topped with avocado and jalapenos. Cantaloupe on the side.
Smoothies. I mix them up between oat and peanut butter with vanilla protein and fruity, like this one, with banana, pineapple, ginger, spinach, spirulina, and collagen.
I used leftover smashed smashed potatoes as a base for this DELICIOUS hash of potatoes, onion, pico, and spinach. I added a fried egg on top with jalapenos. So good.
Spring Lunches
Greek hummus wraps with hummus, cucumber, tomato, red onion, kalamata olives, pepperoncinis, and feta, with a tiny drizzle of Garlic Expressions dressing.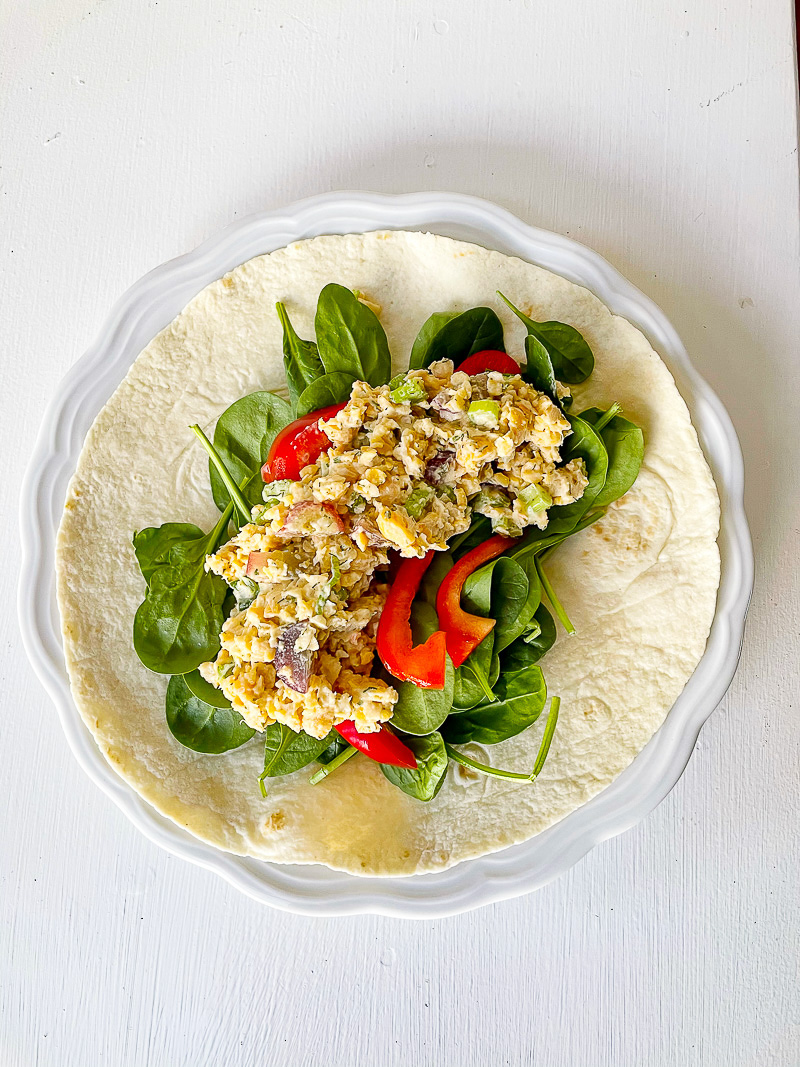 Chickpea "chicken" salad with bell peppers and baby spinach on a wrap.
Random! After feeling encouraged to incorporate more super spices into my meals (turmeric, ginger, etc), I made a batch of curried sprouted lentils and quinoa, then used it all week on top of salads and such. This meal I put it over a leftover sweet potato with pico and jalapenos.
Have you tried Daily Harvest (use code AHEALTHYSLICE for $25 off your first order) flatbreads yet? I held off for while but then realized the "flatbreads" are made from sweet potatoes, cauliflower, and more- veggie power! This pear and arugula flatbread was delicious.
Want help with quick, easy, healthy lunches? Check out this comparison between Splendid Spoon and Daily Harvest to see which is the better fit for you.
Spring Dinners
Fajita salad! I used this marinade, then grilled the chicken. Layered: romaine, sautéed onions and peppers, black beans, diced red onion, purple cabbage, guacamole, avocado, salsa, and cilantro. 10/10
Can I get fist bump for a basic burger? With Angry Cukes and onion rings from the freezer (Alexia).
Greek shrimp pasta with feta over half spaghetti and half Palmini.
Grilled shrimp (using this delicious marinade), a zucchini and farro risotto, and sautéed brussels sprouts with bacon.
Burger bowls are a staple around here. This one was a turkey ranch burger over lettuce with tomato, onion, and avocado with roasted sweet potatoes and broccoli.
I usually get wild salmon in my Butcher Box deliveries, but this was a last minute meal so I grabbed the lemon dill salmon from Costco and a giant Caesar salad kit for this quick and yummy dinner.
If you haven't tried these quick, easy oven baked bean burritos yet, you must! Just add store bought pico and guac for a family-friendly, complete meal.
Romaine, grilled chicken, celery, black beans, salsa, with a homemade buttermilk ranch.
It's not just for fall! This pumpkin chicken chili comes together in 15 minutes. It's a go-to for me for busy soccer and tae-kwon-do days. Served with cornbread and sour cream.
Cobb salads are the best! Romaine, cucumber, cherry tomatoes, avocado, boiled egg, bacon, blue cheese, red onion, with buttermilk ranch (or any dressing, really). And have you tried Mason Dixie biscuits yet? Y'all. Find them in the freezer section. You will not regret it.
David is becoming a master at smoking ribs! They fall off the bone and go so well with garlicky green beans, the best broccoli salad ever, and mac 'n cheese ala Amy's from the freezer section.
Wild salmon with lemon butter, roasted green beans and broccoli, and smashed potatoes. I'm still working on perfecting these but essentially I boil until fork tender, smash them with the bottom of a mug on a baking sheets, drizzle with olive oil, sprinkle on salt, pepper, and garlic powder and roast at 450 for about 30 minutes. Afterwards I squeeze a little lemon on them and sprinkle parsley. They are SO good.
Ribeye (pan seared and finished in the oven), roasted cabbage, baked sweet potato, and a cruciferous bagged Caesar salad from Whole Foods.
Because there is never not a good time for Mom's spaghetti sauce! Just throw some roasted asparagus on the side and viola! It's springy 😉
What's the BEST meal you've eaten lately? Tell me in the comments!