Need to feel more in control of your week? Meal planning can make the biggest difference. Check out my process and enter your email to download my free weekly meal plan printable below!
Even if you're new around here, you probably know I have a strong passion for meal plans. When life was busy, it helped me to have a plan in place so I'd never have to ask myself at 4:30 PM what was for dinner. Check out my meal planning process here.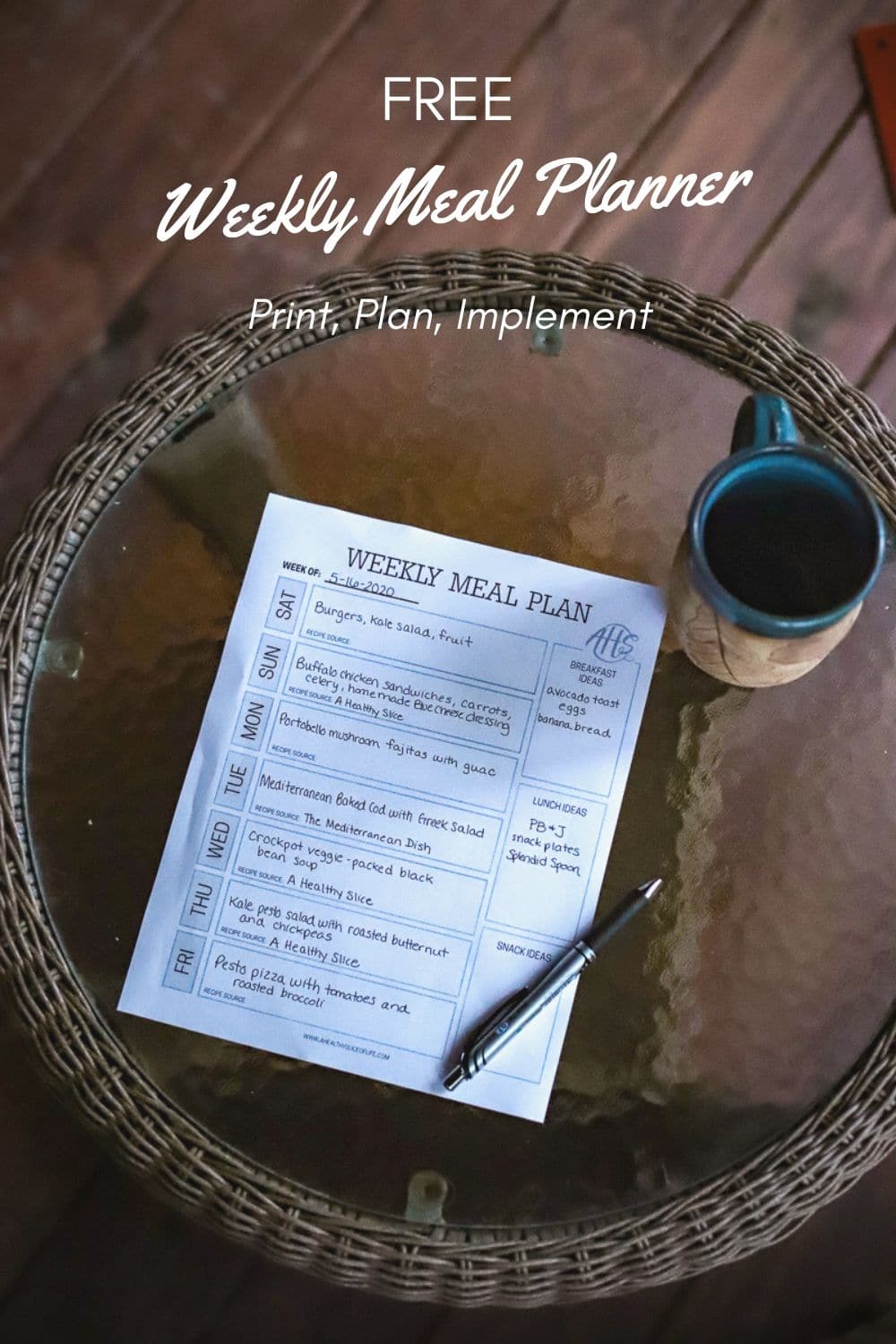 Even though life now has a more relaxed pace, I still love planning our weekly meals because it gives us structure, helps me order groceries efficiently (no waste), and gives us something to look forward to. I can eat whatever is around all day, but really enjoy a good meal for dinner.
I don't always love the process of meal planning, but without a doubt I always feel more ready for the week when I have a plan in place. Some basic rules I follow when creating a weekly menu include:
No more than one (or maybe two nowadays) new recipes a week
Use recipes that I can mostly prep at lunch time – since I typically work out in the afternoons, I love having dinner prep mostly done beforehand
Throw in a meatless meal at least once a week – this sweet potato chili or these lasagna roll-ups are always a hit
Find ways to use up specialty ingredients – for example, if I need half a bunch of parsley for a meal, I'll pick another meal that needs parsley to add to the week to make sure it doesn't go to waste
Include a family favorite every week that don't require a recipe because I could make them blind-folded – this includes our weekly pizza night using this homemade dough, Greek night, and Mom's spaghetti sauce
Use Splendid Spoon for effortless and healthy lunches for me when I make the kids snack plates
My favorite day to meal plan is on a Thursday because it allows me to get groceries Friday and have plenty of food ready for the weekend. I sit down with my printed template, fill out our dinners and ideas for breakfast and lunch, make my list, place my order, then put the meal plan on the side of the fridge to reference throughout the week. If you are a meal planner too (or want to be), here's my template you can download and print.
If you're looking for some meal plan inspiration to get your wheels turning or mix things up, you may want to check out some of the following links:
Links for meals included in the pictured meal plan: