This is a fool proof guide to making your own delicious bread machine pizza dough! Soft and light, yet crispy on the bottom.
Pizza night is our favorite night of the week! Every week we have Friday Pizza Movie Night. When the girls were toddlers we'd pick up pizza from Papa Murphy's and watch a Disney animated flick. Nowadays we are working our way through the new age "classics" and since our Papa Murphy's shut down a couple years ago, we've been mastering making our own pizza from scratch. After so much practice, I feel confident in telling you that we've mastered pizza dough… with the help of our bread machine that is!
Items that will help make at-home pizza night a success:
Ok, from there, it's really quite simple. For the best bread machine pizza dough you'll need a quality all-purpose flour (you can also use bread flour, but we use all-purpose and like it just fine). You'll also need sugar, salt, olive oil, and yeast. That's it!
In a bread machine, the order of ingredients matters and so follow what you're brand specifies. We always start with the liquid ingredients, then add the flour and the rest of the dry ingredients. The yeast should be poured into a little nest on top to keep it from mixing with the water until the proper temperature is reached.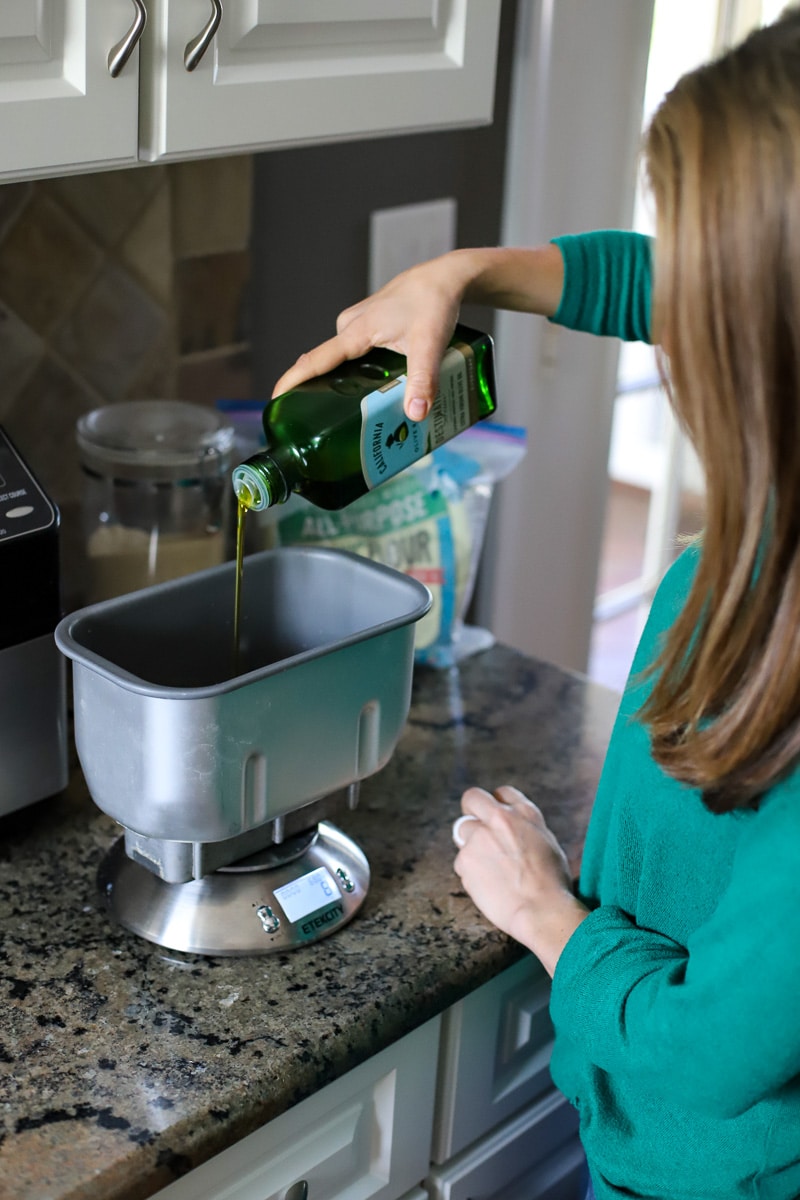 Here's a quick breakdown of how we make our pizza.
ONE. Since we eat a lot of pizza, we make two batches of dough. Each dough cycle takes one hour and 50 minutes, so I start the first batch of dough around lunchtime. When it is complete, I transfer it to a lightly oiled mixing bowl and start the next batch.
TWO. 30 minutes before we're ready to bake the pizzas, I preheat the oven to 450 degrees.
THREE. Using a rolling pin and a lightly floured surface, David rolls out the dough until it is about 1/4″ thick. I feel like it's worth noting that he has also mastered the air toss.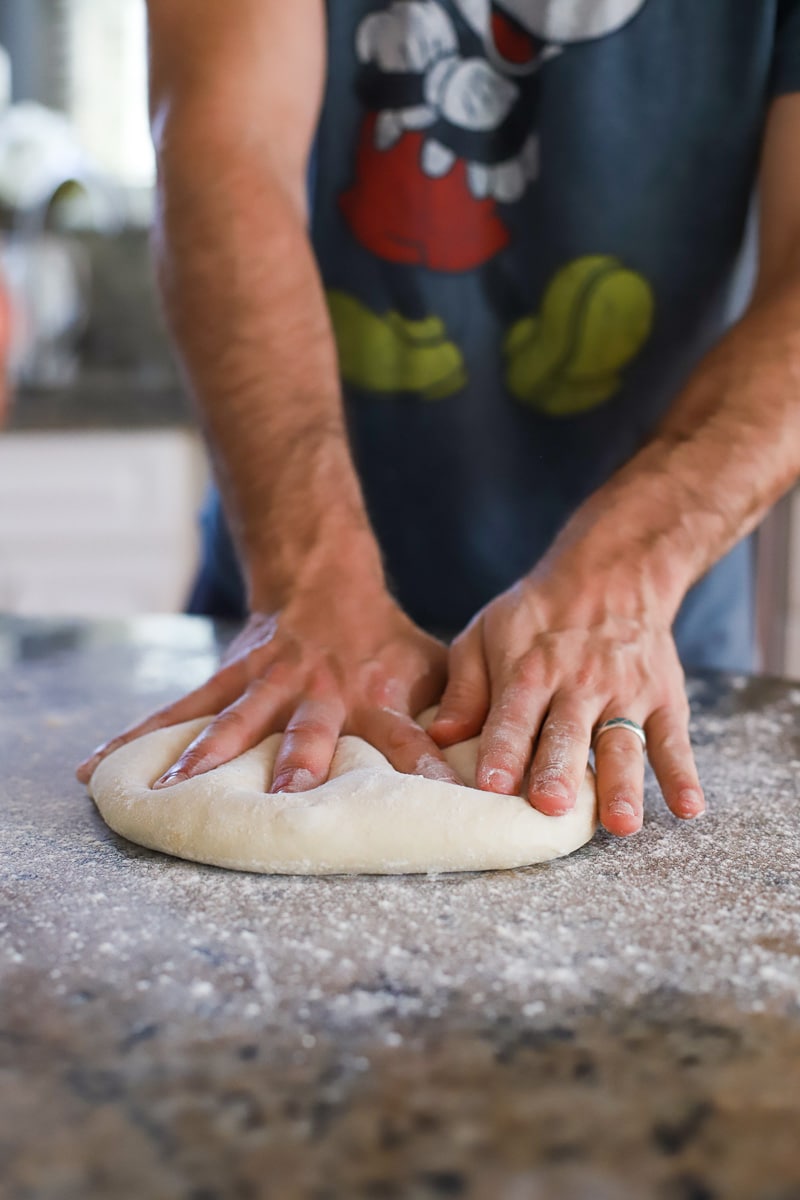 FOUR. Before sliding the dough into the oven, we poke it with a fork all over to minimize air holes. Then, using a light dusting of corn meal on the pizza peel, we slide it onto the preheated stone.
FIVE. After about 5 minutes, we pull the half-baked crust out of the oven. We run a stick of butter around the outer edge to create a golden crust, then top with our desired toppings. We are currently on a weekly mission to not repeat a pizza topping combination, but can tell you red onions and fresh mozzarella are two of our household favorites.
SIX. Once the pizza is dressed, we put it back into the oven for another 5-10 minutes until it is cooked through and the cheese is bubbly.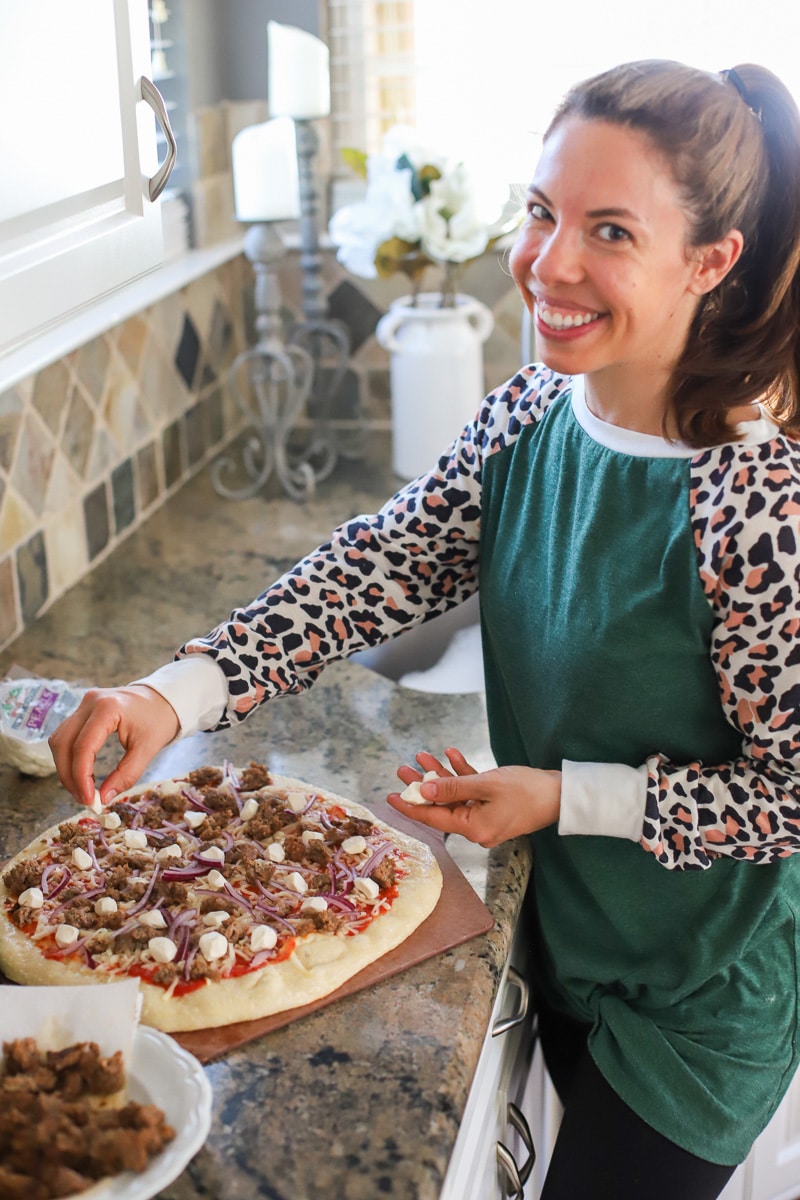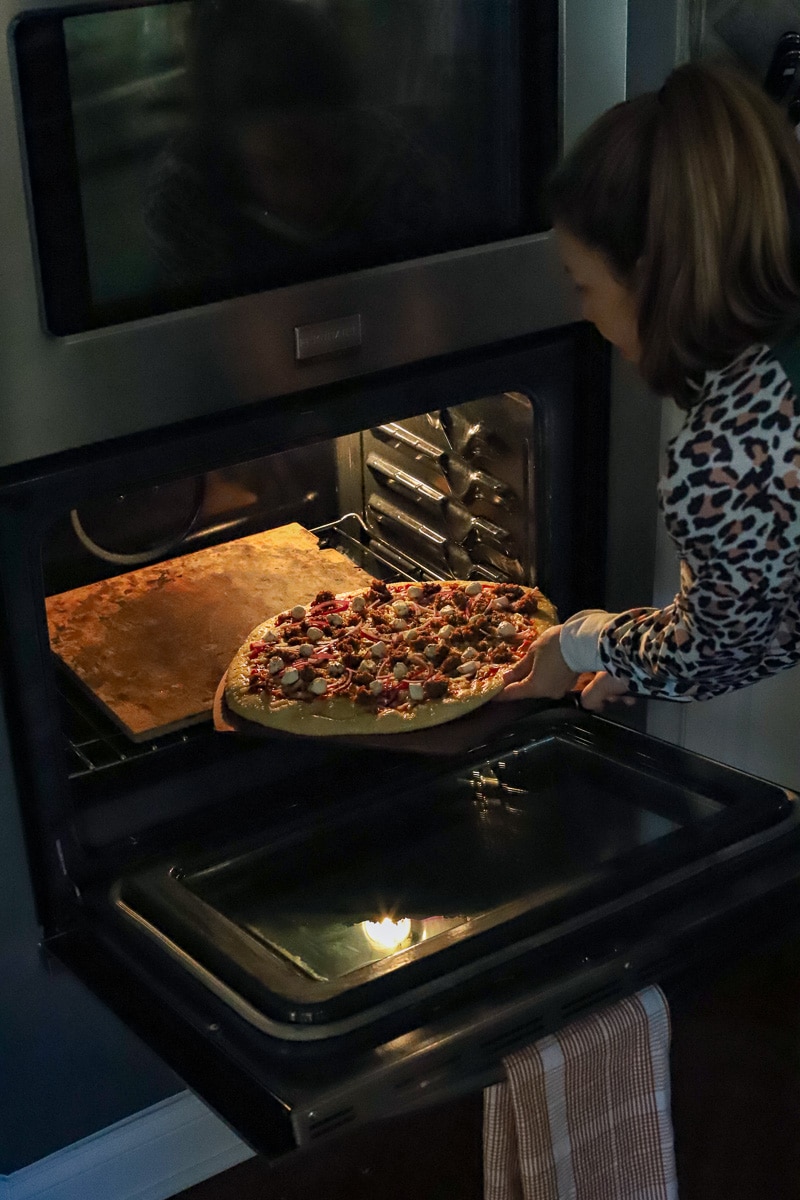 SEVEN. We then pull it out, transfer it to a cutting board where we let it rest for 5 minutes before slicing it up. Viola; that's it!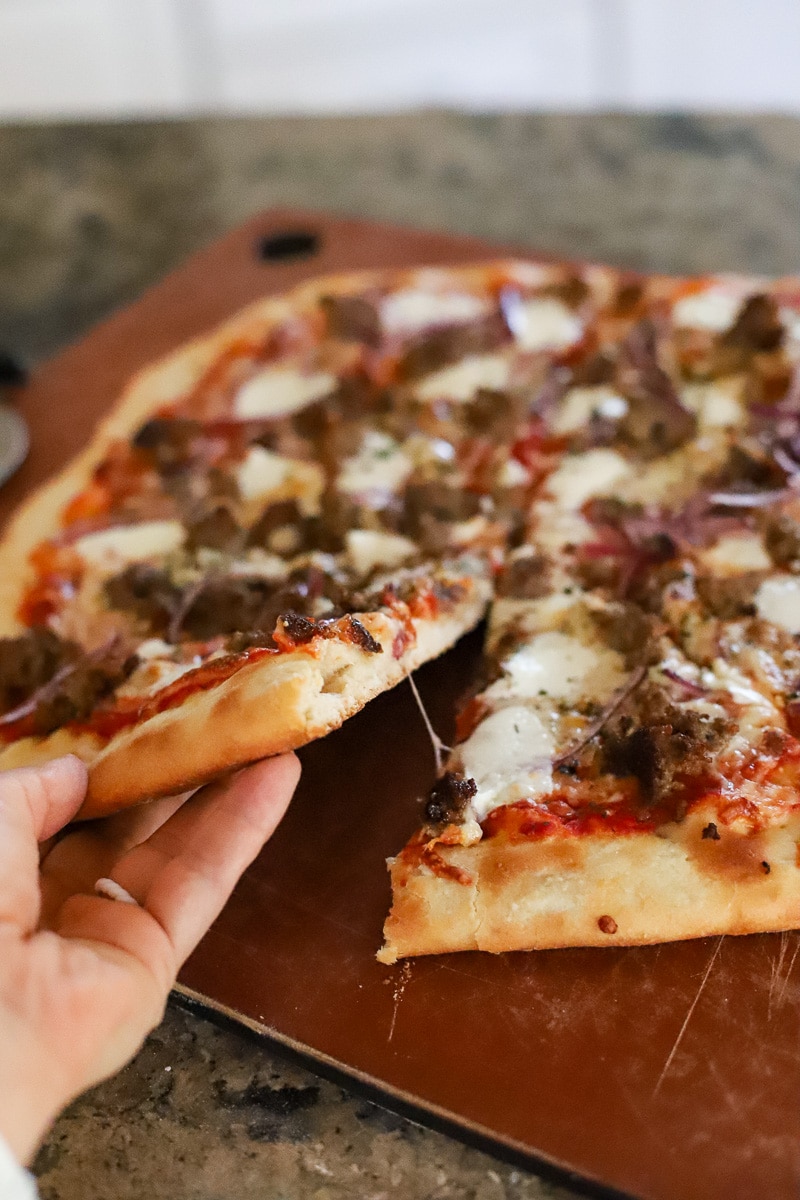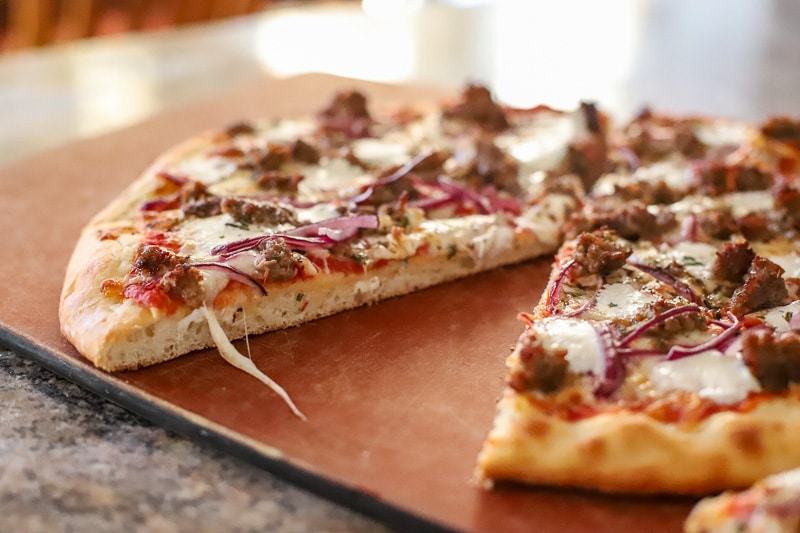 Print
Fool-Proof Bread Machine Pizza Dough Recipe
---
Description
This is a fool proof guide to making your own delicious pizza dough! Soft and light, yet crispy on the bottom.
---
1 1/4 c (300 mL) water
1 1/2 Tbsp (20 g) olive oil
3 3/4 c (480 g) all purpose flour
1 1/2 tsp (17 g) sugar
1 1/2 tsp (8.4 g) salt
1 1/2 tsp (4.2 g) active dry yeast
---
Instructions
Place ingredients in the bread machine in the order listed above (or in the order specified by your machine), making sure to nestle the yeast in a small nest on top of the flour.
Place in bread machine and set the cycle to dough cycle.
When cycle is complete, preheat oven to 450 degrees. Roll the dough out into desired shape and thickness on a lightly floured surface.
Poke the dough with a fork all over and put it on the preheated pizza stone for 5 minutes. Once firm, remove from oven and top as desired.
Return to oven for another 5-10 minutes until dough is crisp and cooked through and cheese is bubbly.
---
Notes
*If you are using rapid rise yeast, use 2 tsp (6 g)