In a food rut? Hopefully these 10 healthy meals for toddlers and preschoolers inspire you to switch things up in an simple way!
I'm convinced one of the most trying tasks as a mom can be feeding your kids. Get around any mom and I guarantee the topic will come up whether it's mentally calculating ounces of milk or the struggle with finding a vegetable that isn't broccoli that a kid will eat. (Surprisingly in my very unofficial, anecdotal research, I've discovered that broccoli actually seems to be a kid favorite- who knew?!).
From the beginning with baby led weaning, Hailey has always been a pretty adventurous eater. She had her moments of asserting her independence and opinion, but for the most part she's been a great eater. Kaitlyn has had more opinions about food from the start. I resolved to not get overly concerned about it and I'm so glad I stuck it out because now, at 19 months, she has really come around on her eating. She still lacks focus so I've been known to chase her around to offer a bite, but for the most part, she eats what her sister eats, which is awesome because there is no time (or patience) to cater to varying food preferences.
If you are here for meal ideas, read on, but first and foremost, I must share this.
My biggest tip for successfully feeding toddlers and preschoolers? Buy these silicone cups.
By far, they are the most helpful item I've ever used when feeding toddlers and preschoolers. They make plates visually appealing. They keep food separated (for the kids that hate food to touch) and usually properly portioned. They can be used to serve dips, from maple syrup to ketchup. I'll even find success by putting the least favorite food in the most favorite color- totally messes with their minds, but Hailey can't stand to not eat the food from the PINK cup!
I'm so serious. Get them.
OK, on to meals! Here are some meal successes we've had lately.
Grilled Cheese, Grape Tomatoes, Sliced Pear and Kale Salad with Craisins.
I've found that the toddler eats much more if I cut her sandwich into bite sized pieces.
Simple Tuna Fish Salad with Crackers for Scooping, Steamed Green Beans, Pears and Craisins
For green beans, I trim, chop and blanch. Sometimes I saute them in a little butter, then finish them with a squeeze of lemon and salt.
Mozzarella Sticks with Marinara, Roasted Sweet Potato Rounds and Roasted Brussels Sprouts
You can make your own mozzarella sticks if you prefer, otherwise Alexia sell pretty good option.
As for the Brussels, they are Hailey's favorite vegetable. I cut them in half, toss them in olive oil and spread on a baking sheet. I sprinkle them with salt and garlic powder, then roast at 375 degrees for 20-30 minutes, until the reach my desired level of crispness.
Turkey and Cheese Sandwich, Carrots and Hummus with Garlic Dill Pickle Kraut
I always pre-dip carrots for my girls like a sucker. However, I find they eat more of it that way, so it's a labor of love.
This garlic dill pickle kraut tastes incredible and the girls will both eat it as is as a side.
Chicken & Broccoli Stir-fry, Roasted Sweet Potato Sticks and Apple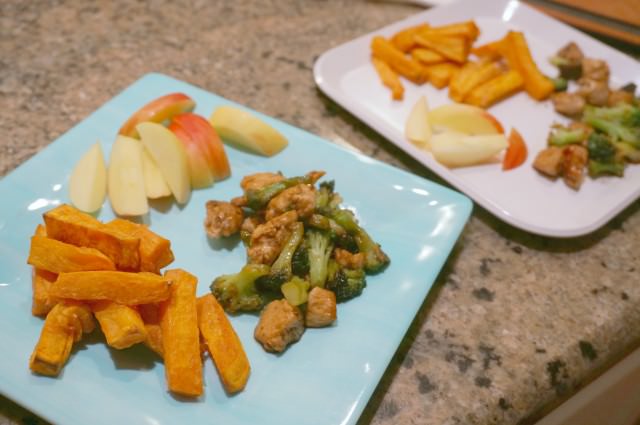 Honestly the girls meals are usually so simple that when I cook something up Hailey is always super impressed, ha. I cut chicken tenders into bite-sized pieces and sauteed in olive oil. Then I added some frozen florets, along with a little teriyaki and soy sauce.
Keeping frozen broccoli on hand is a must- it saves me so many times!
Pretzel Crisps in Hummus, Pomegranate Arils, Steamed Broccoli, Cheese and Leftover Chipotle
This is real life folks. Random snackable creations are a household favorite.
Pomegranate arils are awesome for young kids because the size is right and the sweet 'burst' of flavor makes them fun to eat.
Turkey and Cheese Sandwich, Raspberries and Mini Pickles
Do pickles count as a vegetable?
Mini Omelettes with Red Pepper, Onion and Ham, Clementines and Biscuits
Eggs are one of my favorite ways to add more vegetables. I call them fiesta eggs (for what reason? I don't know but it sounds fun!) but under that name I can add red peppers, onions and spinach and Hailey loves it. However, mushrooms get noticed and picked out every single time.
Shrimp over Brown Rice & Quinoa with Steamed Broccoli
I love keeping these awesome Seeds of Change pouches on hand for nights when I'm in a pinch.
Black Olives, Roasted Sweet Potatoes & Brussels, Pomegranate Arils and Mac 'n Cheese
I love the shell mac n cheese, but the bug shapes have now taken over as a household favorite.
I will also sprinkle a little nutritional yeast into the mac and cheese for some added b-12 and protein.
For the most part the girls' meals are simple, as you see above. Kaitlyn will usually eat most of her plate and I need to get better about upping Hailey's portion. Quite often after meals Hailey will ask for more and I end up giving her a yogurt, banana or crackers and hummus to finish filling her up.
We are starting to venture into a new era for our house, the family dinner! Usually the girls eat early, around 5:30, and I eat with David later around 8:00, but things are starting to shift as they get older and we've had a couple sit down family dinners. I'm excited to see how this next phase develops!
What are your kids' ages and favorite foods?