Ever since I got back from vacation and even for a little while before it, I've been in a food rut. I've cooked a few times, but I'm bored with my go-to recipes and have just been trying to throw stuff together last minute. Those meals never turn out tasting all that great and leave us opting for a Papa Murphy's pizza instead.
I decided this weekend that I needed to get it together, find some inspiration and return to my Sunday food prep (for more Sunday food prep inspiration, check out Lindsay's blog!). Saturday evening I cozied up with my Williams Sonoma cookbook, paper and a pen.
If you're thinking "wow, that chick really knows how to celebrate St. Patrick's Day!" clearly you're right. Party. Animal.
I started by listing the days we need meals for the week, considered any evening obligations, then picked out and planned out dinners from there.
Sunday– Chili & Lime Roasted Chicken, Roasted Red Potatoes and Green Beans
Monday– Linguine with Clam Sauce and Sautéed Kale
Tuesday– Beef and Broccoli with Oyster Sauce and Brown Rice
Wednesday– Black Bean Soup and Salad
Thursday– Sautéed Chicken Breasts with Mustard Sauce, Baked Sweet Potatoes and Roasted Asparagus
When choosing dinner options I consider how long they take to make and what I can do ahead of time. Some sound fancy, but are deceivingly quick to make. I also list options for breakfasts and lunches that are healthy and quick to throw together.
Lunch Options– Bean and Rice Bowls, Salads, Leftovers
Breakfast Options– Burritos (David), Bananas, Yogurt, Eggs
These may seem dull, but having a base of beans and rice ready to go makes it easy to fancy it up come meal time.
From there, I made my grocery list and checked the pantry for what I already had (like brown rice, carrots and yogurt). I noted below what I bought organic, otherwise assume it is conventional.
Inner Aisles: whole grain mustard, mini white wines (for cooking), wheat tortillas, organic crackers, organic black bean soup, dried beans, seltzer water, whole wheat linguine, oyster sauce
Meat Counter: steak (1 lb natural flank), whole organic chicken (1), organic chicken breasts (2), clams (2 lbs)
Dairy: organic heavy cream, feta cheese, cheddar cheese (2 blocks), whole milk, free range organic eggs (2 dozen)
Produce: green beans (1.5 lbs), shallot (2), lemon (3), organic parsley, red potatoes (12), organic broccoli (1 head), serrano pepper (1), limes (2), sweet potatoes (4), asparagus (1 bunch), garlic, organic kale (1 bunch), bananas, organic red peppers (2), onion (2), organic cherry tomatoes, organic romaine, organic black berries
Total Grocery Bill: $134.74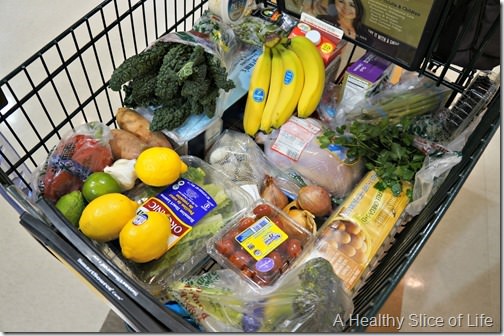 Writing a list makes grocery shopping go by quickly. After getting home and unloading came the real secret to success- food prep!
With the help of my pressure cooker (non-soaked dried bean are ready in 25 minutes!), prep may look complicated, but it isn't. I threw the beans in the pressure cooker- set it and forget it. I brought the brown rice to a boil, reduced to simmer and set a timer. I started cooking the diced potatoes and stirred every few minutes. In between, I cracked eggs, grated cheese and diced vegetables.
Many people ask how I do this with Hailey running around. We usually start off with food distraction in her high chair where she can watch me. I dance around and play music (yes, it's quite the scene…) while she eats and I prep. Koda desperately waits for dropped food.
This keeps her occupied for about 20-25 minutes, then, I just let her go wild.
There are a few drawers and cabinets that aren't child proofed and she has her way with them. I let her because there is no sense in trying to clean up until the end. Yesterday she continuously ran in and out to the porch to enjoy the beautiful weather (I can always see her). Koda sunbathed.
Inside I chopped, stirred and assembled.
After a little more than 1 hour, I was done.
I feel ready for the week, which helps me relax and focus on just dinners, which are already mapped out and have ingredients bought. It seems like a lot of work, but really it's just some organization.
But before you think I have it all together, let me assure you that it's Monday and my laundry basket is still overflowing
But as for food for the week…
Yes, I've got that covered!
Take that, food rut!
How to you prepare for your meals each week?