These healthy freezer breakfast burritos are simple to make with a one-pan preparation method and reheat in under two minutes for a hearty, flavor-packed breakfast to go for busy mornings.
I'm sure if you asked David he would tell you that there are pros and cons that come with being a blogger husband. On one hand you are subject to eating cold meals as your crazy wife tries to get the perfect shot and being the guinea pig for many a recipe testing, which may (definitely) mean eating the failures. On the other hand, eating all the failures will eventually mean you get to eat the successes as well. And today, I have a bookmark-worthy success that you are definitely going to want to try!
My go-to make-ahead freezer breakfast that David loves are these breakfast sandwiches. They are warm, hearty and don't get soggy in the reheat. I've been making them for years but I've been wanting to mix in an alternative for some time now. However, the only other hearty freezer breakfast I made, the beloved frozen breakfast burrito, was rather labor intensive. With two little ones, labor intensive in just not my thing. So I decided to simplify.
And simplify I did, into a one-pan prep!
I also nailed down a couple surefire tips to ensure a perfect freezer breakfast burrito. Whatever you do, ensure the following:
Add FLAVOR in a way that doesn't add moisture. Since you will most likely be grabbing these to eat on the go, dipping in salsa or hot sauce isn't an option, so you want the burrito to be delicious all on its own. For me, the solution is spicy breakfast sausage. Maybe you would prefer a vegan sausage, or maybe just adding some red pepper flakes or cumin. A shake or two of hot sauce would probably be fine, but you wouldn't want to add salsa into the mix or you might end up with a soggy burrito.
Let the filling come completely to room temperature before rolling. Again, moisture is the enemy is freezer burritos. You don't want any steam to be trapped inside the tortilla, so cook up your ingredients then let them completely cool. This may take 30-45 minutes, but it's worth it to wait.
Use burrito size tortillas. Not taco, not fajita, you want to buy the BIG ones to ensure full enclosure of the filling.
Batch freeze on a baking sheet. You don't really need to individually wrap each burrito in plastic. Roll them and stack them next to each other on a baking sheet as you would enchiladas, then stick them into the freezer until frozen solid before transferring to a freezer-safe container (ziplock bag, etc).
That's it! Following these tips will ensure success. I guarantee it.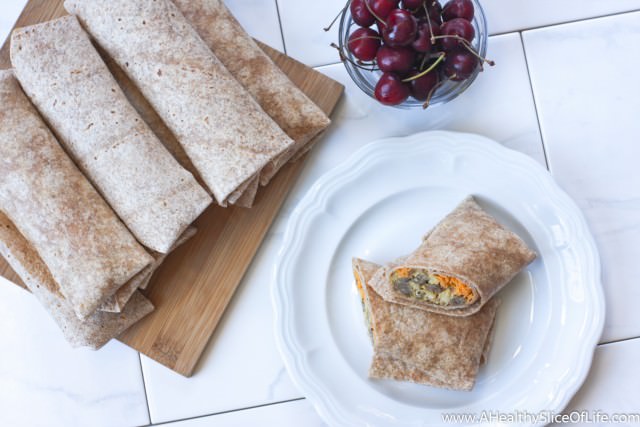 It took me about 20 minutes of hands-on time to make a batch of 8 delicious freezer breakfast burritos. Reheating is as easy as it gets and David and I both have been enjoying a hearty, warm breakfast in less than 2 minutes on these cold mornings. David gives them two enthusiastic thumbs up and threatened me if I ever tried to buy store-bought again (I'm kidding, no threats, but he said these are head and shoulders above any store bought).
[Tweet "Freezer breakfast burritos for busy mornings – simple and delicious!"]
So pin this, bookmark it or share it, but above all- make them! Your sleepy morning self will thank you.

Print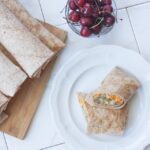 Healthy Freezer Breakfast Burritos
Prep Time: 20 mins
Cook Time: 2 mins
Total Time: 22 mins
Yield: 8 burritos 1x
---
Description
These burritos are simple to make with their one-pan preparation and reheat in under two minutes for a hearty, flavor-packed breakfast on busy mornings.
---
1 lb breakfast sausage
1/2 yellow onion, finely diced
1/2 red pepper, cored and finely diced
12 eggs
A few dashes of hot sauce (optional)
8 burrito-sized tortillas (I prefer these)
2 cup shredded sharp cheddar cheese
*you can also sun red pepper for 1 cup chopped spinach or other vegetable of your liking.
---
Instructions
Heat a non-stick pan over medium high heat. Cook sausage until browned and broken into pieces. Drain and return to pan.
Add onion and pepper to the pan and saute until soft, about 3-5 minutes. Mean while crack the eggs into a large bowl and slightly beat.
Reduce heat to medium and egg eggs, Stir consistently until eggs are cooked through.
Add hot sauce and mix in (optional)
Remove from heat and allow egg scramble mixture to completely cool.
Once cooled, add about 1/3 cup of the filling onto a burrito. Sprinkle on 1/4 cup of the cheese then roll tightly. Place of baking sheet. Repeat until all burritos are rolled.
Place baking sheet in freezer for at least an hour, until frozen solid, then transfer the burritos to a freezer-safe ziplock bag or individually wrap each burrito in plastic wrap before returning to the freezer.
To reheat: Remove burrito from plastic wrap and loosely wrap in a paper towel. Heat for 45 seconds in the microwave, flip over and heat for another 45 seconds. (Reheating times may vary slightly based on your microwave)
---
What is your favorite fast breakfast?