Make a batch of these simple healthy breakfast sandwiches on Sunday and enjoy a hearty, warm breakfast all week long!
I know I should get to bed early. I try, I really do! But then something happens that keeps me up (and yes, that something is often a show like The Bachelorette sucking me in and dragging out a storyline until all of a sudden, it's 11pm!).
Lucky for me — and the girls — David is a super dad and when I'm moving slowly, he picks up the slack.
How that man does it sometimes, I have no idea.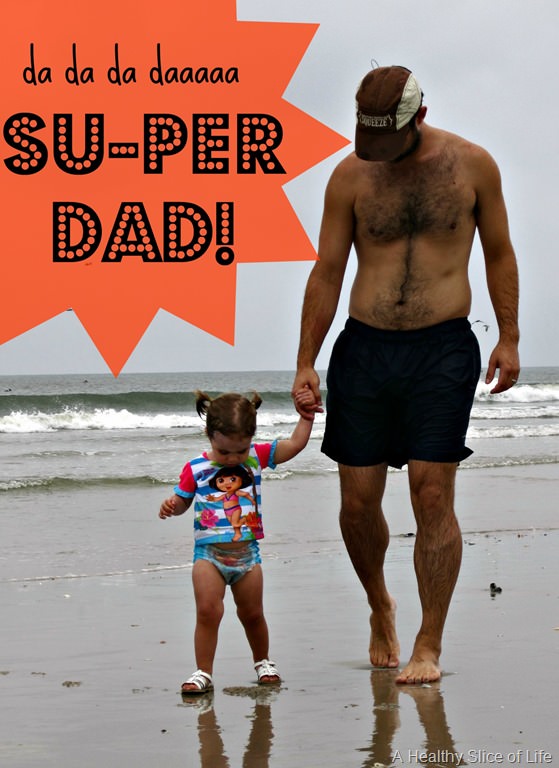 Speaking of David, he has an odd schedule and spends a lot of time in the car. He's up early and can't always count on having time to eat lunch. He's not a big fast food fan, so I try to stock his car with easy-to-grab snacks.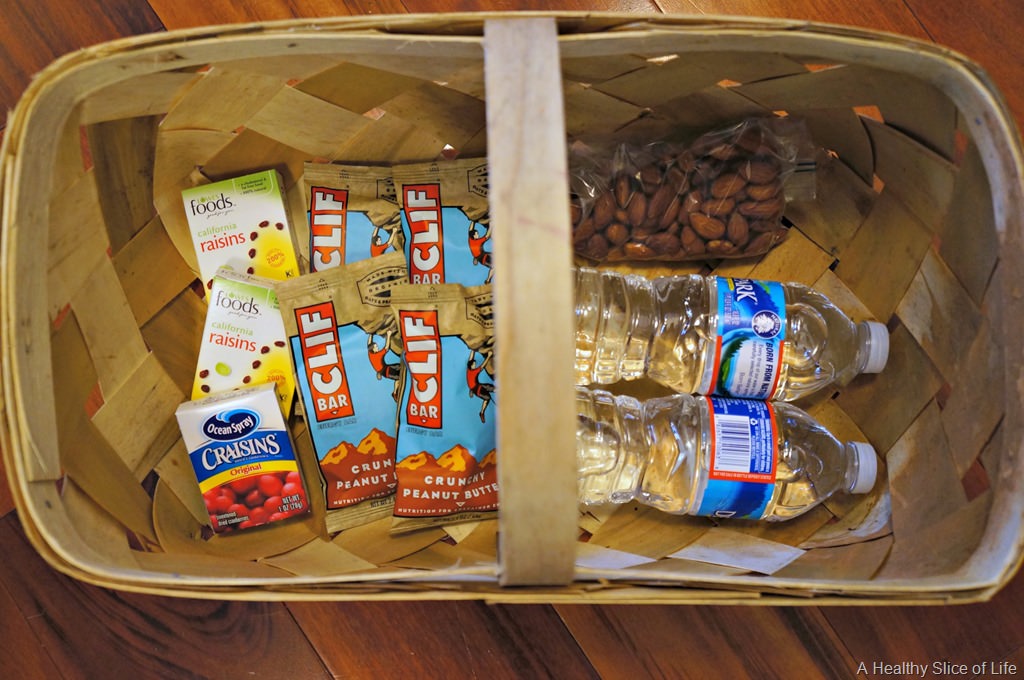 Bars, fruit, almonds and extra waters. No-cooler-necessary snacks.
Being that he gets up and out early, I try to make sure he has a hot breakfast before he goes. You can call me a 1950s housewife, but knowing he has something decent to eat before his day starts makes me feel good.
…however, waking up earlier than 6am to cook up eggs isn't happening. I guess I'm not that 1950s-ish.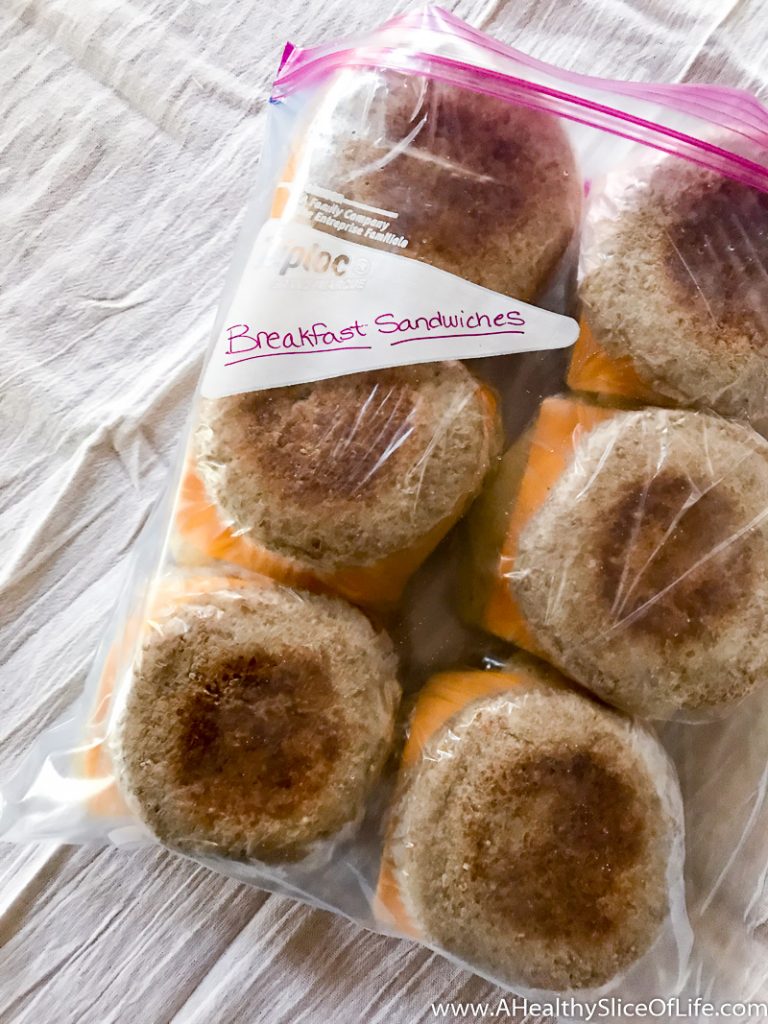 David is a big fan of my freezable breakfast burritos, but they do take some time to assemble. I decided to experiment and loved how quickly these Sausage, Egg and Cheese sandwiches came together so quickly. David loved how they tasted.
6 English muffins (***I HIGHLY recommend using Ezekiel Sprouted Grain English muffins. I switched brands once and they turned out soggy when reheated. Ezekiel brand does not absorb the liquid and doesn't get soggy.)
6 slices of cheese (I recommend pepper jack for some zest)
6 sausage patties of choice, fully cooked (or cook them yourself before assembling)
6 eggs
These came together in about 5 minutes.
First, I cooked the eggs. You could baked them in muffins tins and they'd be the right size, but I opted for stove top.
I cracked the eggs in a heated pan, making sure to break the yolks.
Once the bottom set, I added 1-2 Tbsp of water and covered the pan. I use this trick when I fry my eggs in the mornings, too. It keeps the eggs from sticking and essentially steams the egg.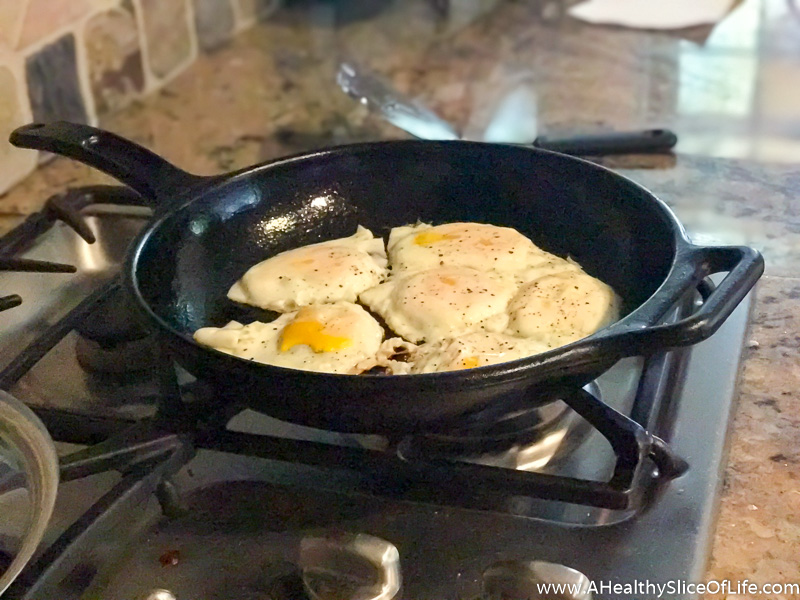 While the eggs cooked, I slightly toasted each muffin, then set up my assembly station.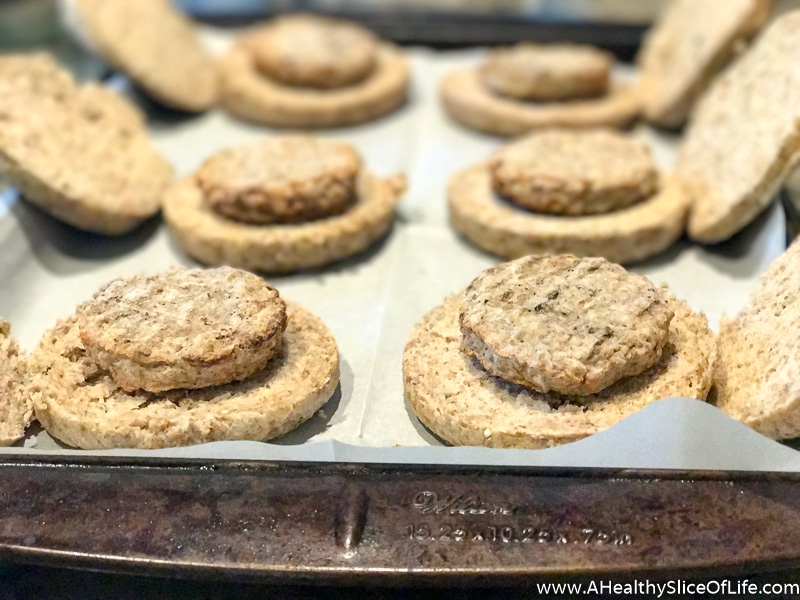 The muffins can be toasted or untoasted. If toasting, allow them to cool fully before assembling.
Once the eggs were cooked, I topped each one with cheese and allowed them to sit for a minute until slightly melted.
This helped the tops stick.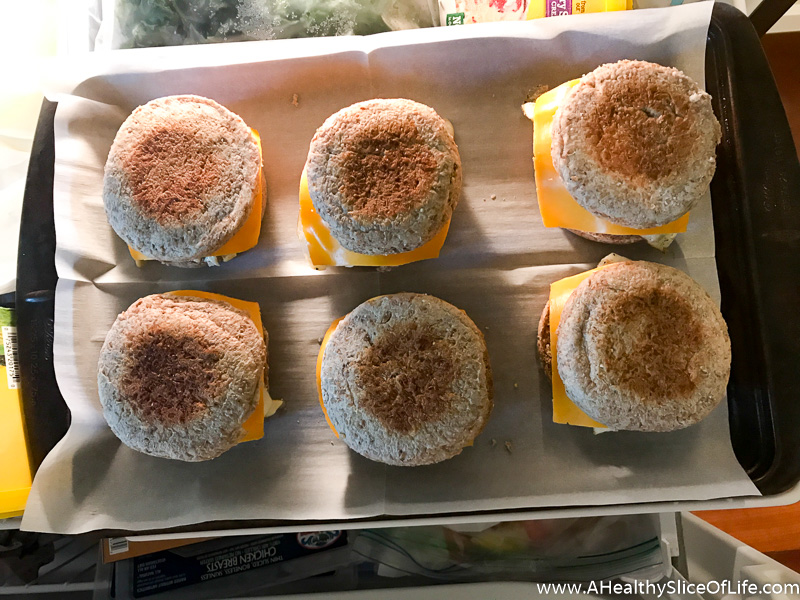 Once mostly cool, I wrapped each sandwich in Saran wrap, then put them into a labeled freezer bag.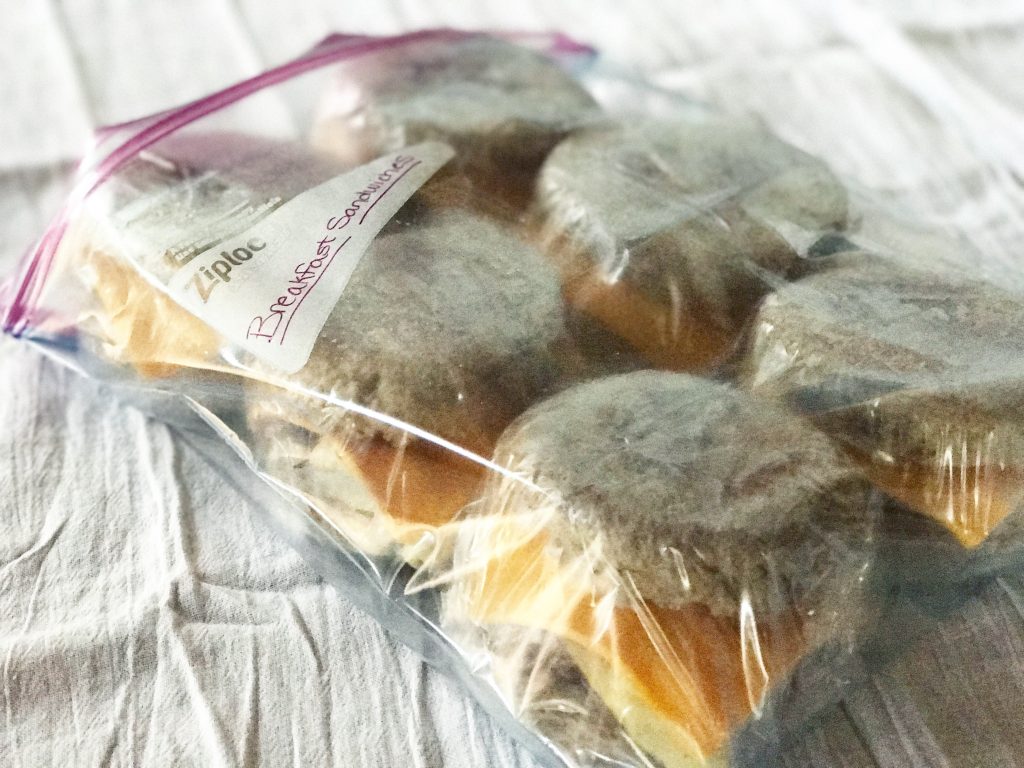 Voila!
To reheat, simply remove from plastic and loosely wrap in a paper towel. Microwave for 1-2 minutes until heated through.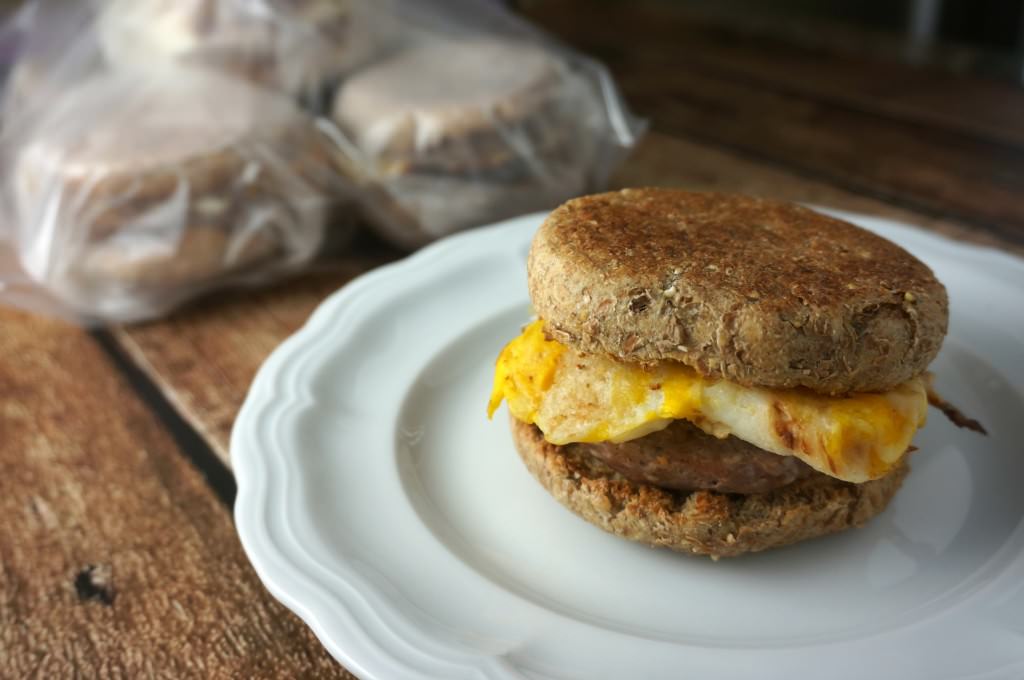 Print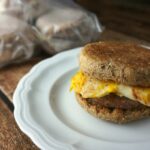 Healthy Freezer Breakfast Sandwiches
---
Ingredients
6 English muffins
6 slices of cheese
6 sausage patties of choice, fully cooked
6 eggs
---
Instructions
Cook the eggs, making sure the yolks aren't runny.
Lightly toast each muffin, if desired (let cool completely).
Set up assembly line. From the bottom up, stack the muffin bottom, sausage, egg and cheese.
Allow cheese to melt slightly.
Place muffin top on the cheese.
Wrap each sandwich in plastic wrap.
Put wrapped sandwiches into a labeled freezer bag.
To reheat, simply remove from plastic and loosely wrap in a paper towel. Microwave for 1-2 minutes until heated through.
One benefit of breakfast from home is having control of all the ingredients. No chemicals, fillers, hormones or artificial flavors. It may taste like an egg McMuffin, but these mom-McMuffins over fresher flavor and are better for you.
| | | | | |
| --- | --- | --- | --- | --- |
| | Calories | Protein | Fat | Sodium |
| McDonald's Sausage, Egg & Cheese McMuffin | 450 | 21g | 27g | 890mg |
| Mom McMuffin | 368 | 22g | 24g | 590mg |
Plus, in 5 minutes, over a week's worth of breakfasts were complete. Pretty sweet.
What are some of your favorite, no-cooler-necessary, car snacks?
I'm always looking for new ideas!