A couple weeks ago I was in a deep sleep (and honestly in the middle of a pretty creepy dream) when I was startled to a waking state by the sound of a seal barking. Any mom will tell you that within 5 seconds of hearing that noise what it means- croup.
Croup is incredibly distinctive, isn't it? I rushed into Kaitlyn's room to find her crying and coughing (or trying to). A sick kid gets me in go-mode more than any cup of coffee ever could, so immediately I got to it. First snuggling her in a blanket to go outside and breathe some cold air and rocking and whispering the tears away. When I got her back into bed, she started crying again, complaining that her legs were aching, a classic sign of fever for her. Sure enough, it was 101.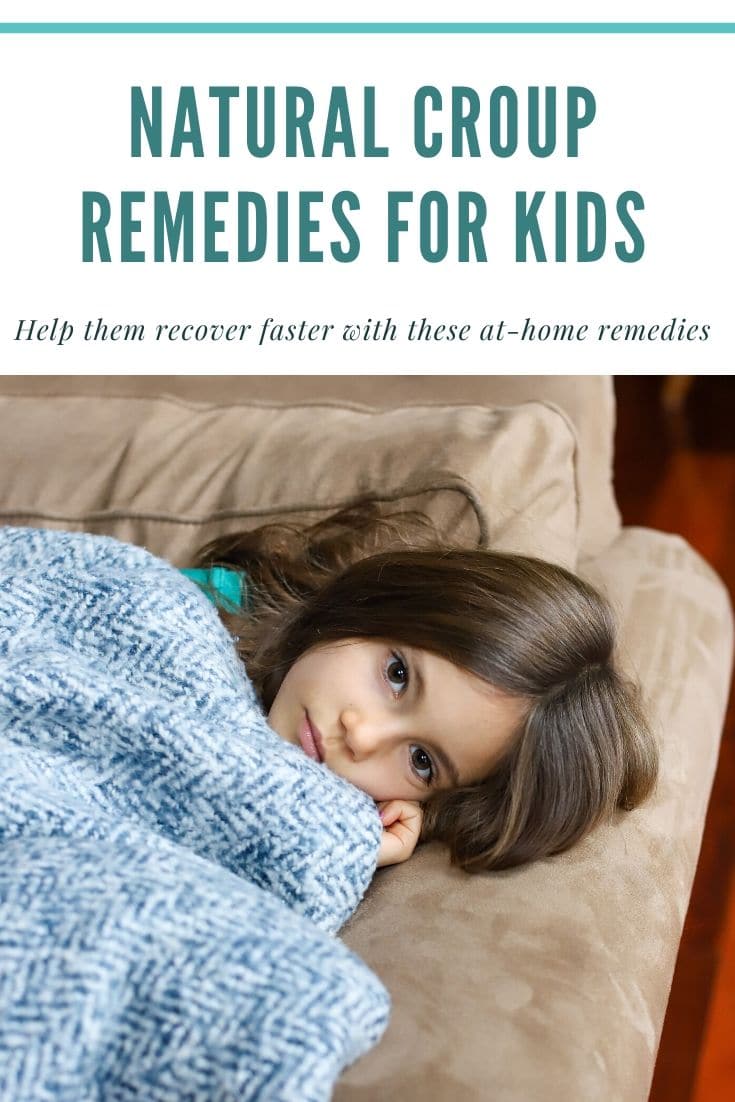 Usually I won't treat a fever that low, but believing that sleep reigns supreme when it comes to healing, I gave her Tylenol, started the humidifier and essential oils, turned on the CALM app sleep time stories, then set myself up beside her bed. I slept on her floor that night just in case her breathing worsened that I would hear it. It wasn't my best night's sleep but I'm just grateful that she fell asleep until morning. Thank you mist and Tylenol. And maybe a mother's loving touch too? 😉
I knew croup usually happened in young kids, but thanks to doctor google I learned that it is most likely to affect kids ages 6 months-3 years old, but any child can get croup. However, it's pretty rare for kids older than 6 years old since their airways are larger at that point. I guess Kaitlyn was just trying to squeeze in a case before she hits that benchmark next year.
After googling "croup in a five year old" and receiving little info back, I decided to jot down what I learned, share how we handled it, and give gratitude that she was back to full steam within 48 hours. I hope you don't wake up to the barking cough sound in your five year old, but in case you do, here's what helped.
What is croup?
Croup is actually a viral infection of the vocal cords and the trachea, which is the windpipe. It causes a tight, low pitched, barking cough. It actually sounds like your child is a seal with how they're barking. It's really scary when you hear it for the first time.
What are the croup symptoms in a five year old?
Croup often appears after several days of cold symptoms and usually worsens at night. It's trademark symptom is a cough that sounds like a seal bark. It's incredibly distinctive. As it continues, a child may have labored breathing or stridor, a high-pitched squawking or crowing noise when they inhale. Other possible symptoms include a fever, raspy voice, and red eyes.
How long does croup last?
Croup usually lasts for a couple of days, and it generally gets worse at night. We can hear it during the daytime, but it's almost always at night, and for some reason it likes the times between 11:00 pm and 1:00 am. It can go back and forth from being mild to severe, but the worst symptoms are seen in kids under the age of 3, and usually we don't see it after the age of 8 when a child's airway is bigger and can allow for more swelling before the airway gets too constricted.
At Home Treatments for Croup
I don't consider myself a super crunchy mama, but I will exhaust all natural remedies before going to the doctor or enlisting medicines. Since croup is a virus, there isn't much a doctor can do (though if your child is young or has real difficulty breathing, please contact your doctor immediately). So when Kaitlyn woke up barking, I decided to throw my entire arsenal of at-home wellness practices at her.
Diffuse oils: My favorite oil blends are DoTerra OnGuard and DoTerra Breathe, but for croup (and coughs in general) some of the best oils you can use are eucalyptus, rosemary, and Frankincense. More on the best essential oils for coughs here.
Run a humidifier: Running a cool mist humidifier helps put more moisture back into the air and helping the nasal passages and airways to stay moist as to not aggravate the cough. It also can help loosen up mucus. We use water from the Berkey for our humidifier and I let it run all night long
Go outside: Taking your child outside into the cool air can help ease symptoms. Alternating between sitting in a warm, steamy bathroom and the cooler outdoor air can help even more.
Wash their sheets: As soon as someone doesn't feel well I put the washing machine to work. Not only does a hot cycle kill germs, there is something about getting into a bed made with fresh sheets that just helps you feel better.
CALM stories: Are you familiar with the CALM meditation app? I've been a subscriber for months but only recently discovered that they offer sleep time stories, bed time tales that include a soothing mix of words, music, and gentle sounds. They are incredible.
Raw garlic: I know, I should be a garlic spokesperson because it you have been around here at all, you have heard me rave about the healing benefits of raw garlic and how I give it to my kids.
Fluids: We stick to water for the most part, but when croup or other sore throat situations sneak up on us, I also make a warm drink for the girls that they've come to call "mom's special drink." I wish it were something fancy, but it's just warm water with fresh squeezed lemon, manuka honey, and a little splash of apple cider vinegar.
Epson salt baths: Not only does a warm bath just soothe the soul, the addition of Epsom salt can help fight colds fast, promote better sleep, and ease irritability thanks to the natural magnesium that can be absorbed through the skin. You can get a bag of Epsom salt at the pharmacy or grocery store for cheap, but it you want to kick the fun up a factor for your child, you can try these fizzy Epsom salt bath bombs for kids.
Elderberry syrup: Elderberry syrup is rich in vitamin C, and anti-oxidants that help their immune systems. We keep it in the fridge all germ season long to use as both prevention and treatment of colds, infections, or viruses.
Healing soup: Any soup feels good when you're under the weather, but it's best to avoid any soups with dairy since it can increase mucus production and make coughs worse. If your child loves a thick, creamy soup though, try this immunity-boosting soup that is thickened with the help of beans. Or if you are looking for a nutrient-rich broth-based soup, this hearty chicken soup and this vegetarian coconut curry broth are so good!
Rest: Can anything beat just letting their little bodies rest? I don't think so. Sick days are super low key around here. We'll play board games, maybe do a simple art project, and watch movies.
And though it's no fun for anyone when kids are under the weather, the silver lining is the extra snuggles and forced downtime healing demands. So while I'll be happy to not battle croup again for the rest of germ season, I'll soak up those extra couch cuddles when I can get them.
Has your child experienced croup?
What helped most for him/her?