The efficiency of our lymphatic systems affects our overall health. After a health scare, I researched the best ways to cleanse the lymphatic system and promote optimal health of your lymph nodes. I'm excited to share with you these simple, but effective ways to cleanse your lymphatic system.
A few months ago I had a health scare. Looking back it doesn't feel like as big of a deal, but at the time it was incredibly scary. I found a small lump on the exterior of my right breast, under the armpit area. It was round and small, but distinct. I made an appointment with my OBGYN to get it checked out. He had a hard time finding it, but when he did, his face got a little more solemn and he told his nurse to go check and see when they could get me in for a mammogram. Outwardly he said he doubted it was something serious, but the swiftness of his actions put a pit of worry into my stomach.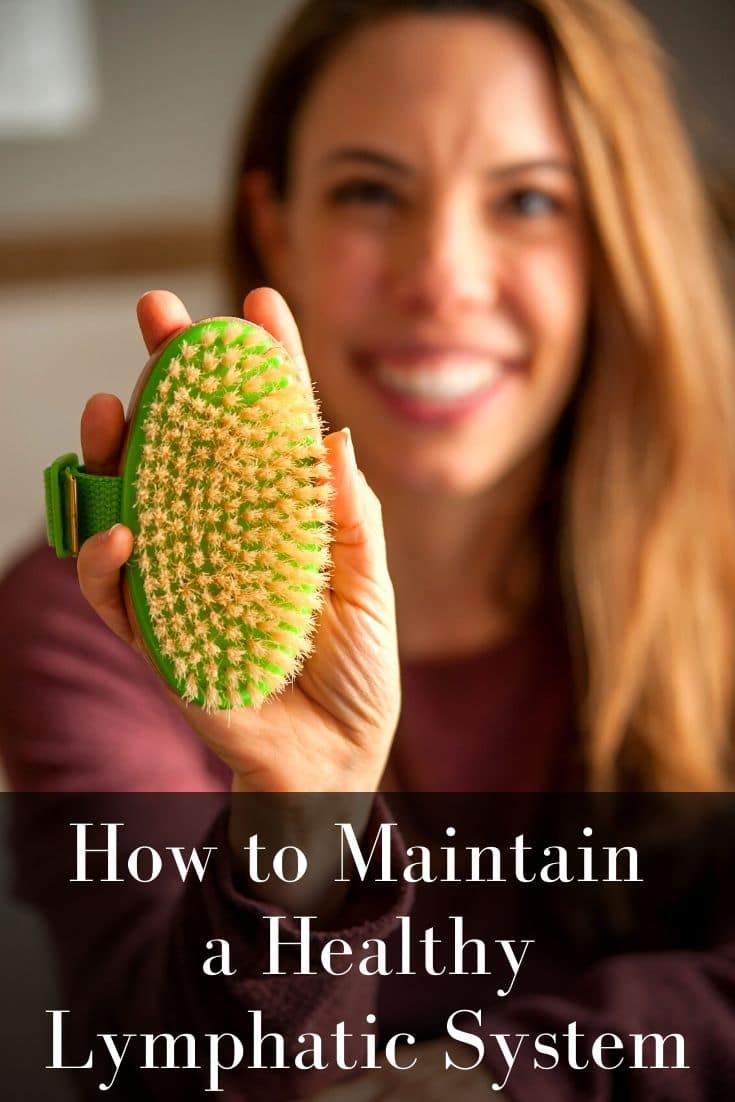 Two days later I had the mammogram. It was a highly unsettling experience. Not the procedure itself (I didn't find it to be painful or uncomfortable at all), but the waiting in a cold room in a paper gown with thoughts running wild through my mind. They had difficulty getting the lump between the plates that pressed down on the tissue, but after several tries, the tech got it. Then there was more waiting, an ultrasound, and more waiting.
The doctor finally came in and looked everything over. With a kind smile on his face he told me that the lump was a lymph node, a healthy and normal looking lymph node. He speculated I was able to feel it due to the location and the fact that my bra pushed right against it. I tried to gather my thoughts as the feeling of relief rushed over me, but doubt I managed many intelligent questions. The takeaway was, though, that everything looked normal and no further immediate action was needed.
Once I returned to my senses, I started educating myself more on lymph nodes and how to keep them healthy. The doctor did not say mine was inflamed, but it felt tender and irritated to me, so I figured there were probably a few things I could do to try and optimize the health of my lymphatic system. This is what I learned.
What Is the Lymphatic System and What Does It Do?
Simply put, the lymphatic system helps eliminate your body's waste. It's primary function is to circulate lymph, a fluid containing white blood cells that fight infections, throughout the body.
Usually, our bodies will flush out waste through your lymphatic system without too many problems. But, sometimes there are issues that can crop up that can make this drainage of waste more challenging. From illness to surgery to other medical concerns, these can all make your lymphatic system work slowly or not function optimally. If your body is not draining out the wastes probably, you could feel sluggish, tired, bloated, and have other adverse health effects.
How to Cleanse Your Lymphatic System
Luckily there are a lot of things you can do to optimize the health of and cleanse your lymphatic system . As you will read, a lot of them are in line with overall general health recommendations, however there are a few more lymphatic system specific tips. I hope you find this useful for your overall health and well being!
Drink Water
Dehydration is a common cause of lymph congestion. Lymph tissue becomes thicker and less mobile when you are dehydrated, but flows well when properly hydrated. I don't naturally drink a ton of water, but try to be more mindful of doing so, especially in winter when it's easier to forget. I get my water from my Berkey Water Filter and fill up a glass or stainless steel water bottle that I can take with me on the go. The girls love the Berkey because it is easy to use and the water is room temperature. They are also able to get their water themselves and seem to drink more this way.
Exercise
We all know that exercise is good for overall health, for delivering energy, keeping your heart strong, strengthening muscles, and for relieving stress, but it's also a great tool for lymphatic circulatory system drainage, too. The lymphatic system depends largely on large muscle activity in the body for its circulation. According to the experts at Gaiam,
Your lymphatic circulatory system works directly with your cardiovascular circulatory system to keep blood and lymphatic fluid levels in balance and flush toxins out of the body. It also carries immune cells throughout the body to help defend against infections. (Gaiam "6 Ways to Boost Circulation for Detoxing and Immunity")
David and I have been on a kick for several months now of working out together. It's made such a difference in my commitment and enjoyment of regular exercising. Easy ways to get in some moderate exercise include going out for a run, taking a walk with your kids or your pet, doing some yoga or light stretching at home, or looking up easy at-home strength exercises on YouTube and doing them while the kids nap. .
Eat a Healthy, Well-Balanced Diet
This doesn't mean a specific diet, no vegan or keto required, but focusing on whole, unprocessed foods like organic vegetables and fruits and healthy fats like avocados, nuts and seeds, will help ensure you're getting plenty of nutrients you need. Some of the best foods to cleanse your lymphatic system are citrus, berries, leafy greens, pumpkin seeds, chia seeds, hemp seeds, herbs and spices.
If you want to take things a step further, you might consider adding Chlorophyll to your diet. You can add it to your water and it helps purifies the lymph and blood.
Lymphatic Massage
My favorite recommendation I uncovered was undoubtedly the advice to get a massage! It is quite possibly one of the best ways to help drain your lymphatic system. When you get a massage, it helps to release the toxins that are contained within your muscles out into your blood stream, where they will be flushed out as waste. You can also perform a lymphatic massage on yourself at home; here's a video that walks you through how to do so.
After getting a massage, make sure that you drink plenty of water. This will really help to move everything that has been pulled out of your muscles into your circulatory system, so that it can then be processed and released as waste.
Tools for Facial Lymphatic Massage
One area where lymphatic drainage is key is in your face. If you've ever eaten way too much popcorn and woken up with a swollen, puffy face, then you know exactly what I am talking about. Or, if you have swollen eyelids from crying, this is most likely because of all of the salt and toxins that your skin is holding on to.
Besides having a health benefit, releasing these toxins can result in tighter, smoother skin and a less puffy appearance. That's where facial lymphatic massage comes in. You can do it either with a tool, like a jade roller, or you can use your hands. For the tool, you'll want to cleanse your face fully, then gently roll it across your skin. This will help to release toxins and increase circulation to move them out of your face. Make sure you use plenty of moisturizer as you do this.
A dry brush can also have the same effect, helping to increase circulation. I've become hooked on dry brushing 2-3 times a week before I get in the shower. I have this dry brush set and it works well for me. Do this on dry skin and very gently brush, always towards the heart, in order to increase circulation and get rid of those toxins that are bringing you down!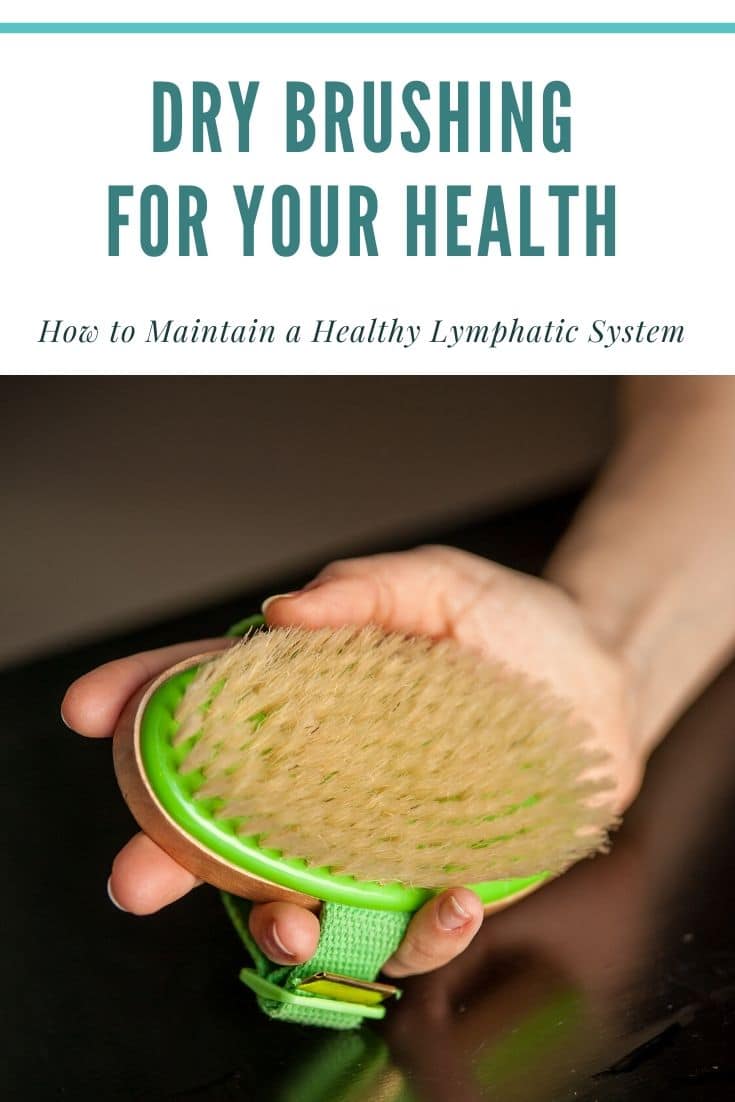 Consider Your Undergarments
The breast, arm and upper chest area are drained by a large cluster of lymph nodes found in the armpit. Underwire bras or any bra that leaves red marks or indentations from being too tight interferes with lymphatic circulation and may contribute to swollen lymph nodes and fibrocystic breast tissue. (source). Since my mammogram experience I've ditched all underwire. After many recommendations for it on Instagram, I purchased the Hanes ComfortFit Bra and have been super pleased with it.
Rebounding
Since the lymph fluid does not move through the body on it's own, it relies of the help of the muscular system to help move things through and cleanse your lymphatic system. Gentle bouncing on a small trampoline, or rebounder, has been proven to be a very effective method for increasing lymphatic flow and activating lymphocyte activity. Bouncing up and down in a gentle way turbo charges lymph function and causes the one-way lymphatic valves to open and close. Just two minutes of gentle bouncing can get you this benefit.
Herbs for Lymphatic System Health
Please ask your doctor or find an herbalist before trying any of these. I just wanted to share the herbs I read to be most helpful.
Red root: A shrub native to California with clusters of white flowers borne in early summer. It has a long history of use by Native Americans. Its root is bitter and its root tea has a "bite. It is an excellent herb for complaints of heaviness, fullness, and pressure in the pelvic area as it is thought to "pull" interstitial fluids from surrounding tissue and move it through the systems and out of the body.
Cleavers: A weed that is commonly found in fields across Europe and North America. Cleavers is in the coffee family, and the mature seeds were roasted and used as a coffee substitute in rural Sweden. Modern herbalists use Cleavers to support the lymphatic glands and the health of mucosal membranes of the urinary tract and skin.
Wild Indigo Root: Typically found in the Eastern USA, wild indigo helps clean the lymphatic system and rid the body of any damaging microbes and wastes. It improves the flow of lymph and reduces glandular swelling.
Essential Oils to Help Cleanse Your Lymphatic System
citrus oils like grapefruit, lemon, and orange
bay laurel
oregano
clove
ginger root
peppermint
rosemary
cypress
lemongrass
sandalwood
Lymphatic drainage is such an important part of our overall health. Without proper drainage, we can have many adverse health effects, but we can also just feel tired and sluggish. I've learned so much and am constantly reminding myself to drink more water and wanted to share what's been helping me, as my achy lymph node has become symptom-less since changing these few things. Here's a to healthy 2020 for us all!