Use the code AHS to get 5% off your purchase of any Berkey Water Filter and accessories!
I want to introduce you to my new love. Say hello to my Berkey Water Filter! David hasn't stopped laughing at the name Berkey for some reason, but I don't care because this water filtration system is something I've been eyeing for months and I'm overjoyed to finally have it as a staple in our kitchen.

The Berkey offers some of the most revolutionary charcoal water filters and it takes no energy to filter the water since it works from gravity! Not to mention, it's also pretty to look at. But let's not get ahead of ourselves. I wanted to take the time to answer some of the questions I've received since I shared my Berkey love on Instagram.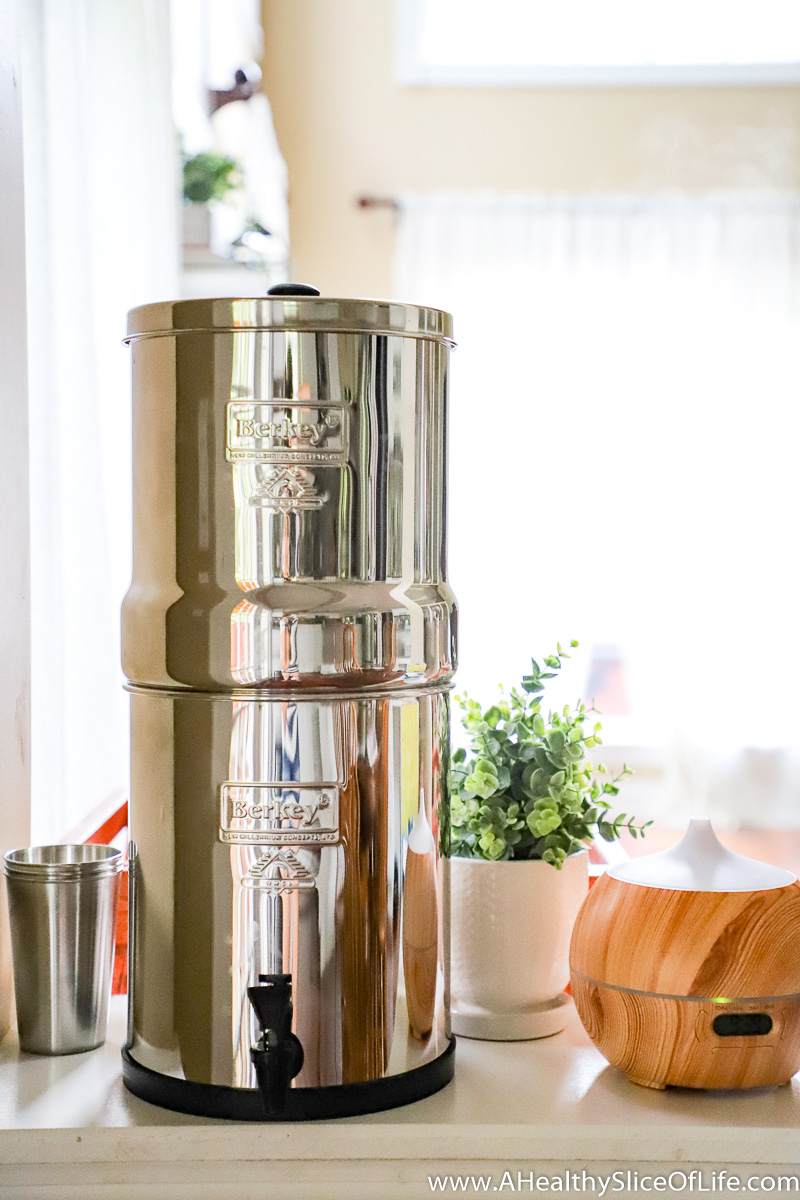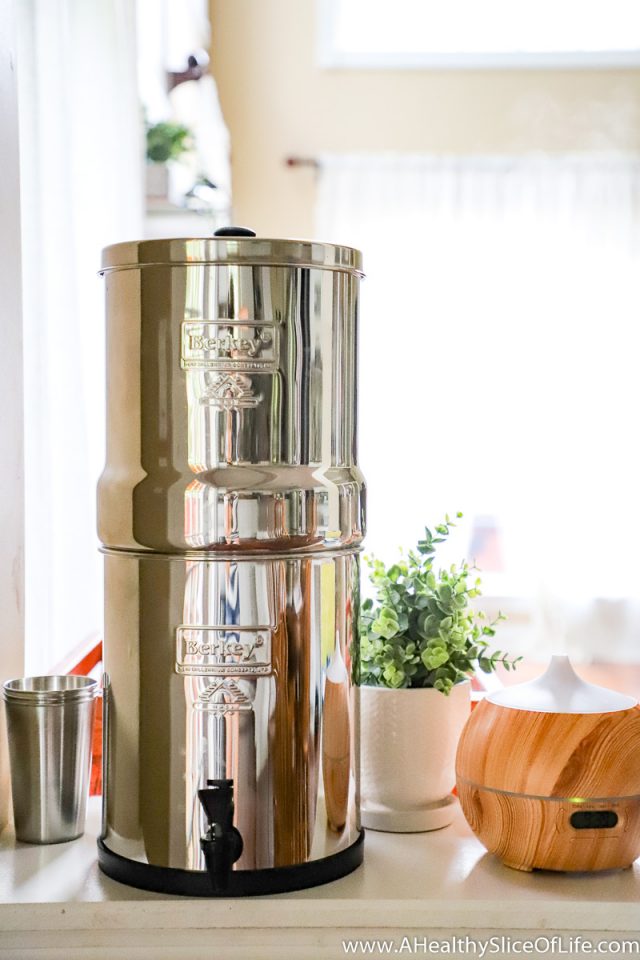 Why did I buy a Berkey Water Filter?
I don't claim to be perfect at healthy living, but when I find something that seemingly can make a real difference in my family's health, I like to implement it. That's how I felt with the Berkey. I'd been eyeing it for months after seeing it on several wellness Instagram accounts I follow and in health articles I've read. My interest skyrocketed when I started questioning more about the water we were drinking on a daily basis. Our water comes from a community well, which is fine (well water is typically known to be fresher than city water), but there have been some concerns in our area about ground water quality. We have a whole house filtration system, but it's a very basic one (basically a water softener+) and I wanted to feel more confident about the water we were drinking as a family. I started researching to find the best solution for us, and all roads seemed to lead to Berkey water filters. Some of the most well researched information is on the CDC's website for home water treatment options.
What Does the Berkey Filter Out?
Bacteria – removed to a 99.99999% level
Viruses – removed to a 99.9999% level
Lead – Removed to greater than 99.9%
Arsenic – Removed to greater than 99.9%
Iron – Removed to greater than 99.9%
Mercury – Removed to greater than 99.9%
Chlorine – Removed to greater than 99.9%
Bisphenol-A – Removed to greater than 99.9%
Chloramines – Removed to greater than 99.9%
Pharmaceuticals – Removed to greater than 99.5%
Petroleum Contaminants – Removed to greater than 99.9%
Methylcyclohexane-methane – Removed to greater than 99.9%
Pesticides – Removed to greater than 99.9%
Heavy Metals – Removed to greater than 99.1%
Coliform and e-Coli – Removed to greater than 99.9
Atrazine – Removed to greater than 99.99%
Fluoride – Removed to greater than 99.9%
Berkey Water Filter Facts
Black Berkey filters exceed EPA log 7 ANSI / NSF protocols for filtration and are rated as water purifiers.
Gravity fed systems that require no plumbing or water hookups for use
Black Berkey filters have 3,000 gallon life (6,000 used in pairs)
Allows red dye testing to know when filters need replacing (no expensive water tests)
In emergencies allows use of non-public water (stream, lake, etc.)
How long does a Berkey filter last?
Each Black Berkey Purification Element is designed to purify approximately 3000 gallons of water before needing to be replaced. A set of two elements will last approximately 6000 gallons of water before needing replacement. If you have a two filter Big Berkey and you used 5 gallons of water per day, then you have 1200 days the filters will last. That's over 3 years. I clean mine monthly, which only takes a few minutes in the sink.
What I Love About Having a Berkey Water Filter
All the technical stuff from above aside, the water tastes so FRESH. It tastes clean. I was surprised at the filter power it has from a seemingly simple system.
It can filter out food coloring! It is so powerful it can remove food coloring from water without removing the beneficial minerals your body needs. Also, the red food coloring test can be used at anytime to know that the filters have not exhausted their filtering ability.
We don't buy bottles of water anymore. I used to keep jugs of water on hand (I have a little bit of a prepper mentality), but now with these powerful filters we could filter any water that we needed to have. It boasts the ability to turn outdoor water from lakes or streams and make it drinkable. That makes me feel better for natural disasters as well like the ones that hit Puerto Rico recently.
The girls love filling up their bottles out of the spigot and have been drinking more water because of it.

Considerations for the Berkey Water Filter
It's an investment (use my affiliate code AHS5 for 5% off). I bought the Big Berkey (2.25 gallon) and it's working for us, but given how much water we drink, I probably should have opted for the Royal (3 gallon) model. I fill a glass pitcher with water from the Berkey and keep it in the fridge as a way to ensure we always have enough water to fill all our water bottles at once.
Because the water is not kept refrigerated, it is important to empty out any unused water after about a week and clean the unit thoroughly. However, we go through at least a tank everyday, so this isn't a problem for us. The glass pitcher I keep in the fridge also means we have a cold water option.
You can overflow the bottom chamber. I learned this through experience. Only pour in the top what can fit in the bottom. We are trying to get in the habit of adding water every time we take some so we will continuously have water at the ready without overflowing. You can, however, purchase the water view spigot which will show you how much water remains in the tank.
If you're looking for a trustworthy product that will filter even the dirtiest water leaving clean, purified water that tastes the same every time, then get a Berkey. We use ours now to make coffee, tea, soups, and more and have been able to taste a difference, but further more, my mind has been put at ease.
If you have any questions about Berkey Water Filter, ask away. And if you are interested in getting one for yourself,
Use the code AHS for 5% off the system of your choice!