Let these natural home remedies cure your pesky sore throat in just one day!
The other day, I found myself thinking: "I just can't afford to get sick." I had a big weekend planned and lots going on with the family.
(When can anyone ever really afford to get sick though? It always sucks, right?)
Then, I woke up with my throat on fire. I knew I'd pull out every trick in the book to try to naturally cure a sore throat in just one day.
[Tweet "What natural cures do you swear by for a sore throat? Here are some of mine!"]
I started with hot tea. 
I'm a big fan of this tea. I find it soothes and protects and with no caffeine, I can drink it all day long.
Hot tea is pretty typical, right? So is water.
I take Wellness Shots
I usually make our wellness shots in the early morning before David leaves for work. It doesn't take much prep, and while it does take a little clean up, I find powering our immune systems with fresh turmeric, ginger, and lemon first thing in the morning to be worth the 5 minutes I spend scrubbing parts afterwards.
Get my recipe for my Wellness Shots HERE. If you don't have a juicer or a blender (or time!), try these from Splendid Spoon, they are powerfully healing and delivered right to your door!
I take Homeopathic Remedies
I swear by this Wellness Formula and start taking them at the first sign of a tickle or a sniffle. If my throat feels a little tickle or scratchy, I also start using this Beekeeper's Propolis Throat Spray.
I drink a lot of water with lemon.
Lemon can help break up mucus and provide pain relief. Plus I figured a little extra citrus and vitamin C can't hurt.
But again, typical. Sometimes you need more than chugging water to kick a thing, so I turn to garlic.
Yes, raw garlic.
Allicin, a chemical found in garlic, kills the bacteria that causes strep throat. It's also has powerful anti-viral and antibacterial properties.
How to Use Raw Garlic to Cure a Sore Throat
Choose a small to medium sized garlic clove. Cut it in half, then peel the clove. Using a sharp knife, carefully chop it into 5-6 pieces. From here, you have two options: first, you can chew these pieces then wash them down with a gulp of water. If chewing is too intense for you, simply chop the pieces smaller, and swallow them whole with a glass of water.
Do this 3-4 times in a day. It's important to note that you must you fresh, raw garlic and you must consume it within 20 minutes of it being cut to get the maximum effect from the anti-viral and antibacterial allicin.
If you are really serious about kicking your sore throat quickly, do as I did. Before swallowing the chopped garlic, suck on it like a lozenge for 5-10 minutes. I had 4 garlic "lozenges" throughout the day for about 10 minutes each time, making sure to swallow the garlic juices.
I sometimes chop up a clove and swallow it with water as a preventative measure, at the first sign of a tickle.
During germ season, I'll also chop up one clove and divide it into two spoons with peanut butter and the kids gobble it down. I'm a firm believer in how powerful it is! Also see: The Most Effective All Natural Cold Remedies for Kids
Next, I turned to good old fashion gargling.
1 cup very warm water mixed with 1/2 tsp salt. Gargle and spit, preferably in front of your significant other because it's super sexy. (As if the garlic breath wasn't enough!)
You'd think I'd be done, but no. I mean business and nothing means business quite like apple cider vinegar –– the real stuff (organic and raw, with the mother). People swear by ACV for its its curing abilities, it is a natural expectorant after all, but it can be hard to stomach.
For best use, mix 1 Tbsp of ACV and 1 Tbsp of honey into 1 cup of very warm water. Here' the secret: DRINK IT WHILE IT'S WARM. It is surprisingly good and feels like a warm hug for your throat. I drank four of these through the day.
Citrus flavor because vitamin C cures everything, right? Plus I'm a believer it kombucha's anti-inflammatory properties in healing me when I'm sick. That why now I even brew my own.
Though I know many people swear a good sweat session can make you feel better, my body begs for rest. I always listen when my body says to chill out.
Finally, after a hot shower (yay for steam!), I decided to go for the gold. I threw my go-to-cure-all at the sore throat. It's a remedy that has been in use since the early days of…. my childhood.
Hot and sour soup.
I swear, it will make everything better. Maybe this is just mental though 😉
Also try this Tumeric Soup delivered right to your door! Or if you feel like cooking, this immunity-boosting golden soup will do the trick.
I use all these remedies consistently when I feel a sore throat and cold coming on and consistently feel better within a day. Try them out and tell me what you think!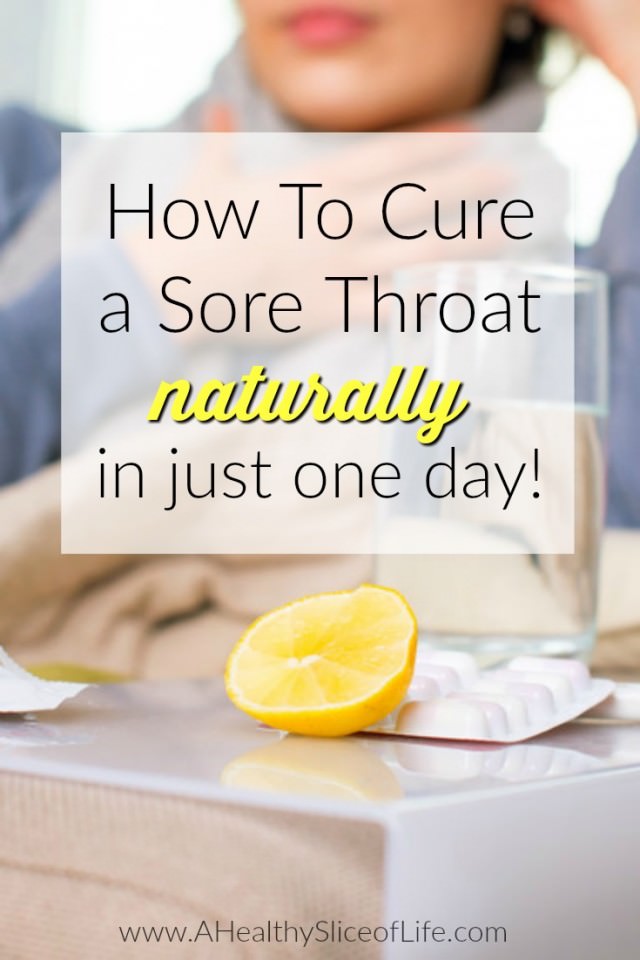 What to Avoid When You Have a Sore Throat
While we are throwing all these natural cures to kick our sore throat to the curb, don't forget to consider what you should be avoiding too. When you have a sore throat, it's best to avoid:
Dairy. As it can increase mucus production.
Foods that may be difficult to swallow. Stick with soft foods and soup.
Acidic foods. Like tomato and citrus.
Sugar and fried foods. When your body is fighting a virus or bacteria, it's best to eat more clean foods to fuel it in it's endeavors.