Let these natural home remedies cure your pesky sore throat in just one day!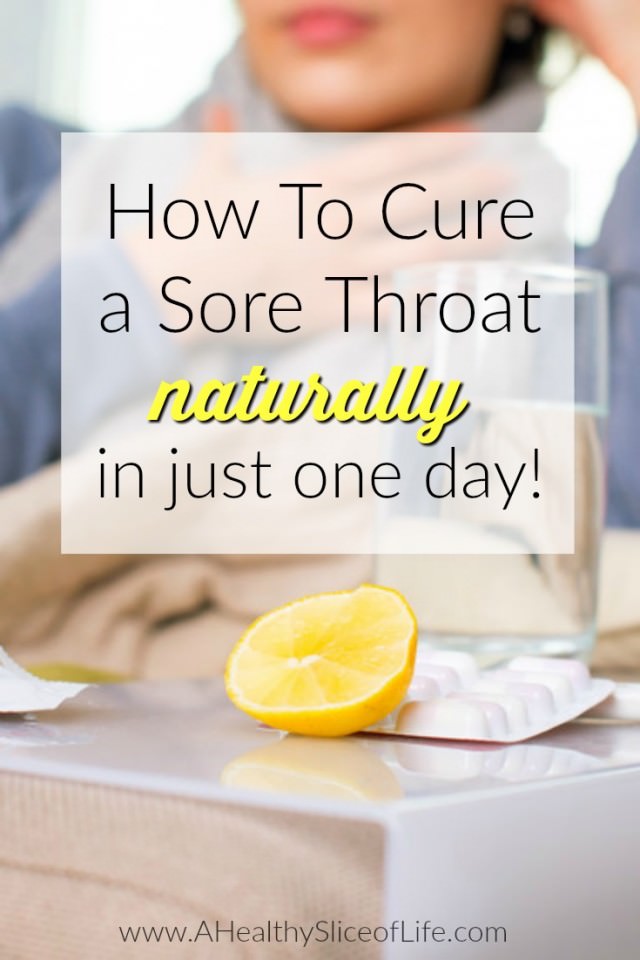 The other day, I found myself thinking: "I just can't afford to get sick." I had a big weekend planned and lots going on with the family.
(When can anyone ever really afford to get sick though? It always sucks, right?)
Forced frown because *fun fact* I can't actually frown. It's true. My chin just gets all mushy and weird looking.
Then, I woke up with my throat on fire. I knew I'd pull out every trick in the book to try to naturally cure a sore throat in just one day.
I started with hot tea. 
(And a breakfast favorite — gotta fuel the machine).
I'm a big fan of this tea. I find it soothes and protects and with no caffeine, I can drink it all day long.
Hot tea is pretty typical, right? So is water.
I drank a lot of water with lemon.
I figured a little extra citrus and vitamin C can't hurt.
But again, typical. I knew I'd need more than chugging water to kick this thing, so I turned to garlic.
Yes, raw garlic.
Allicin, a chemical found in garlic, kills the bacteria that causes strep throat. It's also has powerful anti-viral and antibacterial properties.
Confession. I've never done this before, but I was desperate. So I peeled a clove of garlic, cut it in half and stuck a half in each cheek. At first I was all "WOAH, this is spicy!"
Then, I realized it wasn't all that bad and heck, if it works, why not?
I continued on to have 4 garlic "lozenges" throughout the day for about 10 minutes each time, making sure to swallow the juices.
Edited to add: I sometimes chop up a clove and swallow it with water now at the first sign of a tickle. During germ season, I'll chop up one clove and divide it into two spoons with peanut butter and the kids gobble it down. I'm a firm believer in how powerful it is! (If you can't stomach the thought of straight garlic, I recommend a high-quality garlic complex).
Next, I turned to good old fashion gargling.
I swear by it. 1 cup very warm water mixed with 1/2 tsp salt. Gargle and spit, preferably in front of your significant other because it's super sexy. (As if the garlic breath wasn't enough!)
You'd think I'd be done, but no. I meant business and nothing means business quite like apple cider vinegar –– the real stuff (organic and raw, with the mother). I just cringed writing that.
I've attempted ACV before because people swear by its curing abilities, it is a natural expectorant after all, but it was so hard to stomach.
This time, however, I mixed 1 Tbsp of ACV and 1 Tbsp of honey into 1 cup of very warm water. Here' the secret: DRINK IT WHILE IT'S WARM. It is surprisingly good and feels like a warm hug for your throat. I drank four of these through the day.
Citrus flavor because vitamin C cures everything, right? Plus I'm a believer it kombucha's anti-inflammatory properties in healing me when I'm sick. That why now I even brew my own.
Though I know many people swear a good sweat session can make you feel better, my body begged for rest. I listened.
Finally, after a hot shower (yay for steam!), I decided to go for the gold. I threw my go-to-cure-all at the sore throat. It's a remedy that has been in use since the early days of…. my childhood.
Hot and sour soup.
I swear, it will make everything better.
So, the real question — am I cured? Well, not 100%, so sorry for the misleading title, but I feel SO much better. Like 94%.
The gunk is me isn't such a scary color any more (TMI?) and my throat doesn't hurt! My head still feels pretty stuffy, so I'm pulling out my neti pot and going through another day of sick warfare. Go immune system, Go!
Edited later to add: I use all these remedies consistently when I feel a sore throat and cold coming on and consistently feel better within a day. Try them out and tell me what you think!