There is nothing like a new season to re-energize my approach to the kitchen. After a fun-filled and fairly schedule-less summer, I was feeling a little uninspired with meal planning. Grill a protein and throw in a vegetable had become my predictable routine. Not bad, but it was getting dull.
With the new season upon us and a new desire to lean more plant-based in our eating, my joy in the kitchen reignited. Going hand in hand with this came my need to purge and reassess my pantry contents, much like I recently did with my kitchen cabinets. As much as I tried to deny it, my pantry had become quite the disaster zone. Exhibit A:
You can see my good intentions: the canisters for grains, turntables for vinegar storage, and even an organizational bin for good measure. Still, it had turned into chaos. Exhibit B:
It is hard for me to enjoy the cooking process with such a mess hiding below the surface (or a closed door). Plus, with my new veggie-heavy focus, I needed to assess what I had and what I needed to stock up on. Though I tried to put it off for a few weeks, I knew a total overhaul was inevitable. So on a Sunday afternoon I pulled out every single item, scrubbed down the pantry, and just as in our playroom makeover, I didn't let a single thing back in without a designated spot. It took a few hours, but the result? It felt incredible!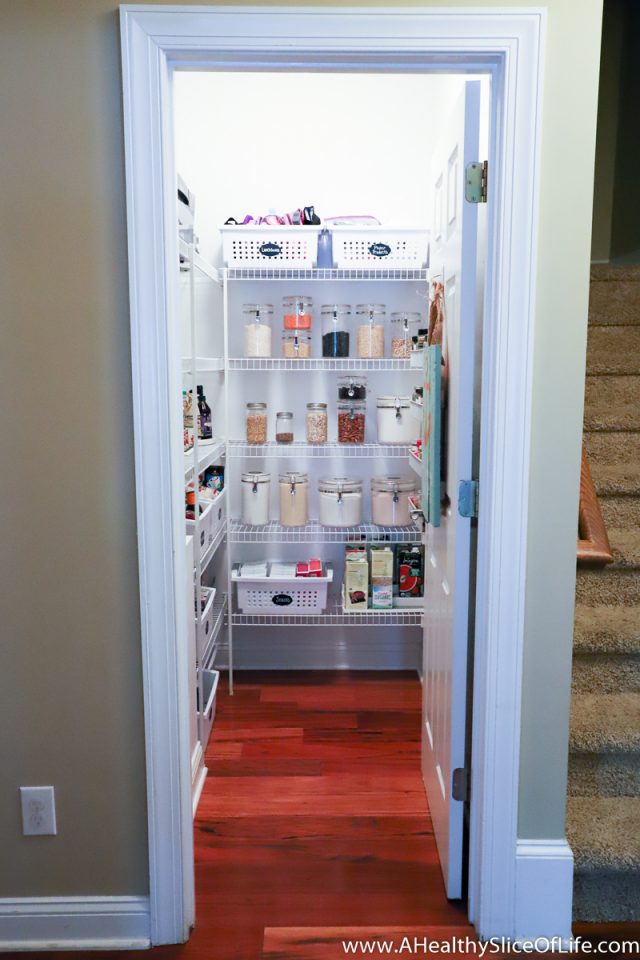 Gone were the piles of clutter from the floor and the haphazardly organized items. Instead, in their place: order and logic.
A few organizational items that made a huge difference: 3 tier cabinet organizers, jumbo acrylic canisters, multi-size acrylic canister set, large stacking baskets, non-skid turntable organizer (great for corners!) and chalk board sticker labels with liquid chalk.
Categorizing my pantry contents and putting each item in a proper place felt freeing. I am now able to easily see what I have and what I need. I feel prepared to get in the kitchen knowing that all my kitchen staples for healthy and organic eating are stocked and ready to be used.
Let me take you on a little tour of my favorites!
First up, my favorite visual of the pantry, the bulk goods section.
I've often mentioned my love for a good bulk section at grocery stores. The prices can't be beat and I appreciate having less packaging to throw away. Buying organic flours, grains, dried beans, lentils, nuts, and other bulk items is much more cost-effective. And I won't lie, the look of storing these items this way also makes my heart sing. I prefer the clean, clear look on the storage containers, so I label my items on the lids instead.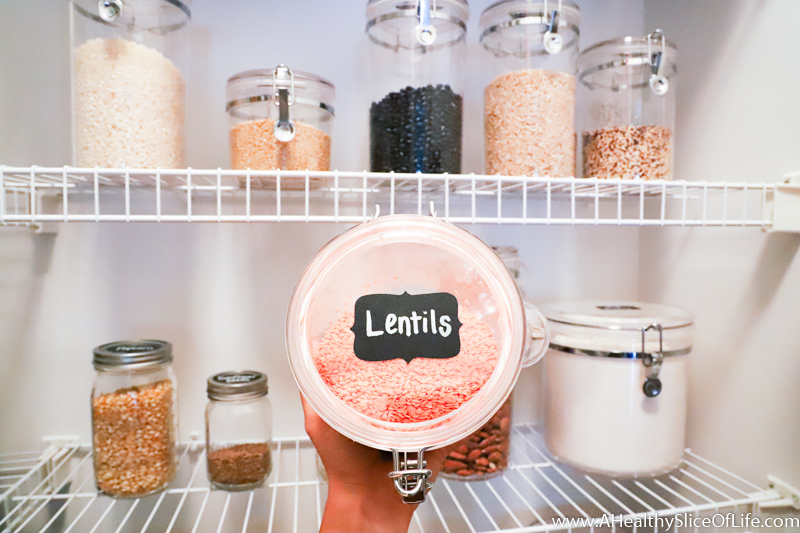 I really love these labels because they truly wipe off easily for when I need to switch out the contents of a canister.
Next up… Hi, my name is Brittany and I'm a tea addict.
My tea collection has its own designated shelf. Lately I've been loving Adagio loose leaf teas, especially the Earl Grey Bravo, but I love keeping a variety of options on hand depending on my mood. Ginger for the evenings, throat coat for sore throats, green tea for the afternoons, and green tea dandelion for when I'm feeling the need for a health boost.
As much as I love my dried beans, real life also requires the canned options. I like keeping canned garbanzo beans at the ready because they are so easy to throw on salads, on kids' plates, and into stir fries.
They also go great in curries, which is also why I always keep coconut milk on hand. Finally, refried beans are a staple as well. I use them for taco night or for quick lunches for the girls. Just add cheese and a tortilla and they're happy as can be!
A single snack bin works for us, as we aren't big snackers. Right now we have popcorn and Bitsy Brain Food snack packs at the ready. I don't buy a lot of premade soups, but usually keep a tomato option and another kid option on hand just in case. Speaking of just in case…
Mac 'n cheese. Always.
Let's see what else. Tuna and salmon are an easy staple to keep on hand and when I see other salad-toppers go on sale, like artichoke hearts, hearts of palm, and sun-dried tomatoes, I try to snag a couple of those as well.
Finally, there were some odds and ends I had left over (back up ketchup, BBQ sauce, etc) so I fit them all into their our "condiment" basket next to the "baking" basket.
Then I stepped back to admire my work. I'm not kidding; I sat on the floor in front of the pantry for 10 minutes just smiling at it. I'm feeling jazzed to be in the kitchen again. Excited to experiment and create. Excited to share the successes (and inevitable failures) with you.
So there you have it- my new favorite room in the house and the staples I can't live without.
Share with me- what space is next on your organize list?
What are your favorite pantry staples? Comment below for a chance to win a $100 Visa gift card!
Entry Instructions:
No duplicate comments. You may receive (2) total entries by selecting from the following entry methods:
Leave a comment in response to the sweepstakes prompt on this post
Tweet (public message) about this promotion; including exactly the following unique term in your tweet message: "#SweepstakesEntry"; and leave the URL to that tweet in a comment on this post
Blog about this promotion, including a disclosure that you are receiving a sweepstakes entry in exchange for writing the blog post, and leave the URL to that post in a comment on this post
For those with no Twitter or blog, read the official rules to learn about an alternate form of entry.
This giveaway is open to US Residents age 18 or older (or nineteen (19) years of age or older in Alabama and Nebraska). Winners will be selected via random draw, and will be notified by e-mail. The notification email will come directly from BlogHer via the sweeps@blogher email address. You will have 2 business days to respond; otherwise a new winner will be selected. The Official Rules are available here. This sweepstakes runs from 10/16/17-12/24/17.