I planned on sharing my favorite tips for taking pictures of my kids with y'all today, and I promise that requested post is in the works, but I have to share an embarrassing fact first. Yesterday I opened Hailey's bedroom door to get her up for the day and I swear- it stunk. Maybe it was a visual foulness of seeing piles of stuff in every corner, but it seemed conspicuous enough to me to warrant some serious attention.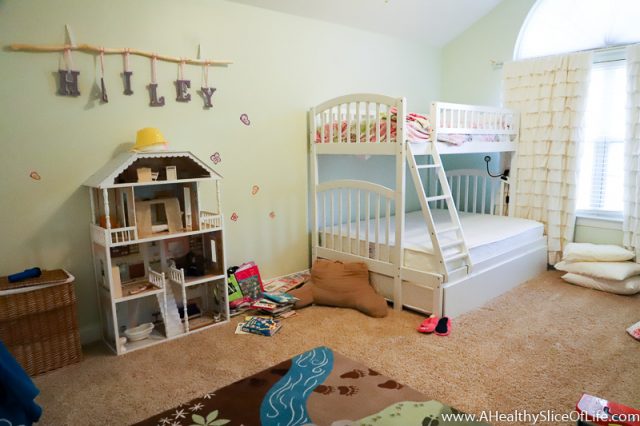 As I took inventory I confirmed that my six year old had inherited her mother's hoarding habit, so determined to nip it in the bud, I prepared myself for afternoon conversations about each item to determine what was "special" enough to keep. Then I stripped her sheets and quilt for the wash as I pushed all other afternoon plans aside. It was clear I needed a chunk of time so I could properly tackle this mess, A Simplified Life style, AKA, getting rid of most of it.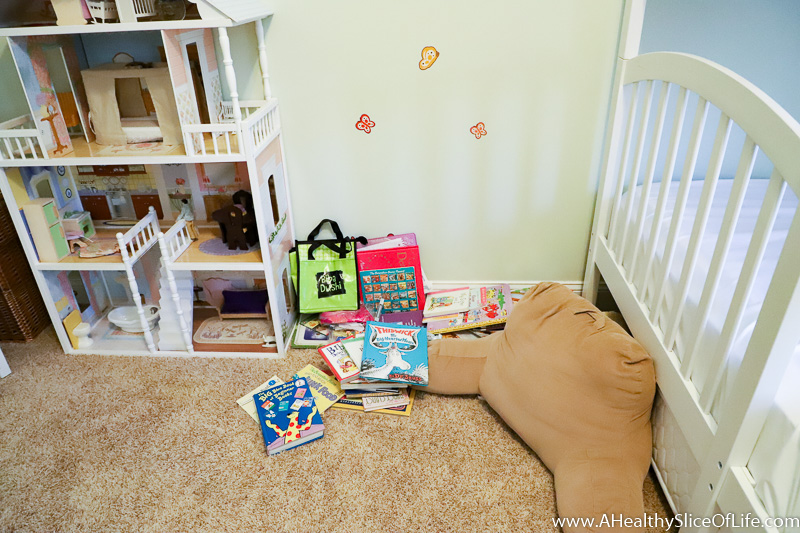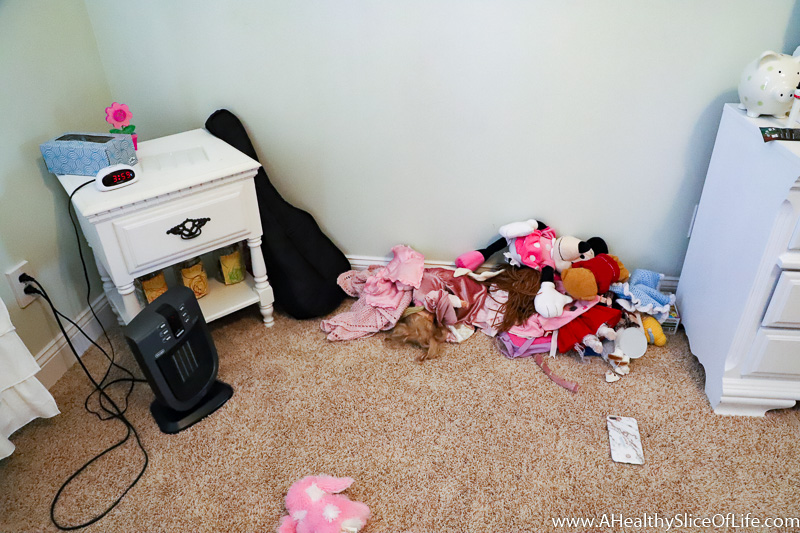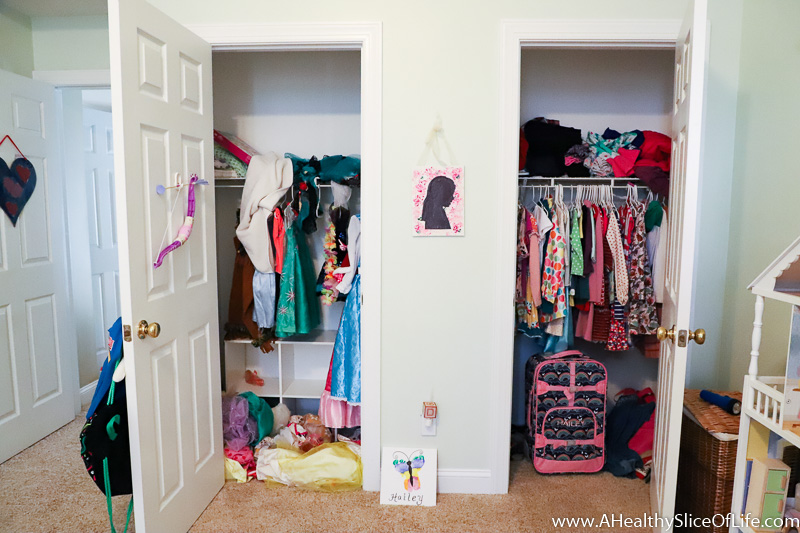 Ugh, do you see that closet? I'd ignored the chaos long enough and decided to start there after we got home from Hailey's first gymnastics class (spoiler- she LOVED it).
First, I pulled everything out, then divided things into three piles: keep, give away, trash. I tried to apply the same ruthlessness as I did to our master closet. I gave away the "itchy" princess dresses that the girls never wore and threw away the ones that had tears and holes. I saved a few special outfits to pass down to Kaitlyn, but donated the clothes that still had some life in them but weren't worth packing away in a bin. It was a process, but 3 large garbage bags later, it was worth it.
I had Hailey's help with the rest of the room. We went through each pile, beginning with the dolls. She decided which ones she just had to keep and which ones she could give away to another child. We went through a million trinkets, keeping the swim medals and (finally) tossing the snowman PEZ dispenser. We went through the books, found some great ones to move to Kaitlyn's room (she feels like she just won the book lottery!), and had a few piles of keepers. I bought a cheap bookcase at Target (it feels cheaper than Ikea but I think it will serve its purpose fine) and as soon as David puts it together she'll have a space to keep them besides on a huge pile at the end of her bed.
After washing and drying and sorting and organizing and filling up the back of the car and the trash can- it was done!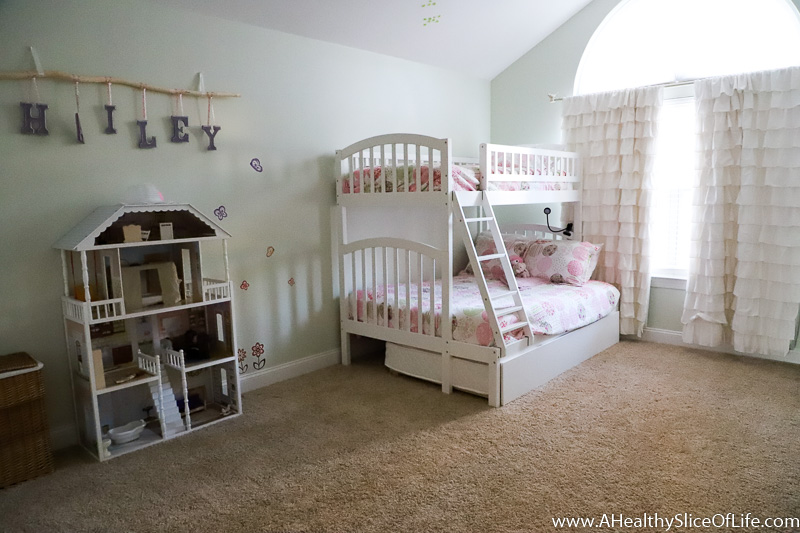 I swear the stench was gone and to me, it felt like a new room. A new room that could possibly use some wall art, but one project at a time…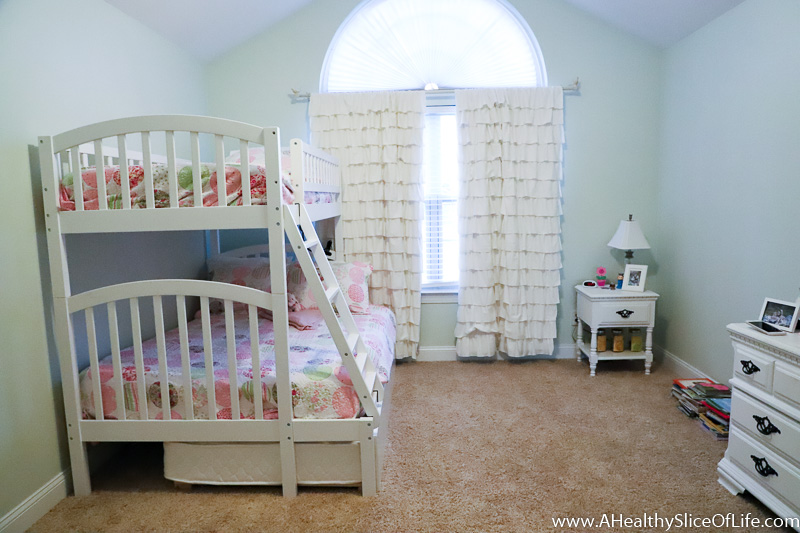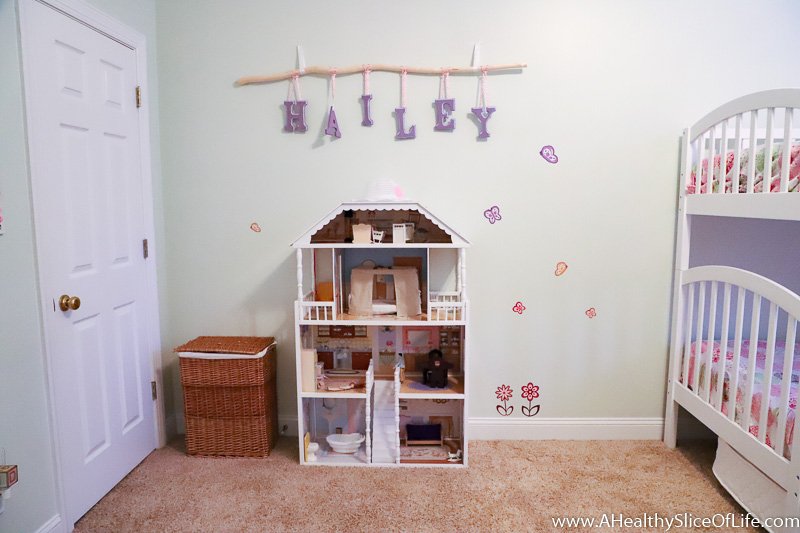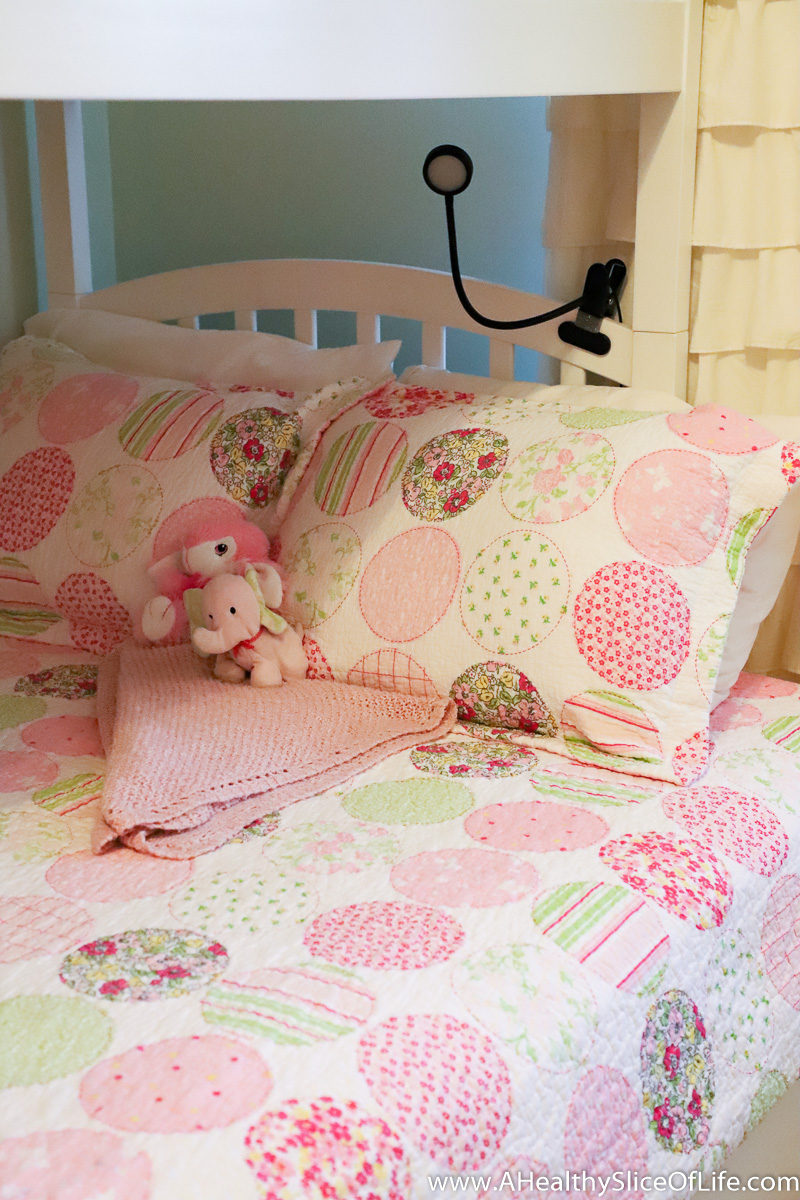 By the way, I highly recommend this book light. It has a bright and soft setting, it is sturdy, and is easy to maneuver into different positions. It's been awesome for Hailey to read at night.
Also, I hope they keep their loveys forever. Hailey said one (of the four) could go, but I snatched it right up and put it in her memory bin. No way, Jose.
Now as for the treasures that Hailey just couldn't part with. Honestly they made me smile because she is pretty similar to me in that she wanted to keep pictures the most, then small trinkets that reminded her of people (a pink bunny from Mema and notes Nana had left her) or of places we'd been (the wishing star from Cinderella's castle or the shiny rock from Colorado).
The whole process took two hours, which really wasn't all that long for the payoff of a like-new room. Hailey twirled around the room and kept saying how much she "just LOVED it." I tried to explain the concept of every item having a designated place and the importance of putting things back where they belong and I'm crossing my fingers that just a little of the advice sunk in.
LOL, she's six, and I just barely learned that at 34.
I do know I will be more aware of bringing new items in (junkie treat bag stuff, pine cones, random ribbons, etc) because limiting those is what has made the biggest difference in keeping the rest of our newly simplified spaces neat and organized.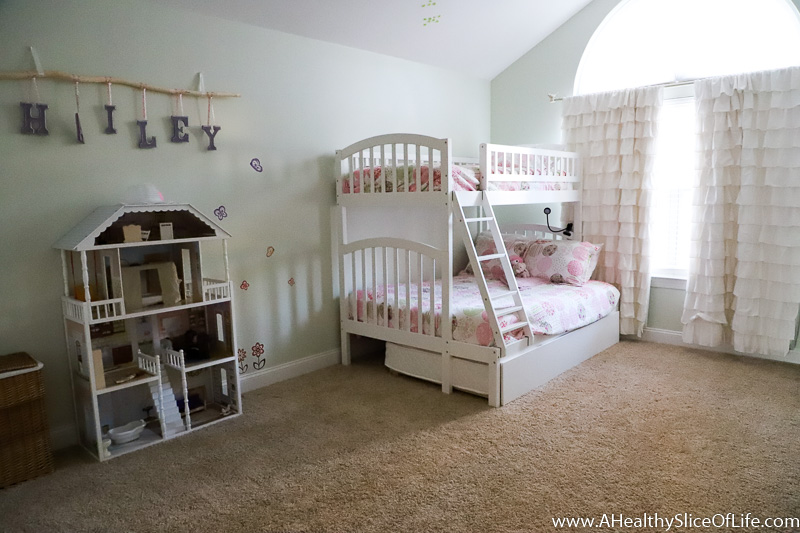 Next up, Kaitlyn's room. But that may be a job for wine.
Do you have a great tip for keeping kids' stuff organized?
Mine would be- toss as much as you can!