After grabbing breakfast in and saying goodbye to Boulder, David and I headed south. Our goal for our Colorado road trip was to see parts of the state we hadn't before. For us, that meant getting out of the Denver area. We drove through Colorado Springs and ended up 2 hours south of Denver in Canon City for our first stop- white water rafting!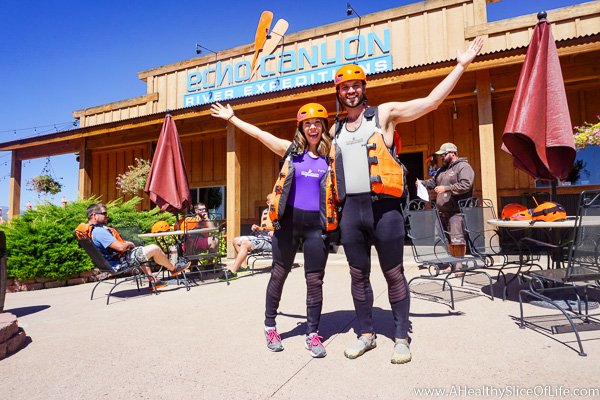 I had never done it before and I won't pretend my nerves weren't raging. I had heard stories of being thrown out of rafts and sharp rocks, but upon arriving at Echo Canyon Rafting, my worries started to subside. It was clear these people knew what they were doing.
Their facilities were top notch with high quality gear (we both opted to rent wet suits), beautiful and clean locker rooms, and even an open and airy bar and grill. Lucky for my nerves we didn't have time to waste and were soon whisked off with our guide, MacGyver (real name!), to take on the rapids.
It. Was. A. Blast.
The Royal Gorge trip took about 2-3 hours and was a perfect blend of excitement and relaxation as we sat staring in awe at our surroundings. I can't say enough about how great MacGyver was; truly half guide/half entertainer as he told us all sorts of history of the Arkansas River along with his own adventures. The river was cold and though it soaked us through a few times, I was so glad no one in our raft "went swimming."
Perhaps my favorite feature of Echo Canyon was the fact they have GoPro camera on every raft and upon arriving back at base camp, you can check out all the ridiculous faces you made along the way. Apparently I'm a bit expressive.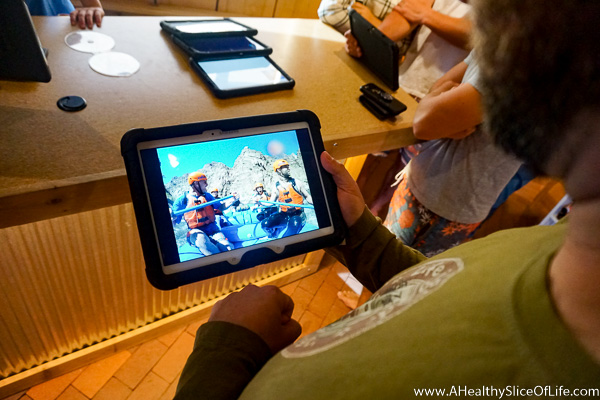 David has all the video downloaded and is working on a short video from our adventure. I can't wait to show you how ridiculous I looked.
After drying off and warming up, we were back in the car to drive the 2 hours to Leadville to stay with our friends, Kevin and Megan.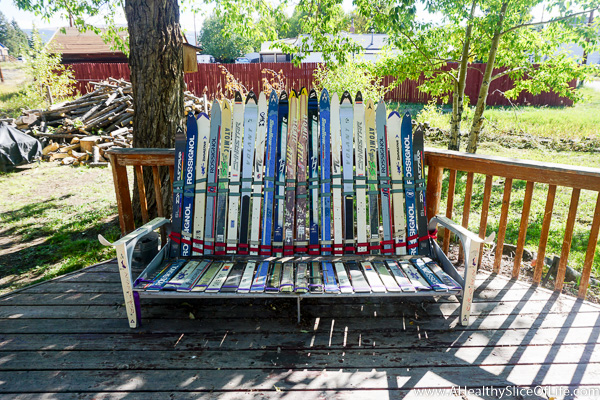 Leadville is an incredibly charming little town sitting at an elevation just over 10,000 feet. I swear I could feel the air thin out as we made our way into town!
I want to try to explain our friends to you, but I am not sure I have the words beyond telling you that they are some of the coolest, most unique people I know. They live in a house, walkable to town, that they completely gutted and renovated themselves (truly, with their own two hands) with every detail fitting their personalities and lifestyle.  A wall of records, trees growing through the center of the house, the shower tile shaped to represent the trails that meant the most to them (they met hiking the Appalachian trail)… basically, I love their home.
I was honestly exhausted when we arrived from our exciting day, so we spent a low-key evening catching up, hearing about Megan's multiple experiences doing the Leadville 100, and playing with their adorable new pup, Merle.
The next morning they treated us to a breakfast feast.
Does elevation make you extra hungry?
Because I easily helped myself two 2 full plates and an extra slice of elk. Yes, elk! I've never had it for breakfast, but it was an elk Kevin harvested himself and I'd prefer it over bacon any day.
Yes, I know what I just said- better than bacon. For real.
We finished breakfast and decided to go for a short hike before heading out of town. I was freezing and made a quick stop downtown to grab a sweatshirt.
I fell in love with a little store called Malanzana that makes all their clothes right in the store and sells them there and online only. I now feel like I'm a part of a club that's way cooler than I am.
Then, we hit the trail.
Merle, too!
We only made it a couple miles because we still had a long drive ahead of us, so we snagged a quick picture before thanking Kevin and Megan for their hospitality and hugging them goodbye.
Back at the car we picked up a hitchhiker who was on day 4 of his 7 day trip and had so many blisters he couldn't push on. Apparently hitchhiking is more common out there? It's not something we would normally do, but this poor man was in pain and was a really nice guy in his 60's hiking with 3 of his friends. We took him to the next town over before heading onward.
We stopped in Poncha Springs for gas and couldn't resist grabbing lunch from The Hunger Trailer.
Why do food trucks always have the most delicious food?!
The BBQ was incredible! The meat literally fell off the bones and we cleared our plate in under 2 minutes.
We then walked next door to grab iced coffees from possibly the cutest little coffee shop ever.
So unassuming from the outside, but inside Tiny House Coffee is a top of the line coffee and tea shop. Everything is organic and she even makes her own homemade whipped cream. Best caramel iced coffee I've ever had. It's definitely worth checking out if you're passing through Poncha Springs.
We hopped back on the road quickly since we had a 5 hour drive to through that day.
The drive took us through Blue Mesa Reservoir, which is absolutely breathtaking. Despite our need to make decent time on our drive, we stopped several times to revel in the natural beauty surrounding us.
Something about Colorado just speaks to my soul.
That was our last stop before making our way into Telluride- a story for the next post!
Thank you to Echo Canyon Rafting who hosted us with a free river expedition. We will definitely be back!
Have you ever been white water rafting? If so, where? And did you like it?
Is there a place that just speaks to you? Mountains? Beach? Where?