Have you ever visited a place and felt it immediately become a part of you? That's exactly how I felt when we arrived in Telluride in summertime, September to be exact.
I don't really know how else to explain it without resorting to hyperbole, so let me just say it was magical. The feel of an old mountain town charm with breathtaking views mixed with modern conveniences and cuisine combined to create my dream vacation. Though the rest of our Colorado trip was largely on the fly, we scouted out details for Telluride. We googled, read reviews, then asked every local's opinion we ran across once we arrived. In the post (buckle up, it's a long one!), I'll share our best tips for planning your own special getaway to this unique mountain paradise.
Where to Stay
Telluride sits in a box canyon, which not only provides an incredible atmosphere, but also helps it maintain it's smaller size and charm. Because of this, you won't find any large hotel chains. Again, charm! There are a handful of local hotels to choose from but if you are going for a high standard of intimate luxury, you must stay at Lumiére.
I had sought this place out after raving reviews and was beyond thrilled when they offered to host us for our summer stay in Telluride.
Nestled right in the mountain village with ski in/ski out access, Lumiére is without a doubt the nicest place I've ever stayed. This isn't a surprise considering it has won multiple awards, most recently being a 2016 Forbes 4 Star Rating, 2016 Conde Nast Reader's Choice and Lumiére has a 2016 AAA 4 Diamond award, among other accolades.
We were offered one of their 2 bedroom residences and though I told myself to play it cool, I most definitely started giggling upon entry. It was absolutely gorgeous.
From the views to the kitchen appliances, everything was top of the line.
The attention to detail was obvious. From the robes and slippers to sunscreen to waters and products to help guests acclimate to the higher altitudes, not a single detail was missing.
Everything was executed with comfort in mind. The accommodations and staff made us feel pampered and we easily melted into vacation mode as we watched the sun set from one of our balconies.
Where to Eat
I wish I could have stayed a month to eat my way through the town, but I'll pick up where we left on on our next visit. However, between research and recommendations, I have a solid list of top picks.
For Breakfast
Baked in Telluride – Offering fresh croissants and homemade bagels, this locally owned bakery offers a lot of options for quick and tasty breakfasts.
Ghost Town Coffee – This gourmet coffee shop came highly recommended and between its freshly roasted beans, plethora of options (nut milk, loose leaf teas), and unique toast offerings, I can see why. Try it!
Lumiére – Lumiére offers a complimentary continental breakfast that we took advantage of during our stay. From bagels and lox to berries, yogurt and granola, there are plenty of options. They also always offer eggs cooked to order with crispy bacon.
For Lunch/Dinner
Brown Dog Pizza – This is the first place we were referred to by everyone we asked. It's a casual spot with a good selection of beer, but clearly they are famous for their pizza. And with good reason. After taking a single bite, I got it. Thick crust, fresh toppings, lots of variety– oh my gosh it's good! Don't skip it.
The Butcher & The Baker – This one belongs in breakfast, lunch, and dinner as the food they offer for both is incredible: local, fresh, organic.
Bonus- their cocktails follow suit and are incredible.
The New Sheridan Hotel – a historic town staple (from the 1890's), the New Sheridan Hotel offers a great atmosphere in their historic bar as well as in the Chop House which offers breakfast, lunch and a fine dining dinner menu.
Allred's Restaurant – This unique spot, halfway up the mountain by gondola, offers incredible views with their contemporary American menu, made from local and organic ingredients. Tip: they don't accept reservations so get there early.
What to Do
This section could go on and on, but to get you started, here are some of the highlights to consider.
Check out the Library. You probably didn't expect that to be first, did you?
A pro tip is that you can get a visitor's library card for $10 and use it to check out all sorts of useful items.
Biking through town is a great way to take it all in.
Hike the trails right from town. There are several trails that start in town so you never have to get in your car. A great, easy trail is to Bear Creek Falls.
It offers breathtaking views, fairly gentle terrain, and weaves alongside one of those beautiful mountain streams I love so much.
Another great trail is on the other side of town- the Jud Wiebe trail.
It begins with some steep incline, but halfway into this 3 mile loop, the views will make you forget all about it your burning legs.
Wait…
For…
It….
BOOM.
Factor in at least 20 minutes of gawking and photo ops of the incredible view before continuing on the path through the towering Aspens.
The Via Ferrata. If you have a taste for real adventure and a stomach for heights, you must check out the Via Ferrata. In full disclosure, I didn't even pretend I was going to attempt this climbing route that requires a climbing harness and lanyard. Telluride is famous for their "iron road" that has you traverse a sheer face above the town. David vows to return and tackle it one day.
Shop. The town is packed with locally owned gems that offer everything from clothing to chocolates. Factoring time to simply wander and take it all in is definitely worth it.
It's also important to note that Telluride is a very dog-friendly town, so prepare to mingle with the adorable locals as you wander.
Visit the park. There is a beautiful and well-maintained park at the end of town that offers sports fields, playgrounds and more. It is nice to wander through and definitely worth a stop if you have kids in tow.
Try camping. I'm not sure better camping exists than beside the mountain stream at the edge of Telluride's town park. For more info on how to reserve camping spots, click here.
Ride the gondola. It served as our only mode of transportation between the mountain village and the town. It's about a 13 minute ride that is completely FREE. Oh, and the view? It never gets old!
All of this will more than fill up a weekend, but if you're lucky enough to stay for longer, it is worth it to drive the 1 hour to nearby Ouray, an equally as beautiful but lesser traveled nearby mountain town.
And if you do, don't leave without eating a burger from Maggie's Kitchen. There is a reason they are famous for them.
I hope this guide can get you started on planning your summer trip. I feel most people think of Colorado as a winter ski destination and while that is undeniably popular, if you never make it out there during summertime, I think you are really missing out.
We left a piece of our heart in that little mountain town and look forward to the day we can return once again.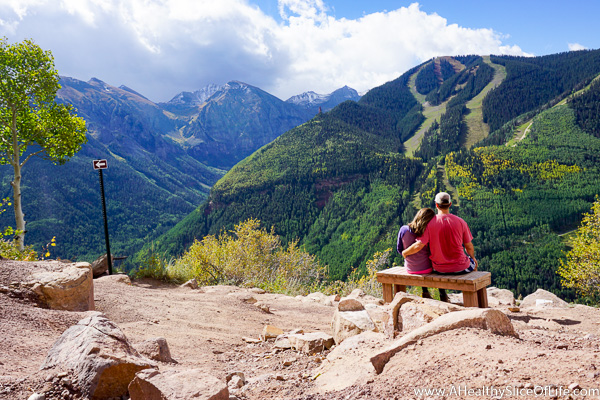 Where have you traveled to that has become a part of you?
Thank you to Lumiére for providing us with lodging for our stay. All opinions are my own.
Other Colorado posts:
Canon City to Leadville Colorado