These 10 great gifts for five year old girls covers all the bases from educational to awe-inspiring. As a mom to two girls, I can assure you that the 5 year old in your life will absolutely love these gifts, so save for later and share with your friends to make gift buying easier than ever this year!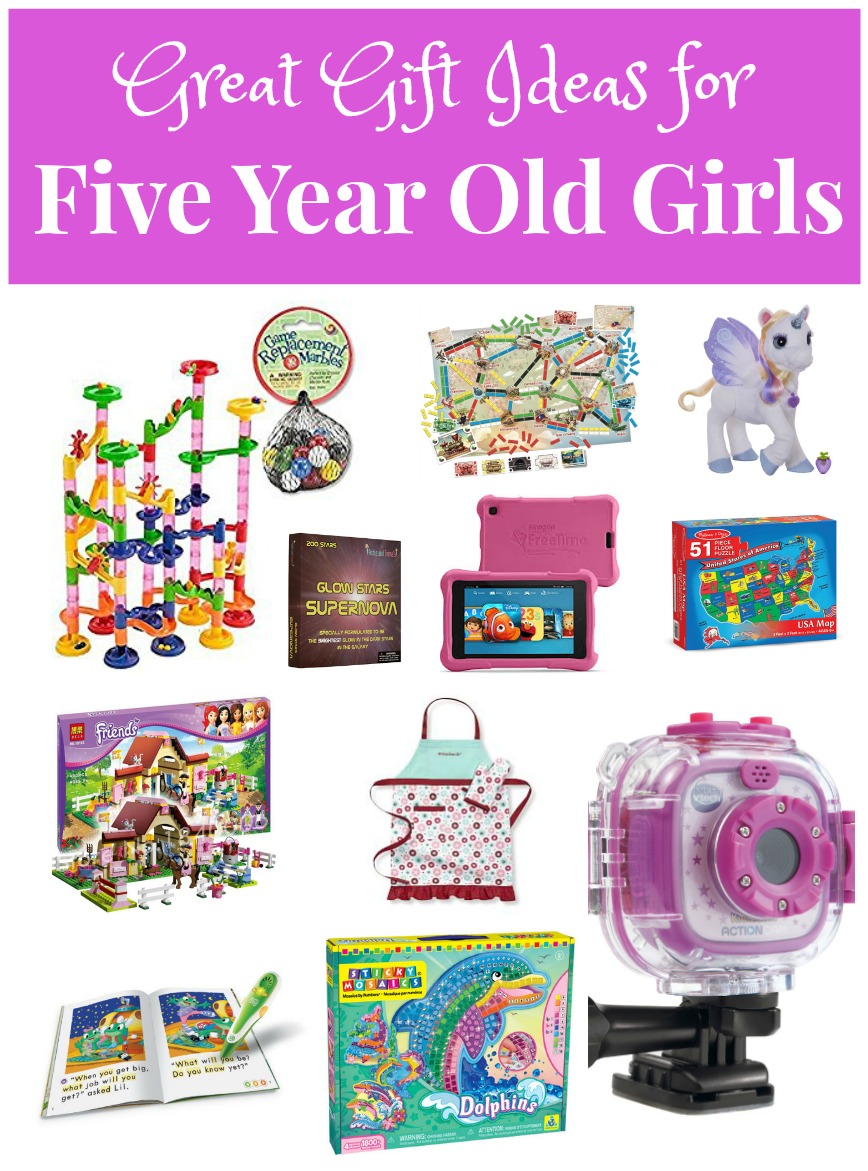 Great Gifts for Five Year Old Girls
I haven't been the least bit (ok, maybe a tiny bit) ashamed about embracing the Christmas season a little earlier than usual. What can I say? I love the JOY it brings with it. I'm also committed to being completely finished with Christmas shopping before December starts and dare I say I'm well on my way?
Because of that, I've been doing a lot of research (you could safely say hours) on great gift ideas for not only my own kiddos but my nieces and nephews too (who range from 5 months to 11 years old!). Gift buying for kids can be hard if you aren't in that stage of life. I'm beyond grateful for bloggers that put together gift guides for what to buy boys because I'm often at a loss for what little boys are into (I know there is some overlap but I'm clueless on boy-specific gifts). Girls though? I've got that covered!
So if you are in search of great gifts for five year old girls in your life, I hope this may help. The gift guides I put together are always comprised of products we already own and love or items I have researched the heck out of and would (or are) buying for our girls. So with that, if you have any questions about the toys, please ask away in the comments and I'd love to help if I can.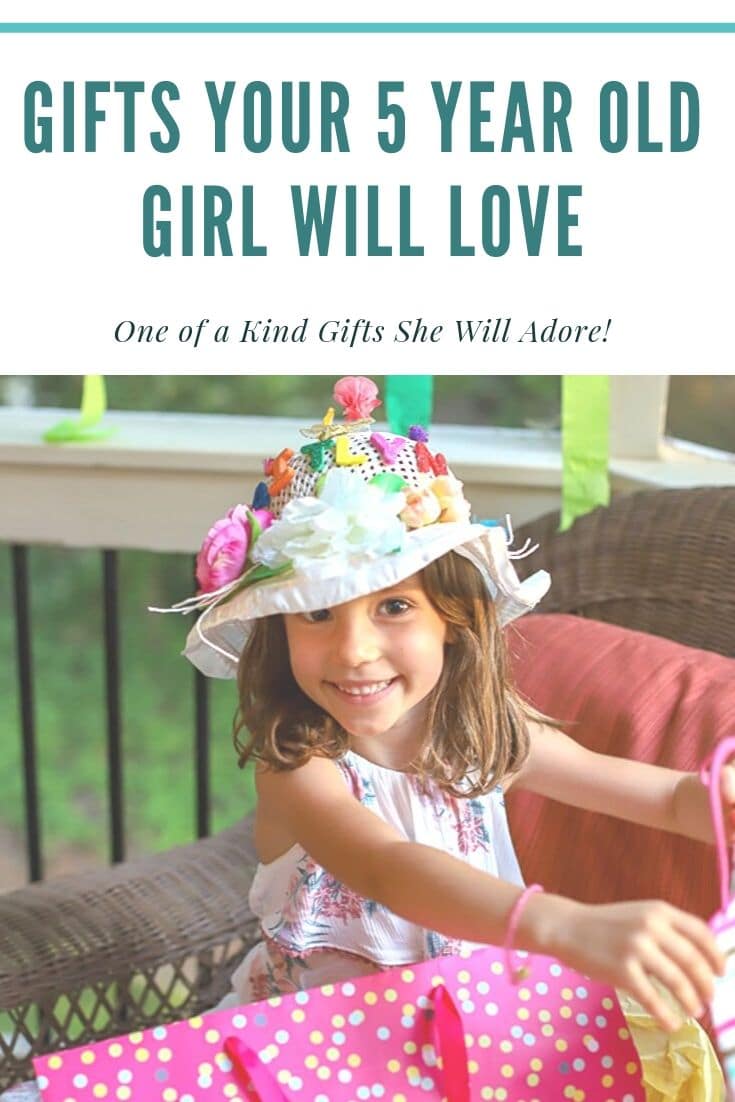 Marble Runs
There are many marble sets to choose from. The most popular set comes with more pieces (125) than most and includes 20 glass marbles. If you aren't ready to fully commit, this less expensive kit is still a best seller because of its durability and only has slightly less pieces (85 pieces and 15 marbles). Personally, we have the wooden Quadrilla marble run and we love it for it's durability!
Board Games
5 years old is an age where board games really start to be fun (instead of painfully mindless for adults- I'm looking at you Candyland). However, not all games are created equal. From personal experience with my two five year old, I highly recommend Ticket to Ride. It's our girls favorite! They can play at age 5, though they might not fully grasp the strategy. You can always start with Ticket to Ride First Journey, which is the starter version!
Other household favorites include Guess Who, Uno, and Sorry.
Glow in the Dark Star Stickers
But not just any set. I did my research to find the brightest glowing stars that are the easiest to remove without a mess and offer a guide to constellations just in case we wanted to be legit about our star placement. Hailey loves space and I am psyched for her to open these Christmas morning.
Floor Puzzles
There are so many options to choose from, but for us, the underwater ocean, outer space and USA map ones seem to be the favorites.
Kid Kindle
After checking out a lot of tablet options for kids, I concluded that the Fire Kid's Edition Kindle Tablet is the best way to go because it comes with the protective kid-proof cover and free access to 10,000 kid-friendly books, educational apps, movies and games with a free year of Amazon Freetime all for less than $100.
Legos
I love that Legos offer so many types of sets now, from Disney castles to horse stable sets, there seems to be a set for every interest.
Aprons
Do your kids wipe their messy hands on their shirts? Constantly? Mine certainly do and cute little aprons like this personalized apron for kid, would certainly be great to have in the kitchen for my little sous chefs.
Vtech Kidizoom Action Cam
Hailey got the original Kidizoom Camera for her birthday from Nana and Papa John and she is obsessed with it. It takes funny pictures, lets her do videos and more. The action cam is very similar in set up but is basically like a kid's GoPro- it can even go under water! Super cool for active and adventurous kids.
FurReal Friends
Ok, first let me preface this by saying I'm not usually excited about toys that don't offer a specific purpose or activity (maybe I'm a grinch), but the FurReal Friends are pretty freaking cool. I know the girls would flip over StarLily the Magical Unicorn or Torch, the fire breathing dragon (who is currently on sale!). They both respond to touch with 50+ sound and motion combinations. If you are searching for a shock and awe toy, this is it!
Sticky Mosaics
Hailey first encountered these at a friend's house and immediately was enamored enough to put it on her three-item-long Christmas list. It's an art project that will keep her engaged for hours (I'm not exaggerating) and I can't wait for her to find some under the tree. From sparkly fish to mermaids, there are endless options (check them all out here).
Leapfrog Reading System
Hailey received the Leapfrog Reading System from Mema and Grandpa for her 5th birthday and uses it practically every night. Once we read to her, she is allowed to keep her book light on to read and usually goes through a book or two with her "magic" pen that helps her sound out words and read the story. Super cool.
[Tweet "Check out these 10 great gifts for five year old girls! via @ahealthyslice"]
You may also like:
Gift Ideas for 5 Year Old Girls
Gift Ideas for Four Year Old Girls
Gift Ideas for Three Year Old Girls
And that's it! If you have any great gifts your 5 year old has received and loved, please leave it in the comments and together we will get all this holiday shopping done before the last minute crazy rush!
Gift guides are not sponsored and are comprised of products we own and use or products I have thoroughly researched and would/will buy for my own kids. Affiliate links are included. Thank you for your readership and support!