Bloom where you're planted, right? Well blooming we are. Our "family plans" for this fall (anyone else hear God giggling, too?) were supposed to look very different this year, whether that was traveling or, you know, living in a completely different house. But we are here and we are happy and we are making the absolute most of it. Bloom where you're planted.
This weekend was one of my most favorite kinds of weekends. A fall weekend! True we are still a week away from official fall, but after a Friday night of homemade pizza and a family viewing of DuckTales: Treasure of the Lost Lamp (it was as great as I remember as a kid), we went to bed early because… Saturday we had an early wake up to make the hour drive to our first soccer tournament of the year! It was so much fun to see Hailey out there again, rocking her defense position and smiling big with her short, sweat-drenched curls.
Afterwards we headed home to get in a workout, shower, and set up food for some football fun with friends. We've been studying alliteration in language arts; does it show?
The spread included Danielle's taco dip, salami roll ups with cream cheese and pepperoncinis, veggies and pretzels chips with my favorite dip from my childhood (1 packet of Knorr vegetable soup mix + 16 ounces of sour cream; mix up the day before serving), deviled eggs, a mini cheese board, and spinach artichoke dip. Later on we grilled drumsticks and wings and made cheese quesadillas, too. Football snacking is my favorite.
Our friends came over after lunch and we spent the afternoon chatting, snacking, and watching football. The girls ran around like crazy and Hailey got to open a couple early birthday presents from her friends. She was so excited to get a shirt for the new Charlotte pro soccer team and the game, Clue, which she has been asking for. It was a cloudy day and we watched Georgia Tech take on FSU on the porch. When GT won, we went a little nuts! It was such a fun intro into the season and yes, though I'm a Georgia Bulldog through and through, I'll cheer for my hubby's team with enthusiasm when we aren't going head to head.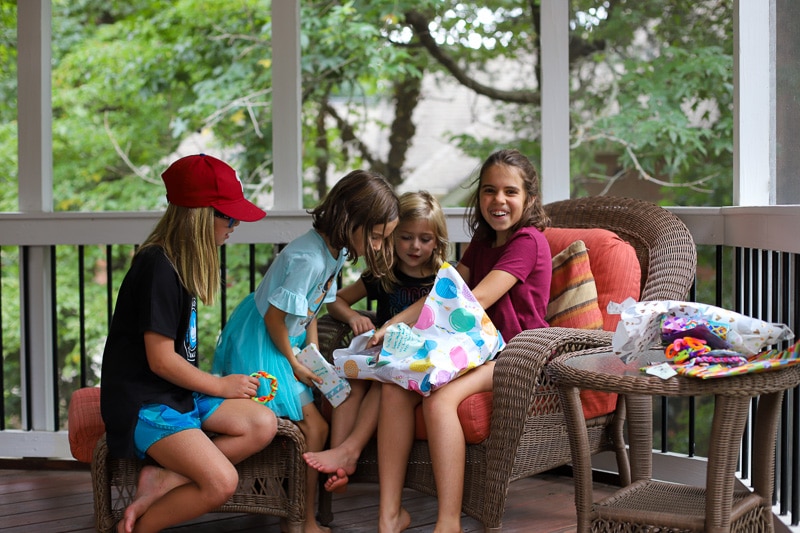 Sunday brought two more soccer games for Hailey, but I stayed home with Kaitlyn because they had to leave the house at 6:30 AM to get there. She and David took off while I let Kaitlyn sleep in, then we got to work on Hailey's birthday prep. We bought some decorations and wrapped her presents, and made sure we had everything we needed to make her birthday dessert of choice- dirt pie with sour gummy worms.
We also spent a lot of time in the kitchen. She helped make David's famous chili and my favorite lentil and vegetable soup. Like most kids, I assume, she thrives with being one on one. Since it doesn't happen very often, it was really special to spend some time cooking (a thing she really enjoys), just the two of us.
After returning home after lunch, David went for a long run while the girls and I watched football (go, Pack, go!), and played Clue. It took us a little bit to figure out how to play (it says ages 8+), but after a bit, Kaitlyn (6) was totally able to play on her own and the girls LOVED it.
With dinner already made, I decided to bake a batch of cinnamon oat muffins for breakfast. Since I don't bake very often, this definitely made me feel (and the house smell!) like fall. It was such a cozy feeling to have football of TV and the girls playing board games (Hailey recently got Spy Alley junior from her cousins and she and Kaitlyn love playing that one together; it's quite simple and spy themes- have you noticed the girls love anything spy related?!).
I finished the day off with a long walk with a good friend. We had some catching up to do and it was fun to get in some steps while hearing about her new gig as a middle school math teacher. What teachers are doing right now is incredible! Then I came home to shower, eat chili with my people, and watch the World Championships for track and field. The girls were really into it and while I'm not sure if that was because they were were mesmerized by the triple jump or just trying to stay up later, it was fun to all snuggle on the couch for a bit before calling it a night.
I can't believe she's about to be nine. So grateful she's mine.
And with that, hello fall. We are ready for you. <3