These hearty and wholesome muffins have a subtle sweetness that makes them a delicious and nutritious breakfast option for kids and adults alike. A perfect fall flavor — any time of the year!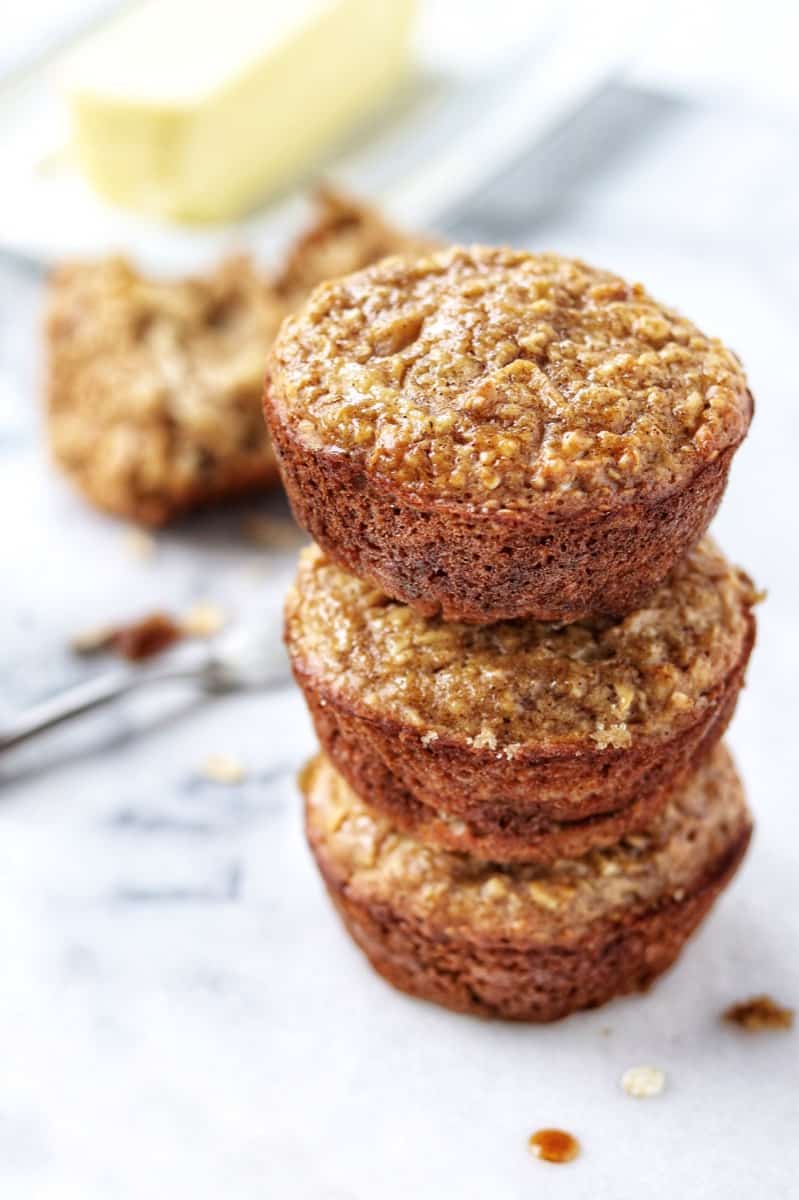 There are recipes that I get right on the first try — and then there are those that need a few rounds of testing, approvals from the family (including my variety-loving Hailey and my more-selective Kaitlyn).
These Apple Cinnamon Oat Muffins score high across the board, and that's good, because it means that I can make a big batch for nibbling on all week, or put some away in the freezer to heat and eat at any time.
These muffins are a perfect make-on-Sunday-eat-all-week option for several reasons. First of all, they are a wholesome breakfast choice. Loaded with oats, freshly grated apple and cinnamon, the muffins make for a nutritious, low sugar start to the day.
They do take a little prep work, but by using your food processor to turn the oats into flour and grate the apple (both tasks that kids love to help with- loud noises!), it really is quite simple.
Now let me blow your mind real quick.
I made these muffins multiple times and was so frustrated because they kept sticking to the liners. After some research (a natural baker I am not), I found out why. Most healthy muffins will stick to liners because they do not have enough grease in them to make them slide out. Unless your muffin or cupcake has a decent amount of oil/lard/etc, it will stick.
…don't tell me if you already knew that.
Solve this easily by giving your liners a quick (and light) spray of oil. I prefer this coconut oil option:
Here are a few other products you might find helfpul if you're making these:
Back to the muffins. Healthy is great, but they have to taste good too, right? Absolutely. By combining oats with bread flour, the texture is hearty yet soft.
Coconut sugar (which does not taste like coconut to me) is an unrefined alternative to brown sugar that offer its subtle sweetness that is not overpowering.
So welcome fall by baking up a batch for a cozy Saturday breakfast or to have on hand for breakfast all week!
[Tweet "Make a batch of these delicious cinnamon apple oat muffins to heat and eat for a taste of fall, any time of the year! from @ahealthyslice!"]
Print
Apple Cinnamon Oat Muffins
Author:
Prep Time: 20 mins
Cook Time: 20 mins
Total Time: 40 mins
Yield: 12 muffins 1x
---
Description
The hearty and wholesome muffins have a subtle sweetness that makes them a delicious breakfast option for kids and adults alike as the temperatures start to drop.
---
1 2/3 cup quick oats
1 cup all purpose flour
3/4 cup coconut sugar (can sub light brown sugar if you prefer)
2 tsp cinnamon
1 tsp baking soda
1 tsp baking powder
1 tsp salt
2 eggs
1 tsp vanilla
1 1/2 cup low fat buttermilk
1 1/2 cup peeled, grated apples (about 2 medium apples- I used gala)
---
Instructions
Preheat oven to 400 degrees.
Place oats in a food processor. Pulse 5-6 times until oats resemble a coarse flour.
Put oat flour in a large mixing bowl and add flour, cinnamon, baking soda, baking powder and salt. Mix thoroughly until well combined.
In a separate bowl, beat eggs then incorporate buttermilk, sugar and vanilla. Whisk to combine then stir in grated apple.
Add wet ingredients to dry ingredients and mix thoroughly.
Spoon batter into liners (about 3 Tbsp of batter per cup). If desired, sprinkle sugar on top of each muffin for aesthetic appeal.
Bake at 400 degrees for 18-20 minutes until muffins spring back slightly when touched and a toothpick inserted into the center comes out clean.
Remove from oven and let cool on a wire rack
Eat within 2 days (when stored in an airtight container) or freeze cooled muffins and pull on out to reheat whenever you need a quick and hearty breakfast.
---
Notes
You'll want to peel the apples before grating, and then drain any extra juice.
This recipe results in muffins that don't have a lot of rise. Prefer a more peaked top? Add an additional 1/4-1/2 cup of flour.
If you make them, let me know what you think! Tag me in your pictures on instagram or facebook because nothing makes me happier than seeing other people enjoying my recipes.
What is your favorite muffin variety?