Hello, 34, nice to be here to greet you! Today is my birthday and I plan on celebrating by taking Hailey to her first Girl Scouts meeting and not cooking dinner. Sometimes I feel super introspective around birthdays (like I was feeling last week) but this morning I feel at peace, just waving hi to this new year as it arrives.
I do, however, like to remember snapshots of what life looks like at different phases because last night it dawned on me as Hailey returned home from soccer at 7:00, showered by herself, then came and ate a snack with David and me just how quickly daily routines evolve without notice.
So to document for posterity sake (or just my own future entertainment), here is a day in the life: six years old and three years old.
4:40 AM: My alarm goes off so I can make it to Burn Bootcamp, but I really am just not feeling it so I allow myself to doze back to sleep.
5:00 AM: I jerk awake, like my body realized umm you are supposed to be exercising right now but I head to the computer instead to blog, answer emails, etc.
7:00 AM: I haven't heard the girls yet so I rush off to get dressed. We still have the You can't come out of your room until 7:00 AM rule.
7:15 AM: Kaitlyn and Hailey wake up around the same time and wander into my room as I'm finishing up getting dressed for the day and we all head to the kitchen.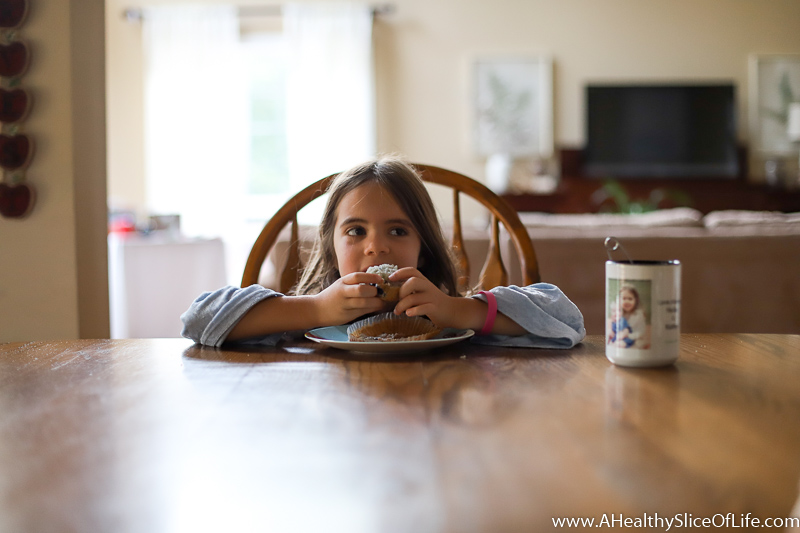 7:30 AM: Blueberry muffins and clementines for them. I have tea (earl gray) and try a new protein powder and cauliflower smoothie. It's fair and fills me up, but it reminds me that I really prefer eggs and chewing.
8:00 AM: Still at the table. Our breakfasts are long and leisurely. We talk about dreams, the plans for the day, we (Kaitlyn) make messes, we (usually me) clean them up, repeat.
8:40 AM: With both girls dressed and brushed, we leave to take Kaitlyn to preschool. We try to get in the front of the car line because after dropping her, Hailey and I have to make a quick detour to drop off the tables and chairs we rented for her birthday party.
9:30 AM: Hailey and I are back home and in the homeschool room ready to start school. People have asked how it's going- I'm really enjoying it and so is Hailey! In general we are falling into a good rhythm. She's eager to learn, her personality is easy to teach, and for the most part, we are having a lot of fun! I've also learned that some days flow beautifully and others, well, don't so much. This particular morning felt like a grind. I believe the phrase I used on Instagram was a herd of turtles stampeding through peanut butter. But we did it!
Learning the different /k/ sounds- whew! Thank goodness for cutesy rhymes: K gets I and E; C gets the other three (A,O,U).
11:40 AM: We finish up school work, pack snacks, fill waters, eat a mason jar salad, and go to grab Kaitlyn.
12:15 PM: Arrive at the YMCA. Wow, what a flashback. When Hailey was a baby through when Kaitlyn arrived, I was a YMCA devotee. We recently rejoined as a family and it feel surreal to be back. The herd of my mom friends that used to congregate in the mornings has dissipated, but it feels really good to be back nonetheless.
Ah, where I used to take all my pregnancy bump pics!
(OK, I couldn't resist… Hailey in my belly below at 37 week pregnant!)
Back to present day… I was just craving movement, so I did a 30 minute speed walk with variable incline on a treadmill overlooking the playground so I could watch my kids. Some things (like crazy mama bear habits) never change!
1:00 PM: I pick the girls up from childcare and we head to the family locker room for the real reason for our YMCA renewal: the pool!
The girls shriek with excitement, literally, but thankfully we are the only ones there. I have flashbacks to when Hailey, at all of two years old, would waddle up those frog slide steps. It feels crazy to now what my two kids splash and swim around. I get in and swim around too, and after an hour I have to drag them out, promising that we'll return soon.
2:45 PM: We're back home and showered so I start prepping dinner (oven baked chicken fajitas).
3:15 PM: Time for Target! Because it wouldn't be a day in the life of a mom without a trip to Target, right? Hailey received some birthday money from her great grandmothers (Hi Nannie and Grandma Betty!), and wanted to pick out something with it. She chose a Elena of Avalor nightgown and Rapunzel Bow and Arrow Set. I got toilet paper and some cumin. Both equally as thrilling.
5:00 PM: Music class at Elevate Rock School! The girls are in a class together and absolutely adore it. Though now they are splitting the ages up and I have to break it to Kaitlyn she isn't in the class anymore, but I'll save that fun conversation for another day.
5:45 PM: We are back home and I throw the chicken fajitas in the oven. It's going to be a later dinner than I thought (David was going to throw them in the oven around 5:00, but got stuck with work). The girls and I head outside to burn some time.
We look at bugs, check the birdhouse, and get the mail. At 6:30 the chicken is cooked, but the veggies are still a little crunchy.
6:45 PM: This will have to do, we are all starving. And by the look on my face, tired too.
7:15 PM: The girls are dragging dinner out and keep asking for another wrap or clementine. I blame the excitement of new birthday gifts, but they are sharing so well, I let them get away with it for a bit while David and I chat.
7:30 PM: We finally scoot them upstairs to brush their teeth, go potty, wash their face, and read books. They're a little nuts at this point and since it's my birthday eve eve (it's a thing), David tells me to go kick my feet up while he handles the reading and tucking in for the night. Sold!
8:00 PM: David and I hang out on the couch, talk for a little bit, then watch Game of Thrones. We've been re-watching the entire series and are almost through season 6, so we'll be starting the new season soon! No spoilers please 😉
9:30 PM: Wash up for the night and head to bed! That's a wrap!
Every day looks different right now, but it's fun to document a typical day to look back on. I clicked through older day in the life posts and it's crazy to see how things change. No more naps (though if we are at home, we do typically have quiet time), no more diapers to haul around, and being on the go is so much easier. I can't wait to see what this next trip around the sun brings!
Day in the Life: 5 1/2 Years Old and 3 Years Old
Day in the Life: 5 Years Old and 2 1/2 Years Old
Day in the Life: 4 1/2 Years Old and 2 Years Old
Day in the Life: 4 Years Old and 20 Months Old
Day in the Life: 4 Years Old and 17 Months Old
Day in the Life: 3 1/2 Years Old and 12 Months Old
Day in the Life: 3 Years Old and 7 Months Old
Day in the Life: 3 Years Old and 6 Months Old