Every so often I get the itch to share a typical day around here. I love reading those posts on other blogs and I love having my own to look back on. I'm combed through my archives and realized I tend to write them every 6ish months without realizing it. For example I have:
A Day in the Life with My Two Year Old
A Day in the Life: 6 Weeks and 2 1/2 Years
A Day in the Life: 6 Months and 3 Years Old
A Day in the Life: 7 Months and 3 Years Old
A Day in the Life: 12 Months and 3 1/2 Years Old
It's so much fun to see how our schedules have evolved with each stage. It's tempting to highlight a day where we are slammed with commitments in an effort to show how OMGBUSY I am, but the truth is I've purposely focused on building more space to breathe into my days, so it's nice to show you yesterday, a day that reflects that effort to slow down.
3:00 am: Koda is whining to be let out. She is on a new medication and the prednisone makes her appetite ravenous and her bladder seemingly shrink. I hear David get up to let her out. I wait for her to hop back in bed and snuggle up to me, give her a head rub then slowly fall back asleep.
5:30 am: My alarm goes off. I hop out of bed, feed Koda and let her out, grab a cup of half caf and head to the office. I don't blog on Wednesday mornings, but I use the time to catch up on emails, reply to comments and work on upcoming post ideas.
7:00 am: Both girls are still sleeping so I decide to shut down the computer and try to get ready for the day before they wake.
7:25 am: Kaitlyn is stirring (this is a little late for her- usually it's closer to 7:10 am) so I head up to get her. She hears me open the door, giggles and plops face down to pretend to be sleeping. She routinely opens and shuts her eyes and giggles until she hears me say Oh she must still be sleeping bye bye, then she pops up and laughs. I love mornings.
While I nurse her I hear Hailey's door open. She has a new analog clock in her room and I tell her which numbers she has to wait for before coming out. Apparently the 7 is now followed by a 3. I have Mema's helping hands this morning so we play and get dressed.
9:00 am: A special treat- breakfast out at The Toastery!
It appears chaotic, but only because it was. Ha. I got a quinoa and kale breakfast bowl that I'm definitely going to recreate at home. I run into Molly and get to give her a birthday hug! We finish up breakfast, give Mema big hugs and load up in the car.
10:00 am: E-group. I really am growing to love this group of women as I get to know them.
It's so nice to have women that support each other through our unique struggles and triumphs. The morning feels like a giant therapy session to me and I leave, a little later than I intended because I'm chatty like that, with the calm of a giant exhale.
12:45 pm: Home and scrambling to make some sort of lunch for the girls and me. They eat pear, yogurt, crackers and hearts of palm. Proof that our meals don't always make sense. I eat a salad right out on the clamshell.
1:15 pm: I take Kaitlyn upstairs to get ready for nap. She turns on her white noise, grabs bunny and crawls up in my lap with a big grin because she knows it's song time. We sing 4-5 songs (most recently it's a lot of Christmas songs), then I give her a big hug and kiss and put her in the crib. She plays for a few minutes before going to sleep.
1:30 pm: I tell Hailey it's time for her rest and she can come out when her clock has a 2 in front. Surprisingly she goes without much protest- probably because I promised her it was short one.
2:00 pm: I had planned on doing something productive but honestly just wanted to zone out in the beautiful weather. It was the right choice and at 2:00 on the dot, I hear Hailey come outside. I just lay there while she plays. I love listening to her make the Minnies talk to each other or the princesses get stuck in the dungeons. She is at such a great age for imaginative play.
3:00 pm: I realize I've just been bumming for a while now and get up to start on dinner and switch out some laundry. I love spaghetti because it can simmer for a couple hours and makes the house smell so good.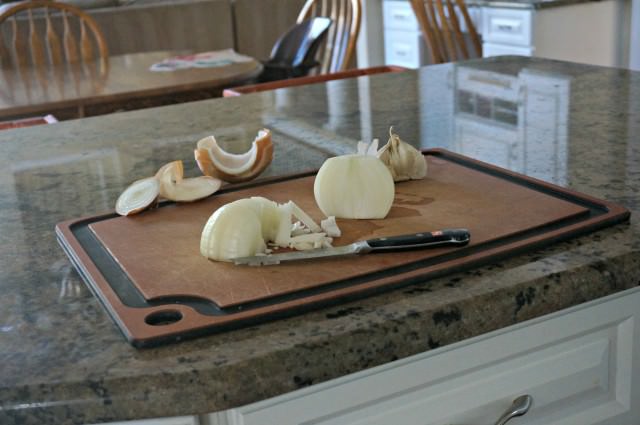 3:30 pm: Kaitlyn wakes up crying, so I go get her. She takes a few minutes to wake up from naps, so I soak in the extra snuggles. The sun is shining after many days of rain and it's a perfect 68 degrees. We head outside to play. The girls gather "groceries" (leaves) and I sweep out walkway.
4:00 pm: YAY our friends show up to play! Alise and I manage some semblance of conversation in between saving babies from being hit by swings.
5:30 pm: We say bye to our friends and head inside. I boil water for pasta while the girls empty out my tupperware cabinet and bring all the contents into their play kitchen. It's a predictable daily occurrence now- they take my stuff from the kitchen and when they go to bed I take it all back. The struggle is real.
5:50 pm: Dinner time for the girls! I sit with them while they eat and eat a mini portion of spaghetti myself. Hailey asks me to tell her a story about a million times and I silently remind myself to try and learn some stories. I end up telling a really weak version of Frosty the snowman, but it satisfies her request.
6:00 pm: I hadn't originally planned on a salad for Kaitlyn but when Hailey asked for her second bowl, Kaitlyn noticed and, true to little sister fashion, demanded the same. I was seriously shocked when she actually ate it. Monkey see monkey do.
6:20 pm: Straight to the bath after dinner. The girls are tired, which equals silly. They toss their clothes in the hamper then proceed to crawl around and yip like little puppies as I say tirelessly We're going to run out of time for playing in the tub over and over again. Finally this gets Hailey to hop in, so Kaitlyn follows suit.
6:40 pm: David arrives home from Crossfit as we are getting out of the bath and the girls scream shrilly with excitement. Chaos ensues.
7:00 pm: David is reading to Hailey and I briefly nurse Kaitlyn. Both doors are shut by 7:10- success! We grab our dinners and catch up on our days on the couch. Koda begs for a bite. She gets one. We're spoiling her rotten.
8:00 pm: We clean up the kitchen then turn on an episode of Black-ish. We hit play afterwards on a Mindy Project, but 10 minutes in my eyes are struggling to stay open.
9:00 pm: David lets Koda out and we take our time washing up for the night. Lights out by 9:45 pm. We're a wild bunch.
Did I leave anything out?
What's your favorite part of your day?