It's been a while, hasn't it? I love these day in the life posts both for me to look back on and to get a peek into other people's lives. Nosy much? Why, yes, yes I am. The last time I did one of these was when Kaitlyn was 6 weeks old, and I figured it was time for a new day in the life in all it's wonderful mundaneness that I love.
At 6:30am I hear noise from Kaitlyn's room. I wouldn't call it crying, but a whine/come feed me kind of sound. I go in and feed her with the lights still off and noise machine on. It takes 20 minutes then I put her back down and slink out to the office to blog. At 7:15 I realize she's awake so I grab her and she plays around at my feet while I finish up. At 8ish I get Hailey up for breakfast. Kaitlyn is already tired so I wear her while I take the easy route and make a big batch of smoothies for breakfast.
Kaitlyn goes down for a nap and Hailey and I make our way around the house. We get dressed, I fire off a couple emails and then look to chip away at the laundry pile from our week away.
Kaitlyn wakes up just after 10- perfect timing for the day! I feed her in the playroom.
It takes a while so I have to rush to get everyone piled up and at the doctor (Hailey's 3 year well check) by 11:00.
Some fun facts: Hailey is 3'3" tall (85%) and weighs 37 pounds (75%).
The doctor asks if we want our flu shots. A simple question right? I go back and forth with her with several questions and ultimately decide that yes, Hailey and I will get our flu shots.
I brace myself for the inevitable tears to come, but to my surprise, Hailey barely flinched. Impressive. I tell her I'm proud of her and tell her she can choose anything she wants for lunch. Her answer? "shushi"
Lunch at Whole Foods it is! I love that they have organic peppers on the salad bar because Kaitlyn got to join in too.
We are pushing it on timing and get home around 1:00. Kaitlyn snagged a short car nap, so she's up, but Hailey is exhausted and goes right down.
The cool, cloudy day makes me feel cozy so I put on Pandora (self made Mariah Carey Christmas station), light my candle and bust out the Christmas decorations.
Have I mentioned that Kaitlyn now thinks she can walk? (she can't) but she pulls up, lets go with one hand and inevitably falls over. She's a bruiser.
David finds a gap in his day and I'm overjoyed. He comes home and I run out to soak up 45 minutes at a local coffee shop to work on a project I have going on. My tea is too hot to sip but for some reason having it next to me makes me feel cozy.
I'm home by 4:00 and after feeding Kaitlyn and getting Hailey up, we are all back in the Christmas spirit.
Most everything is up, but I really am bummed we don't have a tree yet. Soon… soon.
The Christmas tunes play on, into the evening, while Kaitlyn eats and I make Hailey's dinner.
We tag team bath and bed and the girls are down by 7:15. I come down and finish cooking our dinner, which was super easy since I picked up the parchment packs already assembled.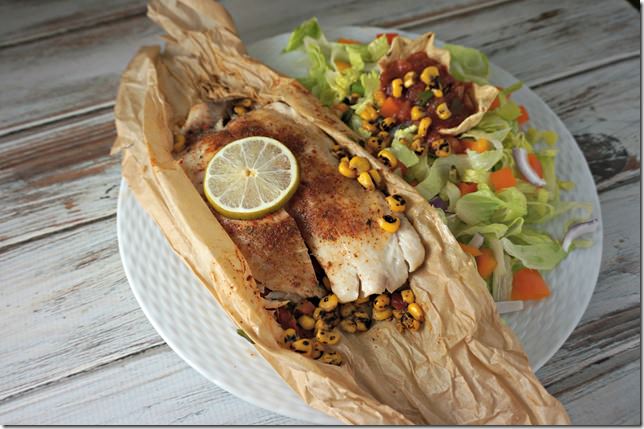 Not pictured: copious amounts of tortilla chips and salsa.
David takes a phone call and I grab my pump. Since we are practicing with a bottle every day it means I get some quality time with this machine.
Pumping moms, hats off to you. Really.
David and I hop into the hot tub (finally fixed after, what, 3 years?) and discuss the list of happenings going on in our life right now. I can't hang in the heat as long as he can so I shower off and curl up on the couch with a cup of ACV and my favorite magazine.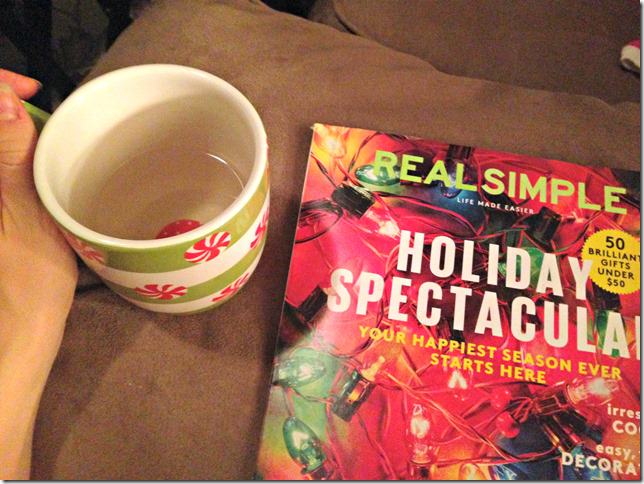 It was a decent no tech Tuesday, but then we blew it by throwing on a Frasier just before bed. So close.
I was out by 10pm.
Sprinkle in diaper changes, a potty accident, a time out and more laundry and you've pretty much seen everything. It's nothing wild, but I love it.
If you celebrate Christmas, do you have your tree yet?
Who is feeling the holiday spirit with me?!
What's your favorite magazine?
Congrats to Catherine Jackson, Megan, Ali and Shannon for winning the Lara Bar giveaway! I'll be emailing you today!