I'm really going to try and spare you all the "I blinked and somehow she is six" drama. Of course it feels like these years have flown, but let me tell all you mamas that fret about your babies getting bigger (that definitely was/sometimes still is) me: even as the years go by, they're still your babies.
It's such a journey being a mom. I find myself trying to cling to moments because every viral blog post I read is about how time goes so quickly, but I just can't anymore. I can't weigh my heart down with worry that I'm not soaking it in enough, that I'll miss this so much. Those posts honestly leave me feeling a little desperate and sad. I'd rather enjoy each day and celebrate each turning page than lament about sand slipping through an hourglass. I'm so grateful to be having the opportunity to be here and watch my girls grow, even if having the front row seat can, at times, be bittersweet. But turning 6? It's been FUN; a celebration of watching our firstborn slowly transition from a baby into a little girl, full of funny stories, compassion, joy, curiosity, a sensitive heart, and so much love for her family.
So let's celebrate a birthday, SIX year old style!
The celebration started in the middle of last week. David was traveling for work and Hailey had been begging for months for me to have a slumber party with her, so on Wednesday night, we all snuggled in the bottom bunk, read a couple books, then watched the theme song videos to DuckTales and The GummiBears (after telling them about my childhood TV favorites), then we all went to sleep!
Well, Kaitlyn actually jumped ship, deciding she'd be more comfortable in her own room, but I spent the night slumber-partying with my five year old.
Friday, her actual birthday, she woke up gifts from her cousins, aunts, uncles, grandparents, and great grandparents- lucky girl!
We had a leisurely family breakfast as she opened her cards and gifts. She slowly opened one card at a time, throwing away the envelope and reading it before ever so carefully opening the gift. It makes me laugh to see a child so meticulous about keeping gift opening orderly, but it rings true to her personality.
I told her she could pick anything she wanted to do that morning, so we spent the morning at Discovery Place Kids. We hadn't been in a while and the girls had a blast, especially in the craft room. That evening (does 4:30 PM count as evening?) we went out for sushi, the birthday girl's request, and followed it up with ice cream- always cookies and cream for Hailey!
Saturday was a full day, starting with a stop at the bagel shop before Hailey's first soccer game. Once back at home, the decorating began!
Hailey requested an ocean-theme party, which meant we just put out a lot of blue stuff with a random assortment of loosely-coordinated decor. There were paper globe jellyfish, mermaid pinatas, and a Mickey pirate treasure cake.
It worked just fine in her mind!
The main event was a surprise visit from one of Hailey's most beloved people.
The look on Hailey's face says it all! She was in awe that Princess Ariel was there, in her house. As soon as Kaitlyn saw her she ran straight upstairs. I thought she might have been shy, but no, she apparently wasn't dressed appropriately, as she arrived back downstairs two minutes later in more appropriate ballgown attire, beaming head to toe.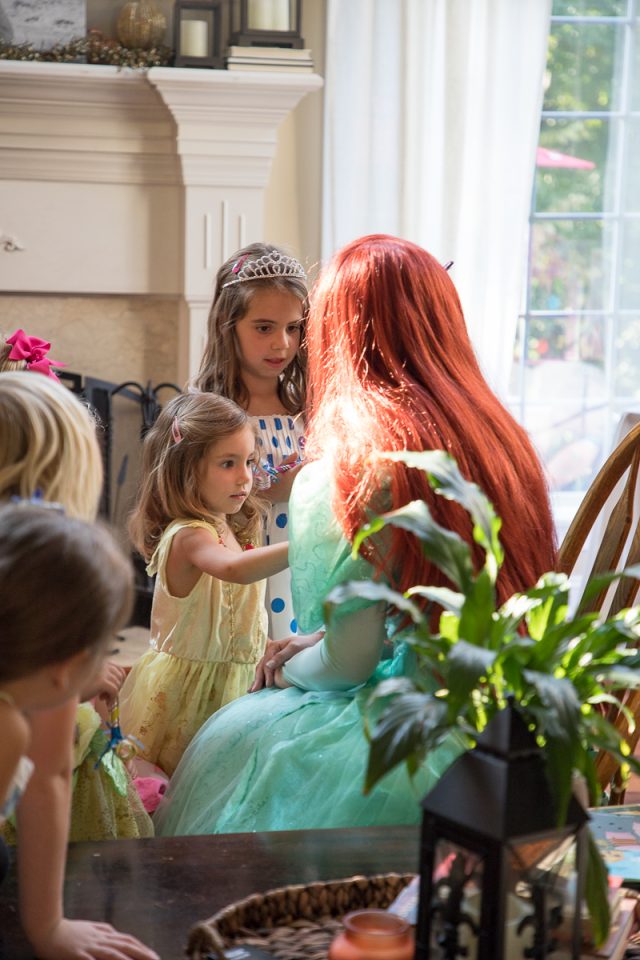 We contacted Ariel through Enchanted Elegance, and she was incredible. She read a story to the girls, sang Part of Your World with scary accuracy, and even led them through making their own starfish hair clips.
To be able to just sit back and watch was such a treat and tears came to my eyes more than once, as I watched with gratitude that characters are still magical to my girls. I wish it would last forever!
Hailey biggest request was to show Ariel her room, and the princess agreed, ooing and awing at her collection of all the Disney Princess Little People, which have been a household favorite for years.
After singing happy birthday and blowing out the candle, Ariel was on her way.
David grilled up hotdogs and brats and we moved the party outside. Looking back, I guess it was an odd segue from hugging Ariel to swinging at her in pinata form with a big stick, but the kids loved it.
Everyone ate and chatted as David took over games, and decided on tug-of-war, which actually turned out to be a big hit.
This was the first party we've just invited a handful of Hailey's closest friends, instead of all of mine, which I felt a little guilty about (I'm usually on the more the merrier train!), but it was nice to have a smaller gathering where I could spend more time talking to my awesome gal pals.
As for Hailey, she was on cloud nine the entire day.
And Kaitlyn? Well, there was cake so I'm pretty sure you can guess how she fared.
People eventually filtered out, but a few stayed to roast marshmallows, Hailey's final birthday request.
The kids had so much fun playing, that we never got to presents, which made for quite the surprise for Hailey the next morning.
All in all, it was a very celebratory weekend. I'm looking forward to six and all the adventure it is going to bring with it! <3
For fun: