Spending a week bouncing around The British Virgin Islands in a 40′ catamaran as a family was exhilarating and centering all at once. It's a trip we looked forward to for years, had high expectations for, and yet it still turned out better than we could have hoped. We loved partnering with The Moorings for this adventure and had a smooth and wonderful experience.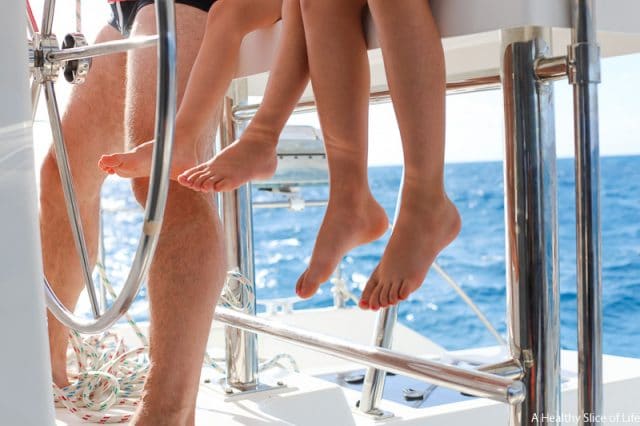 First, a quick peek at our sailing history:
Before we were married David owned a small, 28′ monohull for a short period of time. After we got married, David and I spent part of our honeymoon on a small, crewed monohull. We visited the British Virgin Islands in 2013 on a crewed 44′ catamaran by renting one of the four available staterooms. You can read all the details of the company we chose and our experience here and read about some of the islands we visited here and here. We always knew we wanted to go back as a family.
I'm working on a post answering all the most frequently asked questions I've received, from cost, to experience necessary, to how to actually go about setting up this kind of adventure, but this post is focused on our itinerary and experience of our family sailing trip in the BVIs with The Moorings. I was overwhelmed on Instagram by the number of you that have added this trip to your travel bucket list, so if you have any questions, please leave them in the comments and I'll be sure to address them in the upcoming post!
Looking back, we both feel we knocked this BVI sailing itinerary out of the park. We hit all the key places we wanted to take the kids, never felt rushed, got in some great sails, and enjoyed a nice mix of relaxation and activity. Though we had planned on it, we did not actually map out our trip ahead of time. Instead, we decided to wing it and see how we felt on each day as it came. The weather is usually pretty wonderful, but we didn't want to be overly committed to a plan in case we had less than ideal conditions. Lucky for us, the weather was perfect- highs on 84, lows of 76, steady winds, and sunny skies.
Day 1: Charlotte to St. Thomas
Our flight from Charlotte, direct to St. Thomas (USVI), took off at noon. It made for a relaxed entry into vacation. We arrived a couple hours early at the airport, used The Parking Spot (which I highly recommend for long term parking), and took off on time. The flight was about 3 1/2 hours. We landed and got our bags with no issue, then took a taxi to The Windward Passage Hotel, which is a short walk from the ferry terminal.
We unloaded, then walked down the street to Hook, Line and Sinker, a waterfront restaurant by the docks. We grabbed some drinks and wandered the docks a bit before sitting down to order. It was a great low-key way to ease into vacation. The food was good, the service was friendly, though not fast, and we thoroughly enjoyed watching the girls chase the chickens that meandered near our table and play under the coconut trees.
Day 2: St. Thomas to Tortola to Peter Island
The next morning we had reservations for the 8:30 AM Fast Ferry, so we got up and out quickly. I grabbed some to-go breakfast from a coffee shop while David checked us in. The ferry wasn't exactly prompt, but it wasn't too far behind schedule, which was a welcome surprise since we know a lot of things in the islands run on, well, island time. The girls loved the ferry! We sat inside, upstairs at a table so they had room to spread out their notebooks but most of all they loved the back swells we rode over on our journey to Tortola.
We disembarked, went through customs, which was slow, but then were pleasantly surprised by the efficiency of the complimentary open-air taxi that took us from the ferry dock to The Moorings main hub. We were greeted with helpful and friendly faces. We found out our boat would be ready at noon. Prior to boarding, David had to attend an hour long seminar covering the basics of the boat and the area. While he did that, the girls and I took advantage of the dockside restaurant and bar, which was really beautiful. It was all shaded and open-air, with fans circulating the breeze, had a nice pool, great menu, and full bar. It was a great place to regroup before we went to provision.
A note on provisioning: the map had showed the grocery store across the street so we figured we'd just swing in and do our own shopping prior to boarding. While it worked out well enough, I would not recommend it. It's more of a walk than we thought and we had to carry all the groceries by hand. Next time we will certainly take advantage of the provisioning service offered through The Moorings prior to arrival. Also, be aware that grocery prices in the island are 2-3 times what I can find locally in North Carolina. I was expecting this, but I still had a little sticker shock.
We had reserved a captain to help us navigate the first 2 days of our trip, but when David came out of his meeting, he felt confident we could do it on our own. We met Captain Steve on our boat and told him about the change of plans. He was incredibly friendly and helped walk us through everything we needed to know and helped us disembark from the docks. We had already paid for two days of captaining, and while there are no refunds, we still liked the idea of being alone on the boat.
We ended up leaving Tortola in the late afternoon, destined for Peter Island, which is right across the channel. It took about an hour to get to the mooring field we planned on staying at that night and after a quick refresher for me on how to hook a mooring ball, we were tied up safely for the night.
I cooked a chicken fajita dinner for us and we ate at the table in the back of the boat, as we watched the moon rise over Peter Island.
Day 3: Peter Island to Virgin Gorda
We woke up and took our time with breakfast while moored. The girls relaxed on the front of the boat while I made cheesy egg wraps and fruit. The slow mornings were one of my favorite parts of our trip and we sipped on coffee, tea, and orange juice before slowly transitioning to bathing suits and sunscreen.
We took the dinghy into a secluded beach covered with shells. We spent an hour or two searching through shells, trying out our snorkel gear, and swimming. David used the drone to get some pretty incredible footage and the morning passed quickly.
After lunch the girls were beat, so they went to their rooms with books and Barbies while David and I set sail towards Virgin Gorda. We were curious to check out the progress of The Bitter End Yacht Club and Saba Rock. We cranked up the tunes and both sat at the helm, sipping a homemade painkillers. It was a long and relaxing sail and we thoroughly enjoyed all 2-3 hours of it. Soon we were rounding Necker Island and pulling into the north sound. As we neared The Bitter End, we were honestly shocked and devastated to see that nothing was there. It was wiped clean, minus an old dock with a couple small boats tied to it. No one was there so we rounded the corner and found an available mooring ball at Biras Creek Resort (which is currently rebuilding but has an open mooring field).
Once secured, we took the dinghy around the corner to get a better look. I've seen the emails going out about The Bitter End Yacht Club and their plan to rebuild. I can't wait to see them back! But by the looks of it, it won't be anytime soon. Saba Rock was a full construction zone though, so hopefully it will be back up and running soon!
We returned to the boat in time to cook up a shrimp and veggie stir fry over coconut rice, tuck the girls in, and read by the moonlight.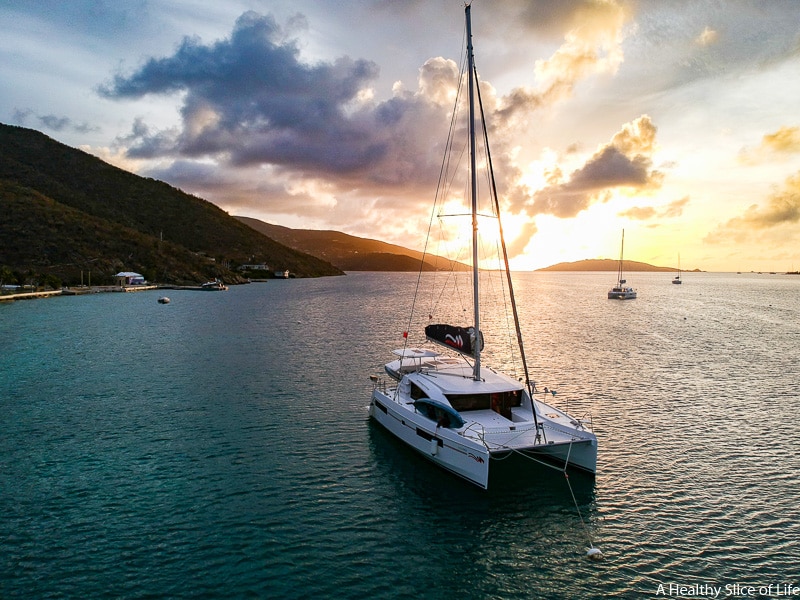 Day 4: Virgin Gorda to Anegada
We were aware that everyone refers to the sail to Anegada as "the long one" so when David and I woke up at the crack of dawn, we decided to go ahead and start heading that way. By 5:30 AM we were off. The girls woke up an hour or so into the sail and I had quite the experience trying to make breakfast with 4-5 foot swells. Honestly, it was pretty fun and comical until clean up time came and I had started feeling a little queasy. I stuck the dishes in the sink for later and went to the helm. Watching the horizon and feeling the breeze had me feeling better in no time.
We were anticipating a 4-5 hour sail, so we couldn't believe it when we arrived by 8:30 AM. It's not that we were going fast, but that all the islands in the BVIs are so close to each other that 3 hours in considered a long sail! We navigated the path through the reef, found a mooring ball quite easily, then laughed wondering how we'd spend the entire day.
Barry from The Lobster Trap swung by around then and was super friendly, telling us about The Anegada Beach Club and if we wanted dinner reservations to make them by 4:00 PM. We got ready for the day and took the dinghy to the dock. We made reservations from The Lobster Trap that evening then took advantage of their offer to shuttle us to the other side of the island to the beach club. I'm so glad we did because the Anegada Beach Club was AWESOME. It has a wonderful, islandy feel- thatched roofs, the most beautiful white, sandy beach, and a small pool that the kids ran to immediately.
We spent the whole day there, walking the beach, splashing in the pool, relaxing in the hammocks, eating fish tacos and sipping rum punch. It was fantastic!
Late afternoon we went back to the boat, showered up and welcomed the evening. We were one of the first reservations and were seated on the dock patio. I wasn't sure what I was expecting food wise, but was blown away at how fresh and delicious the conch fritters were! My Mahi followed suit. David ordered the lobster (because that is what Anegada is known for) and it, too, was incredible. We went to bed that night with stuffed, happy bellies and sun-kissed skin.
Day 5: Anegada to The Baths to Marina Cay
We left Anegada early the next day. We knew we wanted to head to The Baths National Park on Virgin Gorda. We heard getting a mooring ball there could be challenging so we crossed our fingers one would be available when we arrived. The sail there was beautiful. I sat upfront the whole time, switching only from the seat on the bow to the shaded seat in front of the windows to tell the girls stories and give Hailey ginger ale when the rolling waves became too much for them to sit inside.
We pulled up to the baths around midday and were thrilled to finding a mooring immediately. We took our dinghy to the ropes, then all put on our flippers and goggles for the swim to shore. The small beach was covered with tourists our a cruise ship expedition, but luckily most of them had already gone through The Baths, leaving it mostly empty for us.
I had high expectations for The Baths, knowing how much I love it last time, and it did not disappoint. Seeing it through the girls' eyes was especially incredible. The lit up and loved every minute of the secret passages, surprise pools of ocean water, and sand-covered paths.
By the time we made it through to Devil's Bay Beach, the cruise ship crew had gone and we had it completely to ourselves- such luck! We spent an hour watching the girls play in the ocean trying to catch tiny fish. Finally we swam back to the dinghy and rinsed off on the back of the boat.
We were beat. Hailey immediately ran to her journal to write about her experience. David and I looked at the map trying to pick a close spot to stay for the night (you can't stay overnight at The Baths), and opted to go just across the channel to Marina Cay. It was nothing fancy but a nice place to stay the night, that had trash pick up and a gentle breeze, too.
Day 6: Marina Cay to Jost Van Dyke
On day 6 we got out early and sailed over to The Sandy Spit, an uninhabited islet. As we anchored, some other boats were leaving, so we kayaked to the tiny island and ended up having it to ourselves for over an hour. The girls were more than content to just play in the waves and stack washed up rocks and coral. David played with the drone a bit while I relaxed and watched the girls and the footage he captured is pretty incredible (look for it in the video!).
We eventually made it back to our boat, ate some lunch and motored over to Foxy's Taboo on Jost Van Dyke. We went ashore and took the short hike to the bubbly pool. The hike was great! We walked past wild goats and chickens, climbed some rocks, and took in the incredible ocean views. The bubbly pool itself was not very bubbly when we showed up (perhaps the tide was out?), but the girls still loved getting to wade in and chase tiny fish in the crystal clear water.
After hiking back, we motored again to Great Harbour on Jost Van Dyke. All the mooring balls were filled by the time we arrived in the late afternoon, so we created an account with Boatyball and snagged one of the last two. Once we moored, I took a shower and it made me feel like a million bucks. It had been a really full day. As the sun started to descend we had a family dance party on the front of our boat and kept tabs on a sea turtle that kept poking his head up around our boat. Eventually we headed into shore for dinner at Foxy's. We had no problem snagging a table. The girls giggled at the random cat that wandered around the open-air dining room and David and I enjoyed kicking out feet up and chowing down on calamari and seafood pasta. We didn't end up staying for karaoke, but being a part of the early crown was a wonderful and relaxed end to a full day.
Day 7: Jost Van Dyke to Cooper Island
After going to bed early and getting a great night of sleep, we felt refreshed and ready for a fun day. We were up early and decided to go ahead and scoot over to The Soggy Dollar Bar just around the corner from Foxy's on Jost Van Dyke. We were one of the first boats to arrive, so anchoring was easy. We headed into shore around 10:00, as they were opening, and it was hilarious to see how quickly the harbor filled up from that point. The beach at The Soggy Dollar Bar is popular and has a great beach. We all had a blast playing in the water and relaxing in the lounge chairs.
The hours passed quickly and mid-afternoon we realized it was time to move on. We picked up our anchor and set sail for our last "must visit" spot on our agenda- Cooper Island.
Cooper Island is another popular place, so we reserved a Boatyball ahead of time, after hearing they are one of the locations that reliably enforces it. We arrived late afternoon. I took off to the beach with the girls while David went to see about dinner reservations. Apparently there was only one slot left- the 8:00 PM reservation, which happened to be our typical family bedtime. Still, we snagged it and spent our time walking on the beach, checking out the run tasting room, and playing games. When it came time for dinner, we ordered quickly but Kaitlyn still fell asleep while sitting up at the table! Needless to say, we didn't stay for dessert and all crashed into our beds hard once we arrived back on the boat!
Day 8: Cooper Island to The Baths to Virgin Gorda
Oh Friday, our last day aboard. By this point, we had checked off all the places we really wanted to visit. We decided to ask the girls where they'd like to visit again, or go somewhere new. They both quickly replied that they wanted to go back to The Baths, so that's where we headed. We swam into Devil's Bay from the boat and let the girls lead the charge.
They wanted to follow a walking path, so even though it was labeled "to the car parking," we followed along. I'm so glad we did because we ended up finding a gem of a family spot- The Top of The Baths. The Top of The Baths is a large, outdoor restaurant with an incredible view and a pool. We hadn't planned on staying but the girls were so excited by the pool that we ended up spending an hour or two and having lunch, poolside.
Afterwards we trekked back to The Baths and spent another couple hours wandering through the pools and crawling through secret tunnels. We didn't feel stress to have to see anything, since this was our second time through, and it was just as relaxed and playful as could be- a fabulous last day!
We left and headed to find CocoMaya, a restaurant I had heard great things about. It ended up being a cherry on top of a great day! Read our full experience at CocoMaya here. I highly recommend it!
Day 9: Virgin Gorda to Tortola to St. Thomas to Charlotte
On the day we left, we motored over to Salt Island, a small (and now abandoned since the hurricane) island early in the morning. We anchored and watched the wild goats wander and graze while we packed up, cleaned, and prepared for the trip home. Then we made our final trek back to Tortola. When we got close to the marina we called the harbor master, who sent out a captain to help us dock the boat.
We gathered all our untouched food and drinks and handed them off to a family about to set sail for the week. They were quite thrilled- especially with the full bottle of rum! The Moorings' staff was great. They came aboard, friendly and smiling, telling us not to worry about cleaning a thing, and with that, we said goodbye to S/V Scrapper and disembarked.
From there we took a taxi to the ferry, another taxi to a marina to hug some of our good friends that were setting sail for the week, then a taxi to the airport where we flew directly back to Charlotte. We arrived home at about 9:00 PM.
What. A. Whirlwind.
While we would have loved to have another week to bounce around the islands and see some of the lesser known spots, we couldn't wipe the smiles from the experience off our faces for at least a solid week. I felt changed. I love the island culture and felt encouraged to bring some of it back to the US. From the friendliness to the relaxed feel of the days (nobody rushes), it's a beautiful way to do life.
Want to see this trip in action?
If you have any questions, please comment below and I'll be sure to answer them!