Last vacation post!
Sigh… to be on island time is lovely. To deal with a toddler's adjustment to daylight savings is not. But back to topic at hand….
We spent a night at The Bitter End Yacht Club. It's a really nice spot and I'm not sure why I don't have more pictures! Maybe we were too busy using the real showers they provide for dock guests (!), playing darts and dancing the night away.
The next morning was cloudy but we had some decent wind so David and I took off to rent a hobie cat before moving on to the next island.
The wind picked up and I look at David with worried eyes. He said 'Don't worry; I won't let us flip". And then we accidentally gybed and I saw the mast flying towards us as we both flipped backwards into the water. I sat bobbing in the ocean and laughing as David went swimming after our hobie.
The rains came and passed and our boat moved on to Jost Van Dyke.
We made a quick stop at Soggy Dollar Bar before I concluded I could not possibly drink another sip of alcohol. I needed to move! So David and I wandered over to a deserted beach where I proceeded to make up a bodyweight circuit.
We concluded that we both suck at the 'relax and do nothing' vacation.
That afternoon we hopped over to a different harbor to visit the bubbly pool.
It appears calm, but when a big swell comes, it splashes over the rocks and fills the pool, making it feel like you are standing in champagne fizz!
After a more active afternoon, David and I were up for visiting the famous Foxy's on Jost Van Dyke.
The scene was hopping and the music (and karaoke) was entertaining. We immediately settled into people watching.
We made friends and got pranked by this somber looking gentleman before deciding to tear up the dance floor ourselves.
We still got it, babe
The last day we went snorkeling at the Indians, a spot of jagged rocks that stick out of the water. I wish I had an underwater camera to show you the incredible variety of fish and coral we encountered, but alas, I just have the classic 'Look, we're snorkeling!' pic (we are bottom right).
That afternoon, we scooted over to our final night's anchoring spot on Peter Island. Though we had enjoyed 2 other dinners ashore, I was most excited about Peter Island. It was our second choice for honeymoon spots and I was anxious to explore and compare.
We cleaned up and headed over, just the two of us. We found paradise! We made dinner reservations at the restaurant on the beach before grabbing a drink and enjoying the view.
Indescribable. After an adventurous week, I soaked in every minute of island luxury and the one-on-one time with David.
We eased our way into dinner, beachside.
The staff was so friendly and accommodating. I really could have stayed another week if I didn't miss Hailey so much! Knowing it was our last vacation dinner we savored every moment… and the food.
Finally, fresh seafood! My grouper was caught that morning.
After a few drinks, some great conversation and mingling with our neighbors we waved goodbye to Peter Island.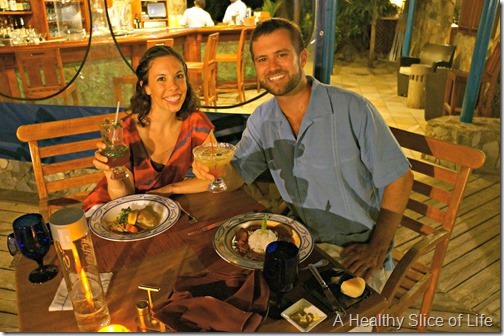 The next day we were home, rejuvenated and ready to get back to life. Hailey woke up at 3am and I couldn't run into her room fast enough. I think she was somewhat confused to see me, but rocked with me, then sat up, looked at me, touched my nose and smiled before laying back on my chest. Even at 3am, it felt great to be home!
I'll be back to my usual stuff tomorrow, but did you know that Google Reader is shutting down? No worries; there is a great alternative- Follow my blog with Bloglovin