You guys, I took a LOT of pictures. I'm desperately trying to not be the girl who shows every picture of every tree, bush and lizard, but I do want to remember this trip, so bear with me?
We left Surfsong in a cab to head to the marina to board our boat. We weren't to board until 5:00, so we grabbed a beer and walked the docks.
We quickly found our a boat with our names scrawled on a white board- a Lagoon 440. Finally it was time to board, so we tossed our bags aboard, introduced ourselves to the other 2 couples. Reon, our captain and bartender wasted no time serving up painkillers (a drink consisting of pineapple juice, orange juice, cream of coconut, nutmeg and rum). He poured generously and we took off into the sunset.
Did I mention they were strong drinks? It didn't take long for me to start acting silly, striking poses and taking "'artsy' pictures of our feet.
It was a short ride over to the harbor on Norman Island that we'd be staying in for the night. We weren't the only boat there.
That's Willy T's! A well known party palace in the BVIs. I was ready to dance, so after dinner aboard our boat, we took the dinghy over.
Herbed pasta and shrimp and a broccoli floret on the side
*I know a lot of you have asked more specifics about the boat and food and I'll go into that tomorrow!
As the drinks flowed at Willy T's, we danced and mingled. It's amazing how friendly strangers are to each other on vacation. Maybe it's because of these-
Oh yes, that's a shot ski I'm downing. When in Rome…
We stayed late and partied into the night.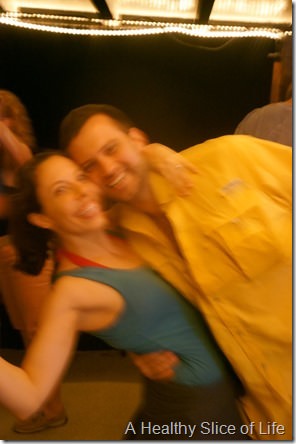 Great picture, huh? It's a little what my vision was like towards the end of the night.
The next morning we were up and moving at the crack of dawn.
Around the corner in another harbor we snorkeled in the caves. We saw a barracuda that we as about 4 feet long. Those suckers look mean! But he swam off as soon as he saw us.
We spent the rest of the afternoon on Cooper Island. It's a small upscale beach bar that has hammocks, games, a lounge, restaurant…
…and happy hour.
Bushwacker (rum, Bailey's, Kahlua, vodka, amaretto, chocolate-flavored liqueur, creme de coconut, ice and nutmeg)
Tastes like a milkshake. We splashed in the water and relaxed on the deck playing Shut the Box. We tried the conch fritters.
Tasted like hushpuppies.
It was a relaxing afternoon, which I enjoyed, but I was ready to DO something. Lucky for me, the next morning we headed straight to The Baths on Virgin Gorda.
David, me, Captain Reon
Pulling up, the Baths don't look like much- just a bunch of oversized boulders, but when you begin to wander through, magic happens!
It was a giant, natural playground of tunnels, climbing spots and water that splashes in from the surf.
It brought out the inner kids in David and me and We. Were. Hooked. We took off and spent the larger part of the day goofing off and snapping pictures.
Being the serious yogis that we are (hardy har har), we decided to climb to all the peaks of the boulders and strike poses.
Are you laughing yet?
We were scampering up and down boulders, striking poses and laughing like 4 year olds.
It was my favorite spot of the whole trip even though it left us sore with battered feet. It was nothing the ocean water couldn't fix, so we dragged our feet in the water as we took off.
Bliss!
Are there any details about the trip, boat, food or itinerary that you're curious about? If so, ask away