I love that you guys don't mind me filling this week with vacation recaps. It really was such an adventure and I've gotten a lot of questions about the details of planning a trip like this, the boat, the food, etc. So here it is…
David owned a 28' monohaul (sailboat) a few years ago and got bitten by the boat bug. He knows the basics of sailing, but being that I'm a newbie, we didn't want the responsibility of handling a large (44') catamaran by ourselves. For this reason, we decided to look into crewed charters, which set you up with a captain and a cook.
There are several companies that offer crewed charter options, like Festiva, The Moorings and Sunsail. We came across these companies at the Annapolis boat show last year. We looked into them all, then decided to go with Festiva because we found them to be the least expensive.
The boats used for charter (usually 44'-45' Lagoons) house 3-4 couples and many companies require you to assemble the group. We couldn't find 2 other couples to commit to the vacation with us, so we opted to just rent out a cabin in the boat and roll the dice with with who the other two couples would be. We are pretty easy going people and didn't worry about it too much.
On board there are 4 bedrooms, each with their own bathroom.
I can't believe I didn't snap a bathroom picture, but liken it to the size of an airplane bathroom, but clean. The nitty gritty details? You can't put toilet paper in the toilet, so you put it in a wastebasket that they empty daily. The 'shower' is the sink faucet that you pull out and hook to the ceiling.
Also, ladies, there is no need to bring a hairdryer or straightener. Air dry is the way to go. And I think I wore make up 2 evenings total on the whole trip. It's a great way to connect back to living au-natural!
The salon is a good size for being on a boat, but the weather is so nice outside that we didn't spend any time in there.
The galley didn't have enough storage area and the oven didn't work, but somehow our cook still managed our meals.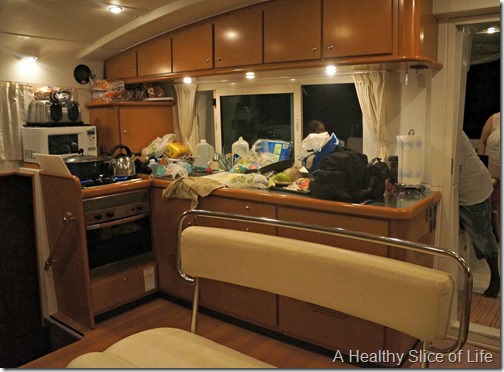 Our sailing instruments weren't working either. No worries, though, we had a captain and were up for adventure! David likened sailing to camping on the ocean.
The covered area in the back is where we ate all our meals and spent a night or two playing cards.
Speaking of meals, here's a peek at the food.
It was good enough and filled me up most of the time, but both David and I were surprised by the lack of fresh seafood. We had mahi-mahi one night that had been previously frozen and other nights were chicken and pork. Being surrounded by the sea, we were hoping for fresh fish.
There were preference forms we filled out ahead of time, but I'm not sure how much attention they paid to them. Luckily David and I aren't picky eaters and did fine with what we were served.
I'll be honest though, it was SO tempting for me to find a market and get in the galley myself. Next time I'd love to do all the cooking. English muffin pizzas was not what I had pictured eating.
We opted with a boat with air conditioning. I thought it would be nice to have as an option in case it rained and we had to close the hatches. (Usually the hatches are opened at night and you get a wonderful cool breeze!).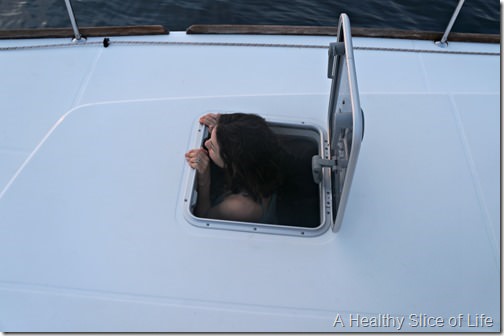 Because of the preferences of some of the other guests aboard, the AC always ran at night and the generator vibrated the boat all night long.
What David and I were most looking forward to was the sailing.
We LOVED it. I asked an obnoxious amount of questions and soaked up every detail I could find. From hooking the mooring balls to reefing and tacking to gybing, I get it now. To accommodate for the guests that preferred to not have the rocking motion and due to calm winds, we didn't actually get to sail all that much, maybe a few hours over the entire week. Every other time we motored to the next destination. Again, another lesson learned that we would do differently next time.
The islands, though, are simply breathtaking. It was nice having a captain that knew all the good spots to go and how early we needed to get there to snag a mooring ball. He was friendly and often followed us ashore to snap pictures for us. Captain Reon was fabulous!
I think I touched on all your questions, but let me wrap things up in a pretty little bow.
Did I enjoy myself? Absolutely. It's hard to put me anywhere though where I won't look for the good, especially while in the islands!
Would I do it again? Yes and No. I would LOVE to go sailing again, but next time David and I want to bare-boat (sailing without a captain and cook) and would bring Hailey with us. Given our experience, I would not choose to go through Festiva again.
If you are interested in doing a similar vacation (as I know some of you mentioned), please email me and I'd be happy to answer any questions and give you more details. There are a lot of options available if you desire a little more comfort at sea.