I think I've squeezed all my emotion out in the last two days in this space! I'm feeling lighter today, so no long monologue coming at you; though thanks for all your encouragement. I shouldn't need it but sometimes it's really nice to get some feed back to keep you going, you know? *hug*
Switching gears, let's chat about food. What's trickiest for you- breakfast, lunch, or dinner? For me I feel like it's lunch. Breakfast is fairly consistent, dinners are planned and prepped for, but lunches. Dang. Some day it feels like I just cleaned breakfast; what do you mean we all have to eat again?! But recently we've been in a routine that feels like a winner for everyone, so I'm excited to share it with you. But let's start with the morning meal…
Breakfast Lately
Sweet Potato Hash– I usually use leftover roasted sweet potatoes, but recently discovered that if I dice a raw sweet potato fairly small, then sauté it in a little olive oil, cover it and let it steam and cook, it will be soft and ready in about 15 minutes. Not speedy, but not terrible. Add in some onions and a handful of greens with an egg on top, and you have one of my favorite breakfasts.
Avocado Egg Toast – This one felt more like summertime. Toast, mashed avocado, sliced tomato (they aren't summer tomatoes, but Compari always are pretty decent), and a fried egg.
Savory Breakfast Bowl – I shared a lot of my favorite breakfast bowl combinations in this post, and the love is still going strong. Roasted potatoes, onions, brussels sprouts, kale, eggs, and avocado always taste good.
Lunch Lately
Soups during this time of year are always fabulous, but you know what's really been hitting the cold weather lunch spot for me? Grain and green bowls! I make a batch of whatever random grain I grab at the store (this week it was Freekeh) and cook it in bone broth, then I add a green and a protein. At lunch I throw it all in a bowl and heat it up. It's quick, filling, and tasty. Take a look!
Farro, collard greens from a jar, and rotisserie chicken.
Freekeh, baby spinach, and spicy Italian chicken sausage.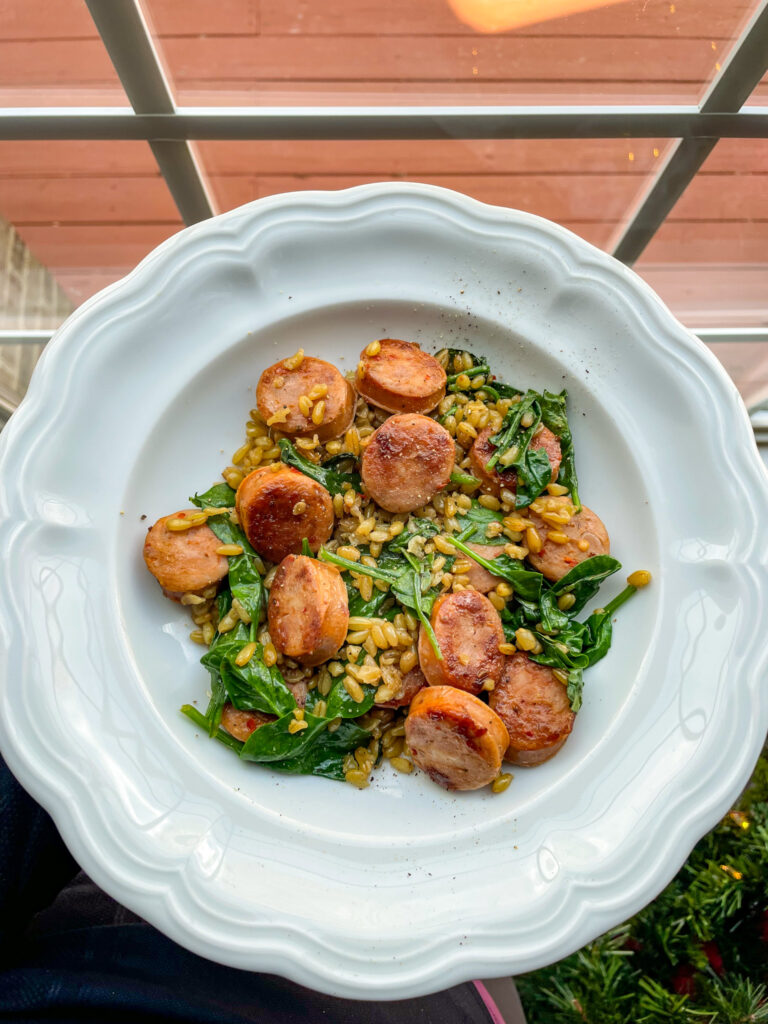 Freekeh, baby kale, pulled leftover chicken from them lemon and oregano chicken thighs I had made for dinner the night before.
Dinners Lately
Pork sirloin roast with roasted cabbage and cauliflower, kraut, and Annie's boxed mac 'n cheese.
Lemon Dill Salmon with roasted sweet potatoes, sauteed cabbage, and garlicky green beans.
Burger bowl with lettuce, tomato, onion, jalapenos, roasted broccoli, and kraut. Never. Gets. Old.
Burrito bowls featuring cilantro lime rice, black beans, chicken, fajita veggies, and all the toppings.
This Greek marinade makes for such flavorful chicken! I turned it into a Greek salad with lettuce topped with Greek salad, the chicken, farro, tzatziki, hummus, and pepperoncinis.
David's Famous Chili will be on repeat all fall and winter long. It's the best.
Chicken Thighs with Lemon and Oregano – This is so flavorful and actually fairly simple. I pan seared the chicken for color, but then transferred it all to a Pyrex to bake it. Worked well! Served it with roasted sweet potatoes, asparagus, and cabbage.
Immunity Boosting Golden Soup with a Wildgrain loaf of rosemary garlic sourdough that I need to learn to make on my own because it was so good!
Mom's spaghetti and meat sauce because every time I write "meatballs" on my meal plan I end up saying to myself- why waste time of making meatballs when everyone just wants mom's meat sauce anyway?
And pizza. Because always pizza because bread machine pizza dough is the easiest and therefore the best.
And that's a wrap! Tell me- best thing you've eaten lately is… ??